Issue Date: December 12, 2003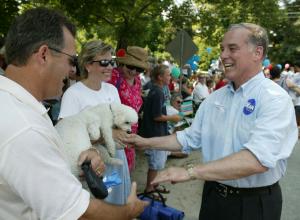 Howard Dean greets voters in Amherst, N.H., during the annual Fourth of July parade this year.
-- John Pettit/DeanForAmerica.com
It's all about Dean
'Angry' candidate pulls ahead of the Democratic pack in New Hampshire primary race
By JOE FEUERHERD
Manchester, N.H.
Manchester's Elm Street and the surrounding avenues whose storefronts have housed presidential campaigns for the past half-century are the boulevards of broken dreams. And it's usually the winners who fall the hardest.
New Hampshire's kingmaker reputation is among the great myths of American politics. Just ask presidents Estes Kefauver, Henry Cabot Lodge, Edmund Muskie, Michael Dukakis, Paul Tsongas, Patrick Buchanan and John McCain -- Granite State primary winners all (in '52, '64, '72, '88, '92, '96 and '00 respectively.)
New Hampshire is not even first anymore -- and hasn't been since 1976 when the former governor of Georgia, Jimmy Carter, converted Iowa's cumbersome caucuses into the initial test of presidential timber. And for all the intensity of New Hampshire's electorate -- the state's primary voters have far more direct contact with would-be presidents than their counterparts in larger battlegrounds -- no one argues that the state looks like America.
New Hampshire remains a demographic dinosaur: more than 95 percent white, predominantly Republican and fiercely individualistic. "The fact that candidates for the highest office in the land must pass muster with the residents of New Hampshire, a small New England state, is one of the greatest eccentricities of the American electoral calendar," writes St. Anselm College political science professor Dante Scala in Stormy Weather: The New Hampshire Primary and Presidential Politics, his just-released history of the primary.
But pass muster they must. The candidates bounce from town meetings and "house parties," candidate forums and interest group-sponsored debates.
Their low-paid staffers work 12 to 18 hour days out of storefront offices in downtown Manchester. At night, they are as likely to collapse on the air mattresses of their unfurnished apartments as to grab a beer and tell each other lies ("We really like where we are at this point") at Kosciuszko Street's Wild Rover pub.
Now, less than two months before the Jan. 26 primary, the race has taken shape. The man to beat is former Vermont governor Howard Dean -- the son of a Wall Street stockbroker, a medical doctor who opposed the war in Iraq and rails at campaign stop after campaign stop against the $3 trillion in tax cuts that primarily benefited "Ken Lay and his buddies from Enron."
Fighting the last war is Massachusetts Sen. John Kerry. Few seem to care that Kerry is a combat hero and three-time Purple Heart recipient who returned from Vietnam in the early 1970s to lead opposition to that conflict. Instead, the focus is another war -- the one that Kerry, whether out of principle or pragmatism, voted to authorize last Oct. 11.
How bad is it for Kerry? A Boston Herald poll shows him losing Massachusetts -- a state he has represented in the U.S. Senate for nearly two decades -- to upstart Dean.
Former House minority leader Richard Gephardt is considered formidable (though Dean recently peeled away the endorsements of both the service employees and public employees unions from the longtime friend of labor), and retired Gen. Wesley Clark is a mystery. To many, Ohio Congressman Dennis Kucinich is a gadfly. First-term North Carolina Sen. John Edwards resonates Clintonesque electability, but has yet to catch on. The once promising campaign of Connecticut Sen. Joe Lieberman appears headed south -- and that's not a reference to the Feb. 3 South Carolina primary. Former Sen. Carol Moseley Braun's underfunded effort and the Rev. Al Sharpton's quixotic campaign round out the field.
For the moment, and perhaps beyond, it's all about Dean.
Operatives from competing campaigns echo the same line: The 55-year-old five-term governor is "angry." Which, presumably, is not a good thing. Alluding to the stethoscope Dean displayed at a late November AARP candidates' forum, one opposing campaign staffer said she'd like to place a blood pressure cuff on the former Vermont governor's arm. "He'd probably explode."
Dean's demeanor -- his disdain for Bush's war, for the president's handling of foreign policy and for his domestic programs -- is, in a word, angry. Speaking on an unseasonably warm November evening to high school and college students gathered at St. Anselm College's Institute for Politics, Dean (the only one to show up in person; Kucinich participated by phone) is blunt, feisty, combative.
On tax cuts: "Get rid of the Bush tax cuts -- every dime of them." Americans, said Dean, are willing to pay the same amount in taxes as they did when Bill Clinton was president "if only they could have the same economy they had when Bill Clinton was president."
On the war: "Iraq wasn't a danger to the United States when we went in, but it is now." Bush's foreign policy has been "obnoxious," said Dean, turning "policy differences [with allies such as France and Germany] into personal differences."
On parental notification laws for minors seeking an abortion: "We shouldn't allow politicians to practice medicine unless they have an M.D. after their name." Parental notification in such instances is "good medical practice," said Dean, but not one that should be mandated by law.
His heroes: "The president who reflected my thinking the most was Harry Truman -- if you have a decision to make, make it."
On provisions of the "No Child Left Behind Act" that sanction failing schools: "It's the dumbest thing I've ever heard." Failing schools, said Dean, may need more money, not less. "The sooner we get rid of George Bush and [Education Secretary] Rodney Paige the better off our schools will be."
At a town meeting an hour later in the Salem High School gym, Dean lambastes Bush's "credit card presidency," calls for a balanced budget, condemns "Ken Lay and the boys who run Enron," and questions President Bush's policy toward North Korea. "I don't think the foreign policy of the United States should be based on the petulance" of a president, said Dean.
The angry persona can't be sustained, say the other campaigns. Americans want optimism, not a sour puss.
Perhaps.
But maybe tempestuousness will be the rage this year -- particularly among Democratic primary voters who oppose the war in Iraq, think Bush's tax cuts are a giveaway to the wealthy, and believe the president and his well-positioned brother stole the 2000 election in Florida.
Dean, says political scientist Scala, is "like that character from the movie 'Network' -- he's 'mad as hell and not going to take it anymore.' "
Which a good number of New Hampshire Democrats, kingmakers or not, seem to like just fine.
Joe Feuerherd is NCR Washington correspondent. His e-mail address is jfeuerherd@natcath.org.
National Catholic Reporter, December 12, 2003