Issue Date: December 12, 2003
The two New Hampshire primaries
There are really two New Hampshire primaries. The first takes place more than a year before the actual balloting begins. It's the race to secure the endorsements of elected officials and party insiders and, significantly, to line up the skilled young men and women -- and they are young -- necessary to mount a credible campaign.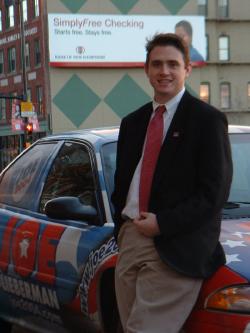 Sean Downey with the "Joemobile"
Sean Downey, a 2002 graduate of Holy Cross College in Worcester, Mass., was the recipient of such courting. The product of a "staunch Democratic family" and a political junkie since the age of 8, he's among a very select group of Democrats who recall Michael Dukakis' 1988 campaign with fondness. The Massachusetts native knew he wanted to play a role in New Hampshire politics before he reached the third grade. "I was glued to the evening news [and] I fell in love with the idea of the New Hampshire primary."
Holy Cross's Jesuits played a role in his political development. "They really impressed upon me the mission of creating men and women for others," recalled Downey, who was confirmed while a student at Holy Cross. "They really make you think about that."
Last year, as coordinator of state legislative races for 35 Manchester Democrats, Downey got to know the presidential contenders. "I met John Kerry, John Edwards -- Howard Dean was here every day sitting in the coffee shops." He considered his options.
The turning point came at a New York City meeting of the Democratic Leadership Council, where New Hampshire activists received some special treatment. "We got invited up to Joe Lieberman's hotel suite and it was just the 10 of us sitting around talking to him. No one got their message across to me like Joe Lieberman."
Today, Downey does "advance" for Lieberman -- he's the one who makes sure the candidate gets to where he's supposed to be, that the pictures for the local press are framed correctly, and that the senator is not speaking to an empty hall. He's converted his Chevy Impala into the "Joemobile" -- a red, white and blue Lieberman-for-President eyesore unmistakable on the streets of Manchester.
"I can't imagine myself doing anything but this," said Downey.
-- Joe Feuerherd
National Catholic Reporter, December 12, 2003