Issue Date: December 12, 2003
Bravery and sweetness of men and elves
Maritime 'Master and Commander' celebrates ideal of bravery; 'Elf' is a sweet fish-out-of-water tale
By JOSEPH CUNNEEN
After a long season of multiplex junk, the big studios have begun to lay out a few gifts for Christmas. Except for dedicated fans of Patrick O'Brian's 20-volume series about the exploits of the British navy in the age of Napoleon, Master and Commander: The Far Side of the World should be a satisfyingly rousing adventure. Even director Peter Weir can't communicate the literary grace and the psychological insight of the original, but for once a huge budget hasn't translated into bloated inanity. The movie brilliantly conveys the sense of life on a sailing ship in the early 19th-century British navy, capturing its sounds and dangers, its routine and adventure, and its sense of hierarchy leavened by deep comradeship.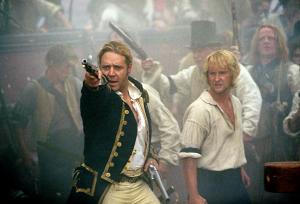 Russell Crowe and Billy Boyd in "Master and Commander: The Far Side of the World"
-- CNS/Twentieth Century Fox

Russell Crowe is a credible hero as Captain Jack Aubrey, whose HMS Surprise is clobbered by a French frigate off the coast of Brazil and then lured by its foe into sailing around Cape Horn in a storm. Crowe is determined to win a return match with the enemy, but in the meantime remains on good terms with his men, drinks lightheartedly with the officers, tells a few weak jokes, and when necessary administers physical discipline. Dr. Stephen Maturin (Paul Bettany), the ship's surgeon, is the more intriguing character, challenging the captain on the nature of power, constantly pursuing his naturalist passion and even performing surgery on himself after being wounded in battle. "Master and Commander" makes the mutual respect between the two men credible, and we also share moments of serenity as they play violin and cello duets in the captain's cabin after a meal.

"Master and Commander" is a strong argument for the necessity of authority and celebrates the traditional ideals of bravery, honor and duty. It also increases its chances for popularity in the United States by changing the time frame of its story -- in O'Brian's original, it was during the war of 1812, when the British were fighting us. But Weir gets the shipboard details of the time in their proper place and puts his audience at the center of the film's complex action, making it clear that life at sea was mostly a long lull between occasional emergencies. Nor does he hide the cost of the leadership it celebrates, whether on a young midshipman who has not won the respect of his men, or on Maturin's hopes to pursue his naturalist interests at the Galápagos Islands: "We don't have time for damned hobbies, sir!" Aubrey bursts out irritably when the former is eager to hunt for new specimens.

Understandably, this is a movie in which women are essentially absent, though the captain glances admiringly at one of the native women off the Brazilian coast before dutifully writing a letter home to his wife. Russell Boyd's impressionistic cinematography concentrates on the changing skies and threatening seas while examining every rope on the ship. The women who were at the showing I attended found the combination of male heroism and shipboard housekeeping fascinating, though by the end my wife admitted she felt a little seasick.

Elf is a family-friendly comedy that director Jon Favreau has aimed primarily at younger children, but it should also manage to hold the interest of many parents. The latter may initially resist the obvious exploitation of Santa Claus, played by Ed Asner, at whose North Pole workshop elf Will Ferrell (Buddy) grows up after being accidentally taken away as an infant in Santa's toy sack. Although Saturday Night Live's Ferrell remains unselfconscious among his 2-foot toy-making companions, we're somewhat relieved when Bob Newhart, Santa's kindly work boss, who has tried to be a good foster father to Buddy, sends him on the inevitable quest to find his real father.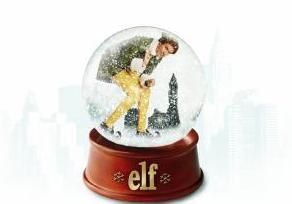 Will Ferrell stars in "Elf."
-- New Line Productions
This happily means a trip to Manhattan, where David Berenbaum's bright screenplay seems to relax and Buddy will almost get run over for gaping goofily at skyscrapers while crossing the street. His cynical father, Walter Hobbs (James Caan), a children's book editor who works in the Empire State Building, has him thrown out of the building but is forced to take him in after a DNA test establishes his identity. "Elf" manages to get humor out of the department store exploitation of Christmas when Buddy is taken on along with other elf-temporaries to work at Gimbel's, and quickly becomes enchanted by the wide-eyed Jovie (Zooey Deschanel).
At the Hobbs home, Buddy's sweetness gradually manages to wear down his younger half-brother Michael (Daniel Tay). Emily (Mary Steenburgen), his foster-mother, is prepared to accept this mystery child from her husband's past, but his father, Walter, remains preoccupied by his need for a sure-fire children's bestseller. Aides at the publishing house even call on the advice of midget Peter Dinklage (fresh from "The Station Agent") as a wildly successful and conceited author, but the latter takes offense when Buddy calls him an elf.
Cause and effect take a beating in a movie like this; when Jovie gets to work early and takes a shower in the store, Buddy, who has slept in the store overnight, is enthralled by her singing. Ferrell succeeds by constantly playing his role straight, his unflappability eventually becoming infectious. Although "Elf" endorses all the obvious family values, some parents may grow alarmed at the way Buddy constantly encourages a diet featuring cookies, syrup and candy. Despite all that sweetness, "Elf" manages to remain jaunty rather than saccharine.
Inevitably, the plot has to give Buddy and Jovie an opportunity to sing "Baby, It's Cold Outside" and to bring all its characters together for Santa's crash landing in Central Park. Before it's over, a threat from the dark-clad Park Rangers has been foiled, Walter has told off his bosses, and all those usually grumpy New Yorkers have found their way into the park to remind each other "to be good for goodness sake." If it's over the top, it's also good fun.
Joseph Cunneen, NCR's regular movie reviewer, can be contacted at scunn24219@aol.com.
Quick Takes:

"Love Actually" is yet another proof that moviemakers don't know how to make romantic comedy any more. Wasting the talents of such stars as Emma Thompson, Liam Neeson and Rowan Atkinson, it cynically tries to exploit the idea of love without any notion as to what it's about. Hugh Grant, playing a bachelor prime minister supposed to look like Tony Blair, makes one want to run to the nearest video store to take out an old Cary Grant movie.

HBO Films will present "Angels in America," directed by Mike Nichols ("The Graduate," HBO's "Wit") and written by Tony Kushner, based on Kushner's Tony- and Pulitzer Prize-winning play. Set in mid-1980s New York, "Angels in America" situates its characters in the twilight of the approaching new millennium, struggling with issues of sexual identity, supernatural revelation and the then-new plague of AIDS. Al Pacino (as the real-life Ray Cohn), Meryl Streep and Emma Thompson (as the Angel) lead an all-star cast in this two-part, six-hour movie adaptation. Part One, "Millenium Approaches," airs on Dec. 13 at 9 p.m. EST on HBO 2; Part Two, "Perestroika," airs Dec. 15 and 20 at 9 p.m. on HBO 2. HBO Signature will be running the entire six hours of the film in order starting Jan. 3 at 6 p.m. Check full listings on HBO.com for additional air times.
National Catholic Reporter, December 12, 2003