Issue Date: December 12, 2003
2.2 million hours of prayer -- and counting
Franciscan sisters in Wisconsin tally blessings and joy from continuous eucharistic adoration since 1878
By PATRICIA LEFEVERE
La Crosse, Wis.
We become what we gaze on, St. Clare told her community of praying women in 13th century Italy. "Gaze upon him. Consider him. Contemplate him," Clare instructed her followers in Assisi.
Eight centuries later the Franciscan Sisters of Perpetual Adoration at St. Rose's Convent here continue joyfully to heed Clare's advice. Gazing upon Jesus is more than a First Friday devotion or weekly holy hour for the 80 sisters who live at the motherhouse. It has been their way of being Franciscan for more than a century.
On Aug. 1, the sisters -- who number 419 worldwide -- along with hundreds of visitors from La Crosse and beyond, celebrated 125 years of perpetual adoration. Seldom is a calculator a tool for measuring piety, but in this case the numbers -- 2.2 million hours in adoration -- proclaim a unique ministry of continuous praise and gratitude.
Sisters pray in the Chapel of Perpetual Adoration at St. Rose's Convent.
-- Patricia Lefevere
The toll of prayer hours comprises the longest continuous adoration in the nation, the sisters believe. What it means is that since 11 a.m. on Aug. 1, 1878, at least two persons have been praying before the divine presence every hour of every day and through more than 45,600 nights. Eighty lay persons have joined the sisters as prayer partners only in the last six years and only in daytime hours.
A day of adoration requires 76 adorers. From 7 a.m. until 9 p.m., prayer shifts alternate on the half hour with two adorers entering to replace the two already praying. The quartet begins and ends their shift reciting: "O Sacrament most holy, O Sacrament divine, all praise and all thanksgiving, be every moment thine." From 9 p.m. until 7 a.m. the adorers remain an hour in prayer. A golden clock sits on the altar steps, chiming the hours. Of the 80 sisters at St. Rose, 56 take one or more night hours.
At their 1996 assembly, the Franciscans decided to open adoration to lay prayer partners, given the decline in new members and the health concerns of many older sisters.
"We struggled over the decision," said Sr. Clarone Brill, who oversees the lay program. "We looked at our history and noted that if only Franciscans could be nurses or college teachers, we would have had to close our hospitals and our college."
Brill trains lay adorers and commissions a group twice each year. They include Franciscan affiliates, retired and working men and women and seven married couples.
"When you step inside the adoration chapel, you get the aura," said Don Clark, who with his wife, June, takes the 5 to 6 p.m. shift on Fridays while the sisters are at supper. "You feel this emanation. It comes from walls that have been prayed in and prayed in. There is an odor of sanctity. … You can't come away without being changed."
"We feel so lucky to be called to this; we almost come running," said June, a former Sister of Providence. While June often sits in contemplation, Don recites the rosary after he has finished praying for all the intercessions that have been typed on that day's prayer list.
The Clarks believe the crisis in today's Catholic church has prompted a resurgence in adoration across the nation. "There's a lot of corporate mendacity and a bunch of skuzzy people among our church hierarchy," said Don, who has taught philosophy, morality and ethics at Catholic and secular universities in the Midwest. "I'm ashamed of my church.
"Who's going to get the church out of its current crisis? Not money. Not power," he said. "Only the people. Only the people in prayer. We're in front of him, saying, 'Help us.' "
The first 100 yards
When the sisters began their adoration in 1878, Leo XIII had just settled onto the throne of Peter, and Rutherford B. Hayes was but a year in the White House. Since then, Franciscan adorers have prayed hourly for nine popes, 24 U.S. presidents, a score of Wisconsin governors, eight La Crosse bishops and every mayor of the city.
At the 125th anniversary celebrations in August, the current mayor, Democrat John Medinger, thanked the nuns for their prayers and for educating him in primary and secondary school. "Part of who I am is their fault," he said. Surveying 12 decades of fervent adoration, the mayor said: "If the sisters are on a marathon, this is just the first 100 yards."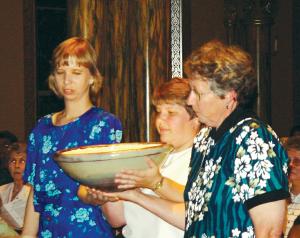 At the Aug. 1 celebration of 125 years of perpetual adoration, Srs. Sarah Hennessey, Dawn Kutt and Lucy Slinger, novices, carry the "lard light," made for the occasion.
-- Lisa Zmuda
Situated in downtown La Crosse, less than a mile from the Mississippi River, the Chapel of Adoration withstood a fire that stopped just short of its iron doors and statue of St. Michael the Archangel in 1923. Sr. Celestine Cepress, 98, a postulant at the time, recalled how her class and the one before her were nicknamed the "fire postulants" and the "fire novices." Although the blaze destroyed their dormitory, it did not keep any of the sisters out of the adoration chapel, where, she said, they prayed much of the day.
When a flu epidemic gripped the convent in 1968, the few sisters who were not sick took over the chapel shifts, some praying for up to eight hours a day. But these are not women who spend their entire day in prayer. Most of the sisters under age 70 still work as teachers, nurses, university professors, therapists, pastoral associates, campus and prison ministers, spiritual directors and parish and chancery administrators.
Franciscan women can have a full-time career and still do adoration hours, said Sr. Charlene Smith, who coordinates the legacy of the order's most renowned member, the late Sr. Thea Bowman. Both Smith and Bowman experienced the continuous prayers of their community during their respective battles with cancer.
The 2.2 million hours of prayer began with a single sister standing before a tabernacle in a simple convent chapel in Jefferson, Wis.
Her name was Mother Antonia and she had journeyed from the Bavarian village of Ettenbeuren in 1849, along with two priests and 11 other lay men and women, all of them German Third Order Secular Franciscans. Six of the women dreamed of starting a religious community that would teach the children of German immigrants, care for the ill and for orphans, and establish perpetual adoration.
The local priest in Jefferson opposed the women's plan for adoration, given the size of the group -- eight -- and the hardships of life in a frontier land. But in 1865 he grudgingly relented, granting permission to have the Blessed Sacrament exposed in their chapel after the Mass he would say on the Feast of St. Joseph.
When night fell and the sisters had to put away the monstrance containing the eucharistic host, they discovered they had no sanctuary light. One of the novices twisted tissue paper into a wick and submerged the wick into a saucer of lard. Mother Antonia carried the light into the chapel and set it before the tabernacle.
The sisters present heard her make the vow that would define the Franciscan Sisters of Perpetual Adoration: "Dear Lord, accept this poor light. It is the best we can give you now. But if you will help us and bless the community, we will one day establish perpetual adoration of the Blessed Sacrament and build for you as beautiful a chapel as our means will allow."
By 1871 the nuns had moved to La Crosse where they staffed an orphanage. In 1878 Bishop Michael Heiss acceded to their request to begin perpetual adoration.
In 1906 the sisters dedicated Mary of the Angels Chapel and the Chapel of Perpetual Adoration. The larger chapel holds 300 persons; the small chapel accommodates 30 kneelers. The two structures are linked in awe and in architecture. The backs of their two altars have been connected with a revolving monstrance that is visible in either setting.
The women have accepted an invitation from God "to be good and to do good" in the spirit of Sts. Francis and Clare, Smith said. In today's world, the ministry of nonstop adoration translates into "bringing peace, sharing life and building hope," she said.
It has also kindled a loving presence and special warmth among the sisters that some said comes from knowing you are being prayed for by your sisters each hour. Sisters as young as Sarah Hennessey, 29, a Quaker convert who was received into the novitiate in July, to those as old as 87 told NCR they had been attracted to the Franciscans because of their sense of joy. As far back as the 1920s and '30s, when some of today's elderly sisters were pupils in Franciscan-run schools, they recalled the fun nuns had together and said they too wanted such a life.
Not spiritual navel-gazing
Adoration is "not spiritual navel-gazing," said Sr. Joan Weisenbeck, a retreat director and faculty member at the La Crosse spirituality center. She sees it as the rhythm and dance of a growing relationship with God that "spills out" into her relationships and work. "We become transformed in intimacy with the divine," said Weisenbeck, who takes the 1 to 2 a.m. adoration shift each Thursday.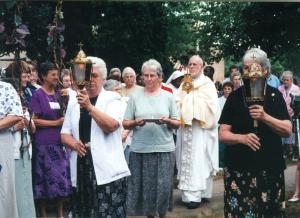 The procession for the 125th anniversary begins in the courtyard of Viterbo University, a Franciscan institution in La Crosse, Wis.
-- Nancy Chapman
"We can't give what we don't have," she noted. "As we are nourished in adoration, we go out to break bread with others, becoming sacraments for the world." This happens through listening, teaching, sharing and manifesting compassion, she said.
According to Weisenbeck, 40 percent of the clients of the La Crosse spirituality center are Protestant or from other faiths. "When I direct a retreat, I rarely know who is lay, who is ordained, who is Catholic or not," she said. People long to, and need to, process and make sense of what goes on in their lives, Weisenbeck said.
"This is God country," Don Clark said of the Franciscan convent in La Crosse. "This temple emanates love and community. It sings, dances, works together and parties." The formula for success is simple, he noted: "The sisters take care of the Lord and the Lord takes care of them."
Patricia Lefevere, a longtime contributor to NCR, lives in New Jersey.
National Catholic Reporter, December 12, 2003