Issue Date: December 12, 2003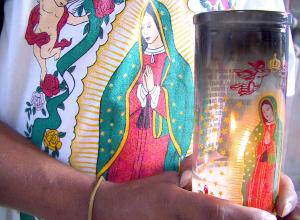 Neither God or Goddess, but something else: A Divine Mother brought down to earth by the devotion of the community
-- Notimex/Luis Lopez
The light of the Divine Mother
Though childless by choice, I see myself in her, and find a name for the sacred
By DEMETRIA MARTINEZ
God or Goddess? I have long been uneasy with either name for the divine. It's my own prejudice, of course, but god and goddess sound too much like king and queen, figureheads whose faces are obscured by the height of their thrones and glare of their crowns.
But now, having journeyed back to New Mexico -- for reasons I wouldn't have connected with religion -- I have embraced a name for the sacred that I can live with: the Divine Mother.
One beautiful September night I found myself placing before a painting of the Virgin of Guadalupe a corsage I had sported earlier in the evening. I stepped back and gazed at her Buddha-like smile, her brown hands pressed together in prayer, her Aztec belt indicating pregnancy, and the gold aura enveloping her body. It was as if I had never seen her before even though she appears everywhere -- tattooed on the arms of prisoners, carved out of cottonwood, painted on the walls of restaurants. Given a blank surface her devotees will find a way to enshrine her.
I glanced again at the corsage. Stories locked in the periphery of my consciousness came forth: My mother, on the occasion of her high school graduation and later, her wedding, taking flowers to the statue of Mary at St. Vincent Academy in Albuquerque, N.M.
And my grandmother with her parents, participating in pageants in villages south of Albuquerque in which Mary played the starring role.
On the feast day of St. Anthony, patron of Los Lentes village, a statue of Mary was carried in procession from house to house, my grandmother said. Mary was "visiting the community," my grandmother said. The people recited rosaries, and sang ancient songs of praise, or alabados. The owners of each house burned special incense on charcoals, adding rosebuds and sugar to the flame. Everybody feasted, and drank pure cold water ladled out of a bucket drawn from the well.
Neither God nor Goddess, but something else: A Divine Mother brought down to earth by the devotion of the community; not devotion in the abstract, but a rich expression engaging all the senses, an opening of doors, a bienvenida and mi casa es tu casa.
Amazing what happens when you keep the door unlocked and the incense burning.
Just the other day the Divine Mother appeared in the person of a friend struggling to raise her children while holding down a low-paying job. We railed against deadbeat dads, evil landlords and tax cuts for the rich. We conspired to seek out a lawyer who would take on a case against the father, pro bono. We conjured up a way for her to avoid a late fee on her rent. We imagined a day when things would be vastly different.
The spirit of the Magnificat filled the room. "The Almighty has done great things for me. … He has cast down the mighty from their thrones and has lifted up the lowly. He has filled the hungry with good things, and the rich he has sent away empty."
Surely Christianity's greatest mandate is that we must see Christ in all people. But sometimes Mary emerges as the more visible when looking into the face of a woman. That is her great gift to a world that has rendered too many women faceless, voiceless and powerless.
It might seem odd to some, this devotion to the Divine Mother on the part of a 43-year old woman -- childless by choice.
Since I was a child myself, I knew I did not want children of my own. In my teens, I sensed motherhood was not my calling. In my 20s, I made the decision to give birth in other ways: to books and to a life of activism.
In my early 30s, I learned that an anticonvulsant medication I take for bipolar disorder can cause a birth defect in which a child is born without a brain. In my late 30s I watched women make last ditch efforts to conceive. Yet I never felt I was missing out on something. It was as if the Creator forgot to set the alarm on my biological clock.
The men who run the church would have me feel like the odd woman out. They offer no blessings to the millions who have discerned that motherhood is not our calling. Instead, they issue dire warnings against birth control. Catholics quietly "break the rules" or dribble out of the church rather than have their intelligence -- indeed, their God -- insulted.
Against this backdrop I have watched Latina friends, left and right, abandon Catholicism for Buddhism, where many have found a true home. I might have followed them but for the miraculous appearance of the Divine Mother in the mirror. I see myself in her light, loved. She affirms that all women (and men) who hew to the path of truth are giving birth. We are worthy of the Aztec belt and can proclaim, "From this day all generations will call me blessed."
So I'm praying my rosary again. I, too, am part of the Holy Family, la familia sagrada, in a way I always wanted to be: the crazy "spinster" aunt (to a niece and two nephews) whose bed is piled high with books, but who will always make room for a child who needs to be read to.
Demetria Martinez is the author of three collections of poetry and a novel, Mother Tongue.
National Catholic Reporter, December 12, 2003