Issue Date: December 19, 2003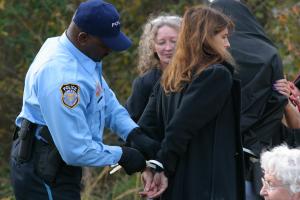 Kathy Kelly watches as handcuffs are put on her friend, Leisa Barnes of the Sacramento Campus Peace Action. The two were among over 30 protesters who were arrested Nov. 23 in Fort Benning, Ga.
-- Briana Brough
Activist reports rough treatment at arrest
By PATRICK O'NEILL
Columbus, Ga.
Despite facing up to six months in prison, 34 people "crossed the line" in acts of civil disobedience at the annual protest at the former U.S. Army's School of the Americas, now called the Western Hemisphere Institute for Security Cooperation.
For stepping over a three-foot high concrete barrier into the waiting arms of military police, Voices in the Wilderness founder Kathy Kelly expects to spend at least half of next year behind bars. Kelly, an internationally known peace activist, has risked her life by going into war zones to proclaim a message of peace and nonviolence. She has traveled to war-torn Iraq 21 times.
Ironically, it was at the hands of U.S. soldiers that Kelly felt most at risk, she said. While in the custody of Fort Benning MPs, Kelly said she was physically mistreated and her health put at risk.
In a written account of the aftermath of her arrest, Kelly describes being hogtied and subjected to violent restraint following her minor act of trespass.
"Shortly after more than two dozen of us entered Fort Benning and were arrested, U.S. Military Police took us to a warehouse on the base for 'processing,' " Kelly wrote. "I was directed to a station for an initial search, where a woman soldier began shouting at me to look straight ahead and spread my legs. I turned to ask her why she was shouting at me and was ordered to keep my mouth shut, look straight ahead and spread my legs wider. She then began an aggressive body search. When ordered to raise one leg a second time, I temporarily lost my balance while still being roughly searched and, in my view, 'womanhandled.' I decided that I shouldn't go along with this dehumanizing action any longer. When I lowered my arms and said, quietly, 'I'm sorry, but I can't any longer cooperate with this,' I was instantly pushed to the floor."
Kelly said five soldiers squatted around her and one of them referred to her with an expletive and handcuffed her wrists and ankles and then bound them all together.
"Then one soldier leaned on me, with his or her knee in my back. Unable to get a full breath, I gasped and moaned, 'I can't breathe.' I repeated this many times and then began begging for help. When I said, 'Please, I've had four lung collapses before,' the pressure on my back eased. Four soldiers then carried me, hogtied, to the next processing station for interrogation and propped me in a kneeling position."
Later, when Kelly, still hogtied, was carried to the next station, she again encountered the soldiers who had abused her.
"There, one of the soldiers who'd been part of pushing me to the floor knelt in front of me, and, with his nose about two inches from mine, told me that because I was combative, and I should know that if I didn't do exactly as instructed when they uncuffed one hand, he would pepper spray me," Kelly said. "I asked him to describe how I'd been combative, but he didn't answer."
Fort Benning spokesman Rick McDowell said he was looking into Kelly's complaint, but at press time McDowell said he still hadn't gotten any response back from the post MPs.
"Having seen the MPs in action I just find it really hard to believe unless she provoked something," he said. "That still might not be an excuse [for rough treatment of a prisoner]."
In a later phone conversation, McDowell said the Army takes the rough treatment charges very seriously. "We have appointed an investigating officer" to the case, he said.
In federal court, Kelly was told an additional charge of resisting arrest was being considered in her case. She and all but three of the other line-crossers were released after posting $1,000 bonds. Shortly before her action, the soft-spoken Kelly told NCR that she was crossing the line because she knows what the Army is doing on the other side of the fence.
"It's not a theory," she said. "It's not an argument. We know that militarism represents an addiction to war."
Kelly said going to prison would be her opportunity to say, "I want to get over that addiction and to slow down and think about what the war against the poor means."
Kelly, who lives in Chicago, said she was entering Fort Benning with a degree of hopefulness.
"I still wonder if people aren't now, in our church, in our world, going to come to grips with a higher level of honesty about who we are and what our government does."
Three men, including two Jesuits, acted together in crossing the line and opted to not post bond and remain in the Muskogee County Jail in Georgia pending a Jan. 26 court date. Gary Ashbeck, 27, of Jonah House in Baltimore; Jesuit Fr. Benjamin Jimenez, 44, of Cleveland; and Jesuit Br. Michael O'Grady, 40, of Cincinnati scaled the fence at Fort Benning's main gate. The three carried some of the blood of the six Jesuit priests and two women who were martyred in San Salvador in 1989. In a statement, the trio wrote: "We are here today to reject the School of the Americas' record of training dictators, torturers and other human-rights violators. Some of its graduates participated in the brutal assassination of the six Jesuit priests and the two women in San Salvador in 1989.
"These martyrs are present with us here in Columbus, Ga., this weekend as we revere and honor in our Mass and procession a very significant relic of them -- some of the blood that they shed for the people of El Salvador, which was collected from the garden where they had been slain."
Three other Roman Catholic priests were among those arrested: Fr. Bernard Survil, of Greensburg, Pa.; Jesuit Fr. Joseph E. Mulligan of the Detroit Province; and Franciscan Fr. Jerry Zawada of Wisconsin.
Also arrested was Leisa Barnes, a mother of five sons from Sacramento, Calif.; Ed Lewinson, a legally blind Seton Hall history professor emeritus; and Sarah Jobe, a first-year Duke Divinity School student.
Jobe, 22, said she decided to come to the demonstration after hearing SOA Watch founder Maryknoll Fr. Roy Bourgeois, speak this past summer.
"As soon as I heard him speak I knew that I would be coming here, but I decided to cross the line as an extension of everything I've learned in divinity school," she said. "I'd like to be able to read scripture without feeling like a hypocrite and I feel like part of that is bringing the memory of those martyred onto this space."
National Catholic Reporter, December 19, 2003