Issue Date: December 19, 2003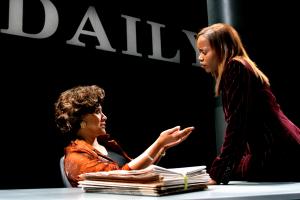 Phylicia Rashad as Pat and Erika Alexander as Yvonne in "The Story"
-- Michal Daniel
Play is a fast-paced take on racism and journalistic ethics
By RETTA BLANEY
Murder, racism and journalistic ethics collide in a fast-paced new play that picks up on the popular notion that reporters are untrustworthy sharks interested only in furthering their own careers. "The Story," a world premiere co-produced by Long Wharf Theatre in New Haven, Conn., runs at least through Dec. 21 at New York's Public Theater and is likely to extend beyond. It will be staged at the Long Wharf at a later date.
Ericka Alexander plays Yvonne, a newly hired reporter in her mid-20s; Damon Gupton her contemporary, Neil; and Phylicia Rashad their boss, Pat, who is in her early 40s. All are black, but with different perceptions of what it means to be black and how it will or won't affect their chances at that newspaper. These perceptions give each a major attitude that colors the ways they approach their work.
Yvonne likes to act as if racism doesn't exist; Neil and Pat seem to see it everywhere. When Yvonne arrives for her first day of work, with her resume boasting a summa cum laude degree from Harvard, study at the Sorbonne and fluency in four languages, she is annoyed to find she won't be working on the Metro section where her white boyfriend, Jeff (Stephen Kunken), is editor, but for Outlook where Pat is editor and Neil a reporter. Outlook was the section created to give more positive images of blacks after Metro confused a picture of a black man being arrested with that of another black man arrested years before.
"They used a picture of a brother that was taken two years earlier," says Pat, to which Neil adds: "But nobody noticed because it was just another brother doing the perp walk." So they "complained and cajoled" and got Outlook.
Their differing notions on race come into conflict when Yvonne and Neil both go after the story of who murdered a rich white Teach America teacher near his inner-city school. Neil doggedly pursues the theory that the murdered man's wife, who said a black man had tried to rob them before shooting her husband, really killed him so she could collect his inheritance. He reasons that the police and most of the press will be quick to pick up on the story of a rich white man trying to help inner-city blacks, only to be killed for his efforts. Pat backs him up, citing the 1980s case of Charles Stuart, a white man in Boston who shot his pregnant wife and "tried to blame it on a brother. A couple of my cousins were arrested in that raid."
Yvonne quickly dismisses any comparison and tries to defend Boston before Pat cuts her off with, "Boston is Mississippi 1963 and this paper is Alabama. Understand?"
But Yvonne doesn't understand, ridiculing Pat's attempts to explain the sacrifices her generation made. "God, if I had a dollar for every time an old black person said that to me … "
Yvonne sees her chance to best Pat and Neil and get herself on the Metro section when she meets a black teenage girl while on assignment at a community center and the girl tells her she is part of a gang that killed the teacher. The race is then on to see who will get the story and whether it will include the truth.
The suspense of this quest is heightened by the two stories unfolding simultaneously. Pat and Neil are often seen and heard plotting while Yvonne and Jeff are scheming on the other side of the stage. This has the effect of a split screen in a movie, allowing the audience to know what each side is up to, moving the plot along quickly and maintaining the suspense.
The evening I was there, New Yorker writer Ken Auletta led a panel discussion before the performance with E. R. Shipp, an op-ed page columnist for the Daily News, Joe Nocera, Fortune magazine editorial director, and playwright Tracey Scott Wilson. Auletta called the play a "bleak" portrayal of journalism. "It is populated by a fair amount of liars. Do you think most journalists lie?" he asked the playwright. Wilson said she thinks, "the news definitely has a slant," citing an "economic bias," which she also defines as class bias. She said she had been a journalism major in her freshman year at college but found she had a hard time sticking to the facts. Her professor advised her to major in English. "I liked to make things up," she said.
Well, she's certainly good at making things up. I enjoyed "The Story" as a work of fiction. But while I found "The Story" to be entertaining, I was left with the question I am often left with when newspaper reporters are portrayed fictionally: Who are these people? I've spent years of my life in newsrooms and I've covered my share of murders, but I've never met people like Yvonne, Pat and Neil. Journalists are frequently presented as people with low moral standards, when my experience suggests most journalists work hard to be fair and accurate.
But an evening spent watching someone carefully fact-checking detail after detail, straining to decipher an officer's handwriting on the police report and calling again and again trying to get the homicide detective to talk to her wouldn't be the stuff of dramatic literature. And untrustworthy reporters have been in the news lately with the Jayson Blair and Stephen Glass scandals, so "The Story" has a timely edge, although the degree of racism in the newsroom has a dated feel to it.
Reporters have had their day as good guys, but the movie "All the President's Men" came out nearly three decades ago. In that film, with no sex or violence, we watched journalists relentlessly fact check and search for truth, and even though we knew the outcome, the movie offered plenty of suspense. Maybe we just need a good presidential scandal for journalists to get their due. Wonder how long that will take.
Retta Blaney's latest book is Working on the Inside: The Spiritual Life Through the Eyes of Actors. Phylicia Rashad is featured in that book.
Related Web Site
The Public Theater
www.publictheater.org
National Catholic Reporter, December 19, 2003