Issue Date: December 26, 2003
WORLD
Edited by Dennis Coday
Japanese troops to Iraq opposed
TOKYO -- The Japanese bishops said they oppose sending Japanese soldiers to Iraq. They wrote Prime Minister Junichiro Koizumi asking him to contribute to the peace effort without the military.
While the Japanese constitution does not allow the country to maintain a military or use force to settle international disputes, an antiterrorism law passed last year allows Japanese forces to combat terrorism overseas. Public opinion polls show two-thirds of the population is against any such deployment, local media report, and opposition parties do not support the plan.
Writing for the bishops, Auxiliary Bishop Michael Goro Matsuura of Osaka, head of the Japan Catholic Council for Justice and Peace, noted that the government has said Japan's dependence upon Middle East oil is a compelling reason for dispatching forces. "If Japan dispatches … troops for this reason, the country cannot contribute to building peace," he wrote.
Cosmo gets spiritual advisor
LONDON -- The British edition of the fashion and lifestyle magazine Cosmopolitan has announced it will soon appoint its first spirituality editor. "We get hundreds of letters every month from successful young women looking for something outside their material success to make them happy," editor in chief Lorraine Candy said. "Young women today are spirituality seekers, whether that be adhering to a formal religion or something a bit less dictatorial."
---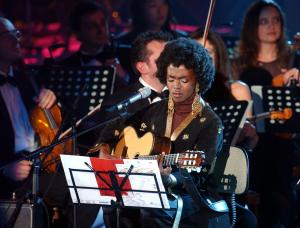 Hill speaks her mind
U.S. pop singer Lauryn Hill stunned church officials at a Vatican Christmas concert when she told them to "repent" and spoke of the pain of those abused by priests. Hill's unexpected lecture came during the Dec. 13 taping of the annual concert in the Vatican's audience hall, attended about 6,000 people including cardinals and bishops but not Pope John Paul II. Before performing two songs, Hill said she wanted to read a message. "I know that some of you may be offended by what I'm saying. But what do you have to say to those families that were betrayed by people they believe in? And what do you say to the children who were violated in mind and body?" she said. Cardinal Camillo Ruini, the papal vicar of Rome, rose and left the hall. Bishop Salvatore Fisichella, an auxiliary bishop of Rome, said, "It was an example of great rudeness."
-- CNS
---
Sharia allowed as alternative
TORONTO -- Canadian Muslims have taken a big step toward persuading courts to accept decisions made under Islamic sharia law. Muslim leaders here elected a 30-member council in October to establish a Darul-Qada (judicial tribunal), to be known as the Islamic Institute of Civil Justice. It will set up legal panels across the country to arbitrate in marital breakups and other civil or business disputes under sharia.
Recent changes to provincial arbitration laws make it possible for decisions made by these Muslim courts to be final and binding under Canadian law -- the same as for rulings made by a beth din, a Jewish legal panel comprised of three rabbis.
"Thirty years ago, Canadian courts said nobody could usurp their jurisdiction, but now the trend is to go the other way, because the litigation process is too expensive," said Don Short, a Toronto lawyer who specializes in arbitration and mediation.
Antiwar messages reconfirmed
SEOUL, South Korea -- Following the deaths of two South Korean workers in Iraq, the Korean Catholic bishops reiterated their opposition to the war and any threat to human rights caused by war. A message from the bishops' justice and peace committee was published in all diocesan bulletins for Dec. 7 amid public debate on whether the country should send combat troops to Iraq.
Writing for the bishops, Bishop John Tchoi Young-soo of Taegu noted that Korean troops already dispatched to Iraq are not combat soldiers but engineers and medical personnel. He said sending combat troops would seriously violate the human rights of Iraqi civilians and of the Korean troops.
Tchoi reconfirmed earlier episcopal statements. One in February titled "Hope for Peace Instead of War" rejected any moral justification for the United States to attack Iraq. An October statement, "Peace over the Korean Peninsula," objected to "any kind of war," though it did not state any specific position on the issue of sending Korean troops to Iraq.
USA
Law has 'difficult transition'
BOSTON -- Cardinal Bernard F. Law, retired archbishop of Boston, reflected on his 30 years as a bishop and the "very difficult transition" following his December 2002 resignation in an interview published Dec. 12 in The Pilot, Boston archdiocesan newspaper. "Obviously, it is a very difficult transition to go from the kind of life and the kind of schedule that I had ... to something that is not pressured," he said. "It does take a while to adjust."
Asked if he expected an assignment in the near future, Law said, "I really don't live in expectation of anything except the coming of the Lord in the most surprising of ways." He has been living at a convent in Clinton, Md.
The cardinal said he decided to resign as archbishop of Boston "because I felt that it was paradoxically the best way … that I could serve the church in Boston." He said he understood that people had lost confidence in him. "It's very important that there be that kind of confidence generally. … And so I made that decision. I think it was the right decision."
No amnesty for illegal migrants
WASHINGTON -- The Homeland Security secretary's call for "some kind of legal status" for the nation's illegal immigrants was not meant to imply he supports an amnesty program, according to his spokesman. Secretary Tom Ridge said at a town hall meeting in Miami Dec. 9, "As a country we have to come to grips with the presence of 8 [million] to 12 million illegals, afford them some kind of legal status some way."
The comment quickly drew criticism from members of Congress who oppose legalization proposals. The U.S. Conference of Catholic Bishops advocates that the government enact a program to enable the majority of the nation's illegal immigrants to regularize their status.
Ridge's spokesman Russ Knocke said Dec. 11 that the secretary's point was that there needs to be some way for the government to learn the identities of people living in the country, including illegal immigrants, as a security measure.
---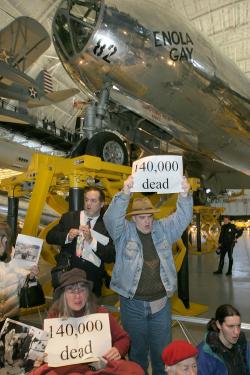 Bitter memories
About 100 peace activists, including several elderly atomic bomb survivors from Japan -- known as Hibakushas -- briefly disrupted the official opening of the National Air and Space Museum's new annex at Dulles International Airport Dec. 16. They spilled a red liquid meant to resemble blood near the Enola Gay exhibit and threw an object that dented the airplane. Two people were arrested. Protesters said they were angry that the Enola Gay is exhibited as just another warplane, without taking responsibility for the massive horror and destruction that resulted from bombing Hiroshima.
-- Rick Reinhard
---
Capture a 'teachable moment'
WASHINGTON -- The capture of former Iraqi dictator Saddam Hussein is a "teachable moment in Western ideals and democracy," says the National Council of Churches USA in a statement released Dec. 15. "As the next days and weeks unfold, we remind the U.S. government that the world will be watching to see how we treat our adversaries after they are in our custody. ... We therefore urge the U.S. government not to give in to the temptation of vengeance or expediency, but to facilitate the prosecution of Hussein in a manner consistent with the highest accepted international standards of justice."
Bishops favor keeping tax hike
PORTLAND, Ore. -- Appealing to morality and the common good, Oregon's Catholic bishops are calling on voters to retain an income tax increase approved by the state legislature earlier this year to balance the state budget. Opponents of the $800 million tax plan successfully campaigned to have the measure go to a statewide referendum. Called Measure 30, it will appear on the Feb. 3 ballot. The bishops are urging a yes vote.
"Oregon's revenue debate is not merely about the numbers of financing state government. This debate is about the morality of state public policy," said a statement submitted by Portland Archbishop John Vlazny and Baker Bishop Robert Vasa as part of an official ballot guide.
After months of negotiations in the longest statehouse session to be held in Oregon, the legislature approved the three-year income tax hike to fund schools, social services and public safety. "Caring for the most vulnerable persons in our midst, particularly poor women, children, elderly and disabled persons, and funding education are moral issues of the common good," said the bishops' statement.
Faith-based prison announced
TAMPA, Fla. -- Florida Gov. Jeb Bush has announced the creation of what he calls the nation's first entirely faith-based prison. "It is imperative for government to work in close and careful coordination with community and faith-based organizations because government alone will never solve the problems tearing the fabric of our society," he said.
The governor's plan for the faith-based prison is for more than 790 inmates to live in eight dormitories at the Lawtey Correctional Institution in Raiford, Fla. Participation by inmates is voluntary and entry into the program will not depend on the inmate's faith preference or lack of faith. Programs will focus on such issues as family life, personal growth and life skills.
The Rev. Barry Lynn, executive director of Americans United for Separation of Church and State, criticized the governor's plan. "A state can no more create a faith-based prison than it could set up faith-based public schools or faith-based police departments," he said.
COMPILED FROM NEWS SERVICES, CORRESPONDENTS AND STAFF
National Catholic Reporter, December 26, 2003