Issue Date: December 26, 2003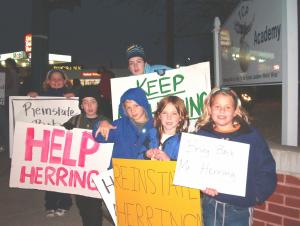 Within hours of the firing, nativity school families hit the street.
-- Patricia Newberry
Termination reversed after pastor, principal negotiate settlement
By DENNIS CODAY
Three weeks after being fired as principal of Nativity Grade School in Cincinnati, Robert C. Herring was reinstated Monday, Dec. 15. He returned to the post he has held for nearly 20 years on Dec. 17.
His reinstatement followed a five-hour meeting between Herring and Fr. R. Marc Sherlock, the pastor of Nativity of Our Lord Parish, who had fired Herring Nov. 24. The meeting was led by Joseph Crowe, a professional mediator formerly with the U.S. Federal Mediation and Conciliation Service.
Herring and Sherlock addressed parishioners and school parents at a 15-minute meeting in the church Dec. 16. At that meeting, Vince Frasher, personnel director for the archdiocese, read a statement from Cincinnati Archbishop Daniel E. Pilarczyk that people who attended said expressed the common desire of Nativity parishioners.
"Successful mediation is a process in which both sides give up something in order to gain something greater," the archbishop's statement said. "In this case, both parties were willing to compromise for the sake of the faith life of the parish. There was not a 'winner' or a 'loser.'

Fr. R. Marc Sherlock
"I pray that all members of Nativity will recognize the behavior of Fr. Marc and Bob Herring as a model for going forward in charity to make the parish even stronger," the statement said.
While terms of the mediation agreement are to remain confidential, Pilarczyk's statement said "the agreement provides a framework for improved communications with the assistance of archdiocesan administrators."
John Krekeler, a former Nativity pastoral council president, told NCR that the parish was ready to put an end to the division. "There was a great deal of controversy," he said, but "the matter has been solved and settled. We're going to move forward from here."
Herring thanked people at the gathering Dec. 16 for their support and pointed to challenges that lie ahead. "Nativity is a 'roll up your sleeves and get the job done' kind of place. Our Sunday collection has taken a hit the last few weeks. That's one job we need to attend to and that means filling the pews," he said.
Sherlock told the gathering: "Our hope, as these terms and conditions are implemented, as well as other decisions I have to make concerning this matter are implemented, that all parishioners and other school families will continue to extend to us support and understanding."
In a telephone interview with NCR Dec. 17, Sherlock said the parish needs a lot of healing and that the healing would take some time. The incident, he said, "embarrassed the parish, citywide and then [the story] got into your paper [NCR, Dec. 19], so nationwide … a lot of healing has to happen here," Sherlock said.
Patti Newberry, who was communications coordinator for the leadership crisis committee, told NCR, "People are grateful that it moved so quickly and that the archdiocese took an active interest." The church is not known for resolving conflicts quickly she said. "For this to have happened and been resolved in three weeks, I think, is extraordinary."
She said the swift resolution of the conflict "buoyed people" and "started a healing process."
In November, within four hours of Herring's firing, Nativity school parents and parishioners had organized themselves to fight for the principal's reinstatement, forming the ad hoc Leadership Crisis Committee that counted the PTA and parish pastoral council presidents as members. The committee spent the Thanksgiving holiday planning and executing street protests and prayer meetings.
Parent representatives met with Pilarczyk and archdiocesan officials twice the last week of November. They tracked their campaign with daily updates on a Web site, www.keepbobherring.com.
When Herring was fired last month, Sherlock cited "philosophical differences" between the two as reason for the firing.
In an interview with Cincinnati's WCPO Channel 9, Herring spoke about the strength of the Nativity community. "They care deeply about the community. They care about the parish, they care about the school. So I think it speaks to the strong tie that's there."
The Leadership Crisis Committee hosted a "Happy Mr. Herring Homecoming" at 7:30 a.m. Dec. 17 in the school parking lot. About a hundred school parents and children held an impromptu rally at the school the evening after Herring's reinstatement was announced.
National Catholic Reporter, December 26, 2003