Issue Date: December 26, 2003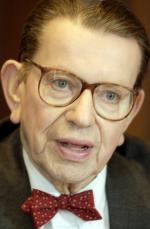 Paul Simon
-- KRT/Chris Walker
A gutsy man of thought and action
Paul Simon, newspaperman, intellectual and senator, dies at age 75
By COLMAN McCARTHY
It may be a blessing the Republic doesn't deserve, but not many journalists get elected to Congress. Better they report the news than make it. One newspaperman who did slip through the gate and get to the U.S. Senate for two terms, and before that to the House for five terms, was Paul Simon, the Illinois Democrat who died at 75 in Springfield Dec. 9 of complications from heart surgery.
The grit and gutsiness he showed in Congress from 1974 to his departure in 1997 was on full display soon after he dropped out of college in 1948. Only 20, he took out a bank loan of $3,600 and bought a weekly newspaper in downstate Troy, Ill. As described by Simon, it was a rural "town that up until that time had neither African-Americans nor Jews -- and unfortunately took pride in that fact." Among the first hires was Charles Klotzer, a Jew who had fled Nazi Germany and who would go on to found The St. Louis Journalism Review.
Under Simon's direction, the Troy Tribune became a tiny rake going after the usual muck piled high by scammers, knaves and local officials on the take. As a newspaperman, his journalism had a moral base, which would also be true of his politics. It may have come from his parents who had been Lutheran missionaries in China. His brother Arthur is a pastor and agitator who helped get Bread for the World its early footing as a national advocacy group.
I came to know Paul Simon in 1974 in his first year in the House. He phoned and invited me to lunch -- in his office over sandwiches. In shirtsleeves and sporting the bow tie that he always wore, which inspired "the Bow Tie Brigade" of volunteers when he ran for president in 1988, he was the oddest of politicians: He listened more than he talked, clearly a character defect in Washington. When I interviewed him in Los Angeles during the 1988 race, he spent as much time talking with one of my boys accompanying me as he did about his campaign.
During that race, much of the media didn't know what to make of Simon. He was an intellectual who could talk about Dietrich Bonhoeffer, C.S. Lewis or the latest essay by Martin Marty. He was a thinker who wrote his own books, 22 in all. He was a liberal shaped by earlier senatorial giants such as Robert LaFollette, Paul Douglas and Philip Hart. He was a spiritual man who could discuss theodicy as well as the latest articles in the National Catholic Reporter and Christian Century, both of which he read. In the Senate, he was a deft tactician who could tame the almost always ornery Alan Simpson of Wyoming. During the funeral service at the University of Southern Illinois, where Simon had been teaching since 1997, Simpson quipped that he and his friend Paul both left the Senate at the same time and both left "unindicted."
So how did the media treat Simon's presidential race? Much the way they today are trivializing Dennis Kucinich and his diet (oddball vegan), his height (way too short, he should have been a jockey), his loopy idealism (he wants to have a department of peace) and little about his ideas. With Paul Simon in 1988, it was his looks. Time magazine told of his "floppy earlobes, horn rimmed glasses, putty-like face and bow tie." From his barstool with the guys, Mike Royko said: "It's almost a shock to see someone with the wet look, owlish eyes, a bow tie and shapeless suit saying, 'I'm running for president.' "
In addition to the conventional issues of the Senate left -- gun control, opposition to Pentagon excesses, ending capital punishment, campaign finance reform -- Simon was a bedside nurse to a few causes on life-support systems. His favorite was foreign language education. "The United States," he wrote in The Tongue-Tied American (1980), "continues to be the only nation where you can graduate from college without having had one year of a foreign language during any of the 12 years. It is even possible to earn a doctorate here without studying any foreign language." In the land of the monolingual, he thought "we should erect a sign at each port of entry into the United States: Welcome to the United States. We cannot speak your language."
Only last week, reports appeared that the Bush administration faces a critical shortage of officials fluent in Arabic.
In October, Orbis published Healing America: Values and Visions for the 21st Century. It is a treasure of graceful prose that puts Simon in the company of other literate politicians who wrote their own unghosted books: Gene McCarthy, Mark Hatfield, Andy Jacobs, Ken Hechler.
The book shows a politician who was a man of action who could think and a man of thought who could act. A rare combination.
Colman McCarthy, a former Washington Post columnist, directs the Center for Teaching Peace in Washington.
National Catholic Reporter, December 26, 2003