Issue Date: December 26, 2003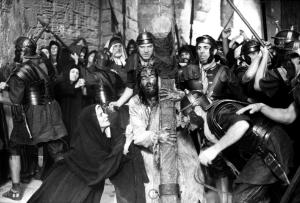 In a scene for Mel Gibson's movie "The Passion of the Christ," Jesus (Jim Caviezel) is approached by his mother Mary (Maia Morgenstern) as he carries his cross to the crucifixion.
-- CNS/Icon Productions
Pope gives 'The Passion' thumbs-up
By JOHN L. ALLEN JR.
Rome
Pope John Paul II has given a thumbs-up to Mel Gibson's controversial new film "The Passion of the Christ," a senior Vatican official told NCR Dec. 17.
"The Holy Father watched and enjoyed the film," the official said, speaking on condition of anonymity. "His comment afterwards was, 'It is as it was.' "
The official said the remark meant that the pope regards the film as a faithful depiction of the suffering and death of Christ as described in the New Testament.
Officially, Vatican spokespersons have so far refused to comment on whether or not the pope has seen the film. The senior official who spoke to NCR, however, confirmed that the pope watched a videocassette provided by the film's producers.
While spokespersons have in the past identified certain films that John Paul has watched and enjoyed -- including "Gandhi," "Life is Beautiful" and "Schindler's List" -- in general the Vatican is hesitant to comment publicly on the pope's reactions for fear of being seen as issuing a commercial endorsement.
"The Passion of the Christ," which is scheduled for release on Ash Wednesday, Feb. 25, has drawn fire from some critics for alleged anti-Semitism in its portrayal of Jews involved in the death of Christ. Defenders, however, say the film simply depicts events as described in the Gospels.
The pope's positive reaction builds on a series of good reviews from other Vatican officials who have watched "The Passion" during a series of Rome screenings.
Dominican Fr. Augustine Di Noia, an American who serves as undersecretary of the Congregation for the Doctrine of the Faith, rejected the charge of anti-Semitism.
"There is absolutely nothing anti-Semitic or anti-Jewish about Mel Gibson's film," Di Noia said in a mid-December interview with the Zenit news agency.
"The film neither exaggerates nor downplays the role of Jewish authorities and legal proceedings in the condemnation of Jesus," Di Noia said. "But precisely because it presents a comprehensive account of what might be called the 'calculus of blame' in the passion and death of Christ, the film would be more likely to quell anti-Semitism in its audiences than to excite it."
Earlier in the fall, Cardinal Dario Castrillon Hoyos, prefect of the Congregation for Clergy, also spoke positively of the movie.
"I would gladly trade some of the homilies that I have given about the Passion of Christ for even a few of the scenes of his film," he said.
Some observers have expressed surprise at Vatican enthusiasm for "The Passion of the Christ," given that Gibson himself is a traditionalist Catholic who rejects much of the mainstream Catholic church shaped by the Second Vatican Council (1962-65).
One Vatican official, however, told NCR that while Gibson may be a bit idiosyncratic theologically, "his heart is in the right place."
"There will be conversions because of this film," the official predicted.
National Catholic Reporter, December 26, 2003