Issue Date: January 9, 2004

From the Editor's Desk
Wishing Wilkins farewell
As this issue of the National Catholic Reporter goes to press in Kansas City, in London John Wilkins is signing off on his final issue as editor of The Tablet. Wilkins, after 22 years at the helm of the distinguished Catholic publication founded in 1840, was feted Dec. 12 at a retirement reception in the House of Lords.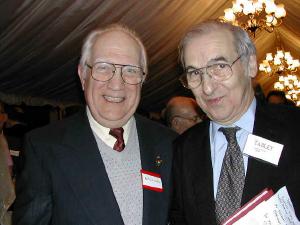 Arthur Jones, left, and John Wilkins
-- Margie Jones
It was, according to NCR editor-at-large Arthur Jones, who represented this newspaper at the formal Wilkins' farewell, "a gathering of some 250 of British Catholicism's literati, glitterati and politerati."
In a brief address, Wilkins forcefully proclaimed the reforms of the Second Vatican Council (1962-65) as the way ahead for the Catholic church. "There is no need for a Vatican III," he said -- Vatican II provided what was needed to bring the Catholic church into the modern world.
Effective Jan. 1, The Tablet's new editor is Catherine Pepinster, the newspaper's first woman editor in 163 years. Pepinster, a practicing Catholic, has a strong background in what in Britain are referred to as the "quality" papers, including serving as executive editor of The Independent on Sunday.
Former BBC journalist Wilkins, who had done an earlier stint at The Tablet before being named editor, has no particular plans for the coming year. For more than two decades he has generally limited his writing to The Tablet's editorials.
But judging from his signed pieces in The Tablet in recent weeks, plus his retirement declaration regarding Vatican II, he may become more visible as a writer on Catholic issues in the future.
We certainly hope so, as part, of course, of an enjoyable retirement.
You have our best wishes, John.
~ ~ ~
I don't know that anyone can answer comprehensively the question posed in our editorial: "So what's going on with U.S. priests?"
Somewhere along the line many of them seem to have rediscovered their voices, and now they are asking serious questions in the name of those they serve. It is a fascinating development. I have talked to so many priests in recent years who describe life in the church in terms of fear. They're afraid of extreme conservatives, or of saying something that will bring down the wrath of the bishop, or of being reported up the line. Theologians are afraid to write and to speculate. Liturgists are increasingly afraid that someone will shake the wrong hand or miss a bow or slip in some unofficial inclusive language.
We're all supposed to refrain from speaking about ordaining women or married men and, of course, gays are OK only if they are celibate or try to magically change themselves into heterosexuals.
So here come these priests, upending the conventional thinking and signing on -- publicly! -- to the tough questions and challenges. Perhaps they are discovering, along with their voices, the upside of the priest shortage -- that there aren't crowds waiting in the wings, eager to become pastors. The priests of today are a dwindling group, the only ones the bishop's got. Could they finally be in the position to insist on an adult conversation?
Maybe this time they'll get it.
-- Tom Roberts
National Catholic Reporter, January 9, 2004