Issue Date: January 9, 2004
AIDS a priority as mission marks 75
By PATRICIA LEFEVERE
New York
The enormity of the AIDS pandemic loomed over the celebrations for the 75th anniversary of the Catholic Medical Mission Board, the leading U.S.-based Catholic charity dealing exclusively with global health care. John Galbraith, president and CEO, told Catholic leaders and laity active in the mission board's worldwide work that they need to become "as resourceful as the virus in combating HIV/AIDS."
The virus presents the greatest challenge to the organization's member agencies, which serve the least accessible regions of the world's poorest countries, Galbraith said.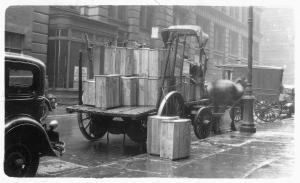 A shipment of medical supplies is loaded outside Catholic Medical Mission Board's New York warehouse in 1931.
The Catholic Medical Mission Board was founded in 1928 by Dr. Paluel Flagg, who recruited doctors, nurses and missionaries to do medical work in developing nations. Today, the organization provides more than $130 million in global aid yearly, mainly in the form of medicines, supplies and the training of local health care workers.
Many of the 250 people who attended the mission board's 75th anniversary celebrations -- including a Mass Nov. 16 at St. Patrick's Cathedral and a global AIDS forum and gala dinner Nov. 17 at the Pierre Hotel -- had flown in from 18 nations on five continents. The Global Health Council of Washington cosponsored the events.
The subject of condoms was not part of the AIDS forum's formal agenda. Still, many speakers raised the issue of their use to prevent the disease, and the subject arose in the hallways and at the forum lunch. Catholic Medical Mission Board literature states that the organization has never distributed or shipped condoms nor does it accept them as donations. Its AIDS education programs promote individual responsibility, monogamy, abstinence and respect.
The Vatican teaches that condoms are a method of artificial contraception, and as such, may not be used by Catholics. However, representatives of medicine and government as well as Catholic clergy have argued that lifting the ban could save millions of lives when 42 million people are infected with the AIDS virus, which killed 3.1 million people last year. The World Health Organization has called condoms "90 percent effective" in preventing the spread of AIDS when they are used correctly and consistently.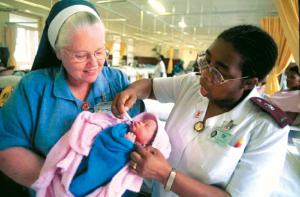 Missionary Sister of the Precious Blood Christa Mary Jones, St. Anne's Clinic program director, and T.M. Vezi, a nurse and St. Mary's Hospital maternity ward matron, administer the anti-HIV drug nevirapine to a newborn baby. The clinic at St. Mary's Hospital in Mariannhill, South Africa, is the site of the Catholic Medical Mission Board's Born to Live program, which focuses on preventing transmission of HIV from mother to child.
-- Charles Grey/St. Mary's Hospital
Dr. Joseph O'Neill, deputy coordinator and chief medical officer in the U.S. State Department's Office of the Global AIDS Coordinator, told the gathering that the Bush administration's $15 billion AIDS initiative includes a "conscience clause," so that those who cannot distribute condoms do not have to. He said the government supports the use of condoms but "we come to it with a great deal of humility."
In Kenya, where more than 30 percent of health care comes from faith-based groups, the majority of them Catholic, "the effort is to get them to accept the use of condoms," said Kenya's health minister Charity Kaluki Ngilu. She said she has worked closely with Kenya's Catholic bishops as a government official and earlier as a member of parliament.
Catholic Medical Mission Board funds 16 of the 17 AIDS centers in Kenya. Kaluki Ngilu takes condoms with her when she travels and tells people how to use them at all her stops. But Kenyan men tell her, "Madame, take it back, don't show us that," she said.
"No man wants to say 'I have AIDS,' " Kaluki Ngilu added.
Yet Kenyan women -- like others in Africa and the developing world -- "would like to play a more central role in protecting themselves," she said. " 'No' [to sex] is not an option for a Kenyan women, even if her husband is infected."
Bishop Kevin Dowling of Rustenburg, South Africa, called upon fellow bishops, priests, sisters and lay leaders to "theologize in the context of the unfolding reality of this pandemic." Church workers need a "positive vision that promotes a passion for the sacredness and vulnerability of life," said Dowling, who has asked the church to modify its teaching on condom use (see accompanying story).
Dowling thanked the Catholic Medical Mission Board for its Choose to Care program, which represents a $5 million commitment over five years to South Africa, Namibia, Swaziland, Botswana and Lesotho. The program, underwritten by the U.S. pharmaceutical firm Bristol Myers-Squibb in 2000, has reached more than 8,300 AIDS orphans, educated nearly 70,000 children in 87 Catholic schools, and provided care for 67,000 persons infected with HIV/AIDS, bringing some into anti-retroviral treatment centers.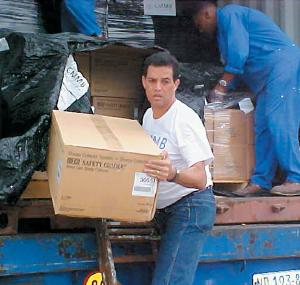 Dr. Eduardo Retes, the mission board's regional director for Latin America and the Caribbean, unpacks supplies during a visit to South Africa.
The mission board's anniversary was more than touting statistics of its delivery of medicines, supplies and trained personnel in more than 100 countries. It was, as Dowling noted, an opportunity to network with people who are "passionate" about overcoming the disease.
Among the most passionate voices was that of Dr. Peter Piot, a Belgian microbiologist who heads the UNAIDS program. Piot pointed to "a political momentum never before seen in the world" that has thrust AIDS to "one of the top three concerns" among countries surveyed by the United Nations.
"There's no prime minister, state or health minister in sub-Saharan Africa who does not realize its impact," he said. Defeating AIDS "is about the survival of the state itself."
Awareness of AIDS has also grown in the Caribbean, India and China. The Chinese health minister recently announced five commitments, including free health care for the poor who are HIV/AIDS-infected. Piot said that the Chinese, who contracted the virus when they "sold their blood to survive," remind him of "the women who have to sell their bodies to live" and become infected.
Money remains the difference between life and death for millions of HIV/AIDS victims. The United Nations will spend $4 billion this year on treatment, prevention, palliative care and AIDS orphans, compared to only $200,000 seven years ago.
In some developing countries faith-based agencies provide more than half of the health care services. That's why "they need to sit at the table where policies are formulated," said Rabia Mathai, the Catholic Medical Mission Board's global director of programs.
CEO Galbraith saw an opportunity for faith-based agencies to partner with business and government in providing treatment to conquer HIV/AIDS. Representatives of leading pharmaceutical companies joined top level USAID and UNAID executives at the forum and banquet, underlining links already in place between the mission board, drug firms and government aid providers.
The mission board honored Henry A. McKinnell Jr., chairman of the board and chief executive at Pfizer. It also presented two International Founder's Awards to Cardinal Oscar Rodriguez Maradiaga of Honduras and to Graca Machel, former First Lady of Mozambique, both of whom have given leadership in health care in their nations. None of the honorees was able to attend the gala because of time conflicts, but Rodriguez concelebrated the anniversary Mass with Cardinal Edward Egan and 20 other bishops and priests.
Patricia Lefevere, a longtime contributor to NCR, lives in New Jersey.
National Catholic Reporter, January 9, 2004