Issue Date: January 16, 2004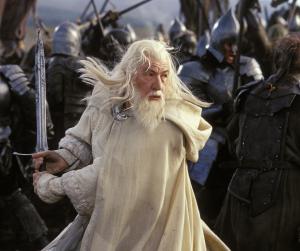 Gandalf, played by Ian McKellen, wields a sword in "The Return of the King."
-- CNS/New Line Cinema
Battling Evil and Mortality
'Lord of the Rings' comes to magnificent end; a dying intellectual looks back in 'Invasions'
By JOSEPH CUNNEEN
Most people decided whether they would see "The Lord of the Rings: The Return of the King" long before it opened, based on their experience of the first two movies of the series and/or of Tolkien's book. All should be assured that Peter Jackson and his extraordinary cast and crew have completed their work in spectacular fashion, translating the literary imagination of the original into brilliant cinematic images. Don't bring the small fry along, however, since the movie is three hours and 20 minutes, and there are lots of scary moments when fearsome Orcs are backed up by gigantic trolls, swooping dragons and dangerously looming elephants.
I would have preferred it if some of the battles were cut, though Jackson moves back to intimate scenes with his central characters to remind us of the significance of what is at stake, especially of the corrupting appeal of power through possession of the ring. Fortunately he has Ian McKellen as the wizard Gandalf to give real eloquence to his call to resist evil, and the brilliant use of special effects never obscures our recognition that the entire narrative has a deeply ethical center.
Except for a brief prologue showing Gollum (Andy Serkis) discovering the ring and the disintegration it works in him, "The Return of the King" doesn't waste time recapping the first two movies of the cycle but continues where "The Two Towers" left off. Frodo (Elijah Wood) and his hobbit friend Sam (Sean Astin) proceed toward Mount Doom, forced to rely on Gollum's insinuating guidance. A final struggle is impending between the men of Middle-earth, including King Théoden (Bernard Hill), Aragorn the Ranger (Viggo Mortensen), the archer-elf Legolas (Orlando Bloom), and Gimli the dwarf (John Rhys-Davies), against all the sinister forces that the evil Sauron can summon. Familiar characters reveal new complexity as they shift alliances or find new sources of strength.
Jackson shows a fine sense of timing; there is no pause for a love scene between Mortensen and the lovely Arwen (Liv Tyler), and despite all previous high moments we are awed when fires suddenly blaze in sequence on dark mountain peaks, alerting everyone that the moment of battle has arrived. The movie would be worth seeing just for the spectacular scenery of New Zealand where it was filmed, and even amateur Tolkien experts will need to see it a second time to be sure they understood the parallel action of up to five ongoing narratives.
Although, the movie doesn't leave much for actresses to do except look beautiful and be supportive, Eowyn (Miranda Otto) wears a man's armor as she confronts the chief of the Nazgûl. When he contemptuously declares no man can conquer him, she takes off her helmet and cries out, "I am no man," and saves her father by defeating the formidable enemy.
Jackson probably lingers too long over the climactic moments before the ring is cast into the maw of Mount Doom. The hobbits' return to their land seems tacked on rather than a real ending. Overall, however, Jackson has succeeded magnificently, making "The Lord of the Rings" his own film rather than a mechanical imitation of the novel.
Denys Arcand's 1986 "The Decline of the American Empire" centered on a gathering of French-Canadian liberal intellectuals who were spending their lives drinking, talking too much and engaging in casual sex. His Les invasions barbares ("The Barbarian Invasions") centers on Rémy (Rémy Girard), a retired history professor dying of cancer but still proud of his long-term womanizing. Despite his infidelities, his divorced wife Louise (Dorothée Berryman) pleads with his estranged son Sébastien (Stéphane Rousseau), a successful investment banker, to fly to Montreal from London to make his father's last days as comfortable as possible. Sébastien bribes hospital personnel to furnish an unused ward as a private suite and calls on his father's old friends to rally around and share one last auld lang syne.
Rémy perks up, enjoys memories of himself as a roué, and strikes somewhat pretentious intellectual attitudes, but there's an underlying pathos in his recognition that he has accomplished nothing and, along with his friends, has been taken in by every intellectual fad of recent years. Though Arcand's screenplay won an award at Cannes, some will find the proceedings talky and sometimes smutty. Nevertheless, the hospital room, and later a lakeside house outside Montreal, take on a party atmosphere that becomes surprisingly infectious. Rémy has a zany vitality, even if the loyalty of his wife and friends may seem somewhat unearned.
Eventually, Sébastien seeks out a former schoolmate, Nathalie (Marie-Josée Croze), a beautiful junkie, to get her help in obtaining heroin to ease his father's pain. There is both restraint and tenderness in the ultimate reconciliation between father and son, but the final shot of Nathalie, alone in Rémy's book-lined study, undercuts any temptation to sentimentality. The books remind us that the film's title refers not only to 9/11 -- the attack on the World Trade Center is seen briefly on television -- but to the fact that the new generation has not only abandoned the rather sloppy socialism of its parents, but also has chosen technology over serious reading.
"The Barbarian Invasions" has been immensely popular in Canada, in part because it offers an oblique review of recent history in Québec, especially the swift changeover from a clericalist to a post-Christian culture. Rémy and his male friends are ex-seminarians or graduates of Catholic schools, and a revealing scene shows an elderly priest trying unsuccessfully to sell a warehouse full of dusty church art, a symbol of the church's present state in Québec. These reminders will be especially striking for those who remember Arcand's "Jesus of Montreal," which balanced an anti-institutional approach to religion with a compelling sense of the humanity of Jesus, and will reinforce the elegiac sense of the new film. Could it be that the abandonment of Christian practice is a further indication of the "barbarian invasion"?
Joseph Cunneen, NCR's regular movie reviewer, can be contacted at scunn24219@aol.com.
National Catholic Reporter, January 16, 2004