Issue Date: January 23, 2004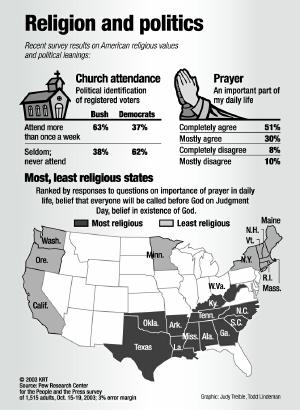 -- Graphic: Judy Treible, Todd, Lindeman
Re-igniting the religious left
New groups aim to recover political clout ceded to the right
By JOE FEUERHERD
Washington
In the 2000 presidential election, 60 percent of the 42 million adult Americans who told pollsters they attend church weekly supported George W. Bush over Al Gore. Today, even higher numbers of weekly churchgoers say they're likely to vote Republican in 2004.
By contrast, those who attend church less regularly tend to favor Democrats, with that party capturing nearly two-thirds of the relatively small number of voters who say they never enter a church.
It wasn't always the case. The correlation between church attendance and partisanship is a relatively new political phenomenon in the United States.
"We're in a religion fad now," said Alan Wolfe, director of Boston College's Boisi Center for Religion and American Public Life. "Nobody really remembers FDR's religion, or George H.W. Bush's for that matter, which is different from his son's. The only time John Kennedy mentioned his religion was when he distanced himself from it."
Today, said Wolfe, "People want to believe in the character of their leaders and they see faith as some clue to that person's character."
As recently as 1988, according to Pew Research Center polling, "white evangelical Protestants were split fairly evenly along partisan lines." Today, said Pew, "there is a nearly two-to-one Republican advantage among white evangelicals" while "the partisanship of non-evangelical white Protestants and black Protestants … has been relatively stable."
The impact on politics, particularly at the presidential level, is profound. In 2000, Bush got 80 percent of the 15 million votes cast by "white evangelical Protestants." And non-Hispanic Catholics, once a bulwark of any winning Democratic coalition, are now as likely to be Republicans as Democrats.
Former Vermont Gov. Howard Dean's recent awkward attempts to engage in religious rhetoric -- he mistakenly placed the Old Testament's Book of Job in the New Testament -- are an indication that even the most secular Democrats realize the pull of religious values on the electorate. "I'm gradually getting more comfortable with talking about religion in ways that I did not talk about it before," said Dean.
How did Republicans build a political base of the devout?
Conservatives argue that an increasingly secular national Democratic Party, wary of undue entanglements between church and state and defensive on such hot button issues as abortion and school prayer, forfeited the religious playing field to the right. Some liberals agree.
"Perhaps it's somewhat our own fault," said the Rev. Brenda Bartella Peterson, executive director of the newly formed Clergy Leadership Network. "The religious voice has been too much turned over to conservative voices and we feel that most of America lies somewhere in the center. The radical right has taken over the religious microphone."
"For a long period of time in the liberal world," said Wolfe, "there was a real fear of religion. There was a sense that religion was hostile to civil liberties, hostile to the interests of women and to other elements of the liberal coalition."
In addition, liberals, both secular and religious, give credit to their counterparts on the political right for exploiting the technologies that rally and inform their faithful. Among those tools: talk radio, cable news (particularly the Fox network), the Internet, Washington-based think tanks such as the Heritage Foundation and the American Enterprise Institute, and interest groups (Focus on the Family, the Christian Coalition, Concerned Women for America, the Traditional Values Coalition) that connect grassroots believers with policymakers.
"To give a nod to our friends on the right, I think they have done a much better job," said former Clinton administration White House Chief of Staff John Podesta, founder and president of another new Washington-based organization, the Center for American Progress.
Podesta and Peterson hope to alter the trends, to energize the secular and religious left using techniques honed by their political doppelgängers on the right.
Does Washington -- already home to the Institute for Policy Studies, the Catholic social justice lobby Network, labor union strategists, the Children's Defense Fund, the Center for Budget and Policy Priorities, Bread for the World, and a slew of left-leaning denominational lobby shops -- need another liberal voice? Podesta sees a niche.
"On the progressive side you see a lot of single-issue based groups with a lot of good analysis, but which don't operate across the entire issue spectrum," said Podesta. "Alternatively, you see groups that do terrific analysis but don't have the means and wherewithal to engage in the public debate. We intend to work on new ideas that are coming forward and try to put a progressive analysis out across the whole issue spectrum," he explained. "But we want to do more than that. We want to engage directly with the American public on those ideas on that thinking, on our critique of how the conservatives are, in our mind, taking the country in the wrong direction."
In addition to its daily e-mail newsletters (The Progress Report) and promoting to television and radio producers the availability of Center for American Progress scholars, said Podesta, "We'll try to pioneer and create new ways of distributing information to the American public."
Right out of the box, the Center for American Progress teamed with Internet dynamo Moveon.org to sponsor the release of "Uncovered: The Whole Truth About the Iraq War," a documentary that purports "to reveal the distortion of intelligence by the Bush administration that led to the first preemptive war in the history of the United States." Celebrity-hosted screenings were held in New York, Boston and San Francisco in November.
Funded to the tune of $30 million over three years by deep-pocketed Democrats (including financier George Soros), a staff of more than 30 professionals, and a group of affiliated "fellows" that includes former Clinton administration National Economic Council director Gene Sperling, the Center for American Progress has initially focused on foreign policy and economic issues.
"We made a conscious decision to launch with focus on national security, military affairs and foreign policy," said Podesta. "We felt that it was a place where the radical right and the neoconservatives were really dominating the public dialogue and we thought it was critical in terms of where our country was going and where the world was going to engage in that debate."
But the center will not shy away from the values debate. "We intend to engage and reengage with religious people who come from a progressive tradition," said Podesta. "When you look back on the civil rights movement, the movement for labor rights, and the movement for progress across the board in this country, you saw a very strong progressive religious voice arguing for social change," said Podesta. "We need to go back and remember what we are for, and many people of faith agree with the general thrust of expanding opportunity for all, and building community, and seeking social justice in the world."
Meanwhile, Peterson's Clergy Leadership Network is jumping right into the religious fray. Of note: the group is organized as a "Section 527" nonprofit under IRS regulations. That label requires the organization to be nonpartisan. It can't come right out and urge support for a candidate. But make no mistake, said Peterson, the group is "unapologetically political -- our mission is national leadership change."
From their small offices across the street from Democratic Party national headquarters, the Clergy Leadership Network aims "to educate and activate clergy on issues of faith surrounding the 2004 election."
The Rev. Albert Pennybacker, former director of the National Council of Churches Washington Office, serves as the new group's unpaid CEO. Among its National Committee members: the Revs. Jesse Jackson and William Sloan Coffin; the Rev. Joan Brown Campbell, former General secretary of the National Council of Churches; and Benedictine Sr. (and NCR contributor) Joan Chittister.
Don't look for the group to wade in on the religious right's litmus test issue: abortion. "One reason the moderate-to-left religious community has been silent is that we are so diverse that we don't often speak with one voice," said Peterson. Divisive issues such as abortion would interfere with the group's "reason for existence," said Peterson.
The group's initial focus is on economic issues, the "uses of power being pursued by the current administration," civil liberties, church-state relations, and the environment.
"We feel that this administration has disenfranchised those of us who are Christian, Jews, Muslims -- all people of all faiths -- who care about issues relating to education, health, poverty, and corporate greed," said Peterson. "We feel as people of faith that we need to speak out in a political way."
Is it too late for the religious left to have a greater impact?
Groups such as the Center for American Progress and the Clergy Leadership Network represent "a worthwhile effort," said Wolfe. But it won't be easy. "The Democrats and liberals are playing catch-up. They're way behind on this."
Joe Feuerherd is NCR Washington correspondent. His e-mail address is jfeuerherd@natcath.org.
National Catholic Reporter, January 23, 2004