Issue Date: January 23, 2004
WORLD
Edited by Dennis Coday
U.S. support for Burundi urged
BUJUMBURA, Burundi -- The United States should lead an international effort to support the peace process in Burundi, Bishop John H. Ricard of Pensacola-Tallahassee, Fla., said after visiting the African country. Ricard, chair of the U.S. bishops' international policy committee, visited Burundi Jan. 2-4.
He called on the United States to support the Burundian government's efforts to "demobilize, disarm and reintegrate rebel forces" and to pressure the government to fulfill its promises to restructure the government and implement economic reforms.
Ricard also called for increased financial support to assist refugees. About 300,000 people have been killed and 1 million people have been displaced during Burundi's 10-year civil war.
He said people in Burundi "remain in a state of shock, grief and mourning following the murder of Archbishop Michael Courtney," papal nuncio. Courtney, 58, whom the Vatican said was about to be named papal nuncio to Cuba, died Dec. 29 after being struck by numerous bullets shot at the car in which he was riding.
Bishop responds to suicides
SEOUL, South Korea -- Prompted by media reports of debt-ridden Koreans committing suicide, Auxiliary Bishop Lucas Kim Woon-hoe of Seoul has asked Catholics to help alleviate their neighbors' "burden." Kim said in a message issued Dec. 28 that the suicides are rooted in the desperation of people who feel trapped by poverty. Kim said people are stuck in poverty because they cannot afford education, housing and medical care.
Fr. John Lee Gi-woo, president of the Urban Poor Pastoral Committee, said the bishop's message appeals to the government as well as Catholics to pay more attention to poverty in society.
Hankyoreh, a national daily, reported near the year end that 700 people in South Korea took their own lives in 2003 because of poverty. They accounted for 6.8 percent of all suicides during the year.
---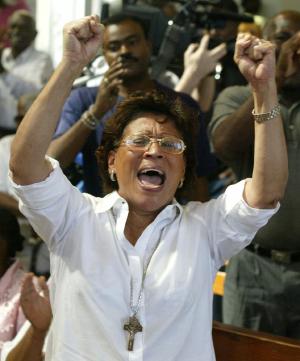 Mass and march
A Haitian women cheers as Bishop Pierre-André Dumas calls for a more moral government during Mass at St. Pierre Church in Port-au-Prince Jan. 11. The Mass was celebrated prior to a demonstration calling for the resignation of Haitian President Jean-Bertrand Aristide. Several thousand people participated in the protest march in the capital. Aristide, a former Catholic priest once hailed as a hero of democracy, is now accused by his critics of trampling on civil rights.
-- CNS/Reuters
---
Soldiers given ethical guidelines
JERUSALEM -- B'Tselem, an Israeli organization that promotes Palestinian human rights, has begun distributing 5,000 pocket guides on ethical conduct to Israeli soldiers manning military checkpoints between Israel and the West Bank and Gaza Strip and within the disputed territories.
The dozens of checkpoints Israel has erected since the start of the Palestinian uprising are often flashpoints between Israeli soldiers and Palestinians who wish to pass to the other side in order to go to work or school or to visit family.
Palestinians maintain that the checkpoints, which severely limit their mobility, are inhumane and violate international law. Israel insists they are necessary to prevent terror attacks.
Among the rules are directives not to damage or take Palestinian property, and to allow ambulances and people who are ill to go through the checkpoints, even if they do not have a permit to do so.
Israel charges that on several occasions, terrorists have hid in ambulances or dressed as pregnant women to gain entry into Israel.
A B'Tselem spokesman, said the pamphlet's guidelines "are in full accordance with Israel Defense Force orders."
Asian theology students to meet
KUALA LUMPUR, Malaysia -- The Federation of Asian Bishops' Conferences and the Christian Conference of Asia will jointly organize the Second Asia Conference of Theological Students, to be held July 25 to Aug. 6 in Kuala Lumpur. The conference is a gathering of Catholic and Protestant theological students who are interested in ecumenical issues, interreligious dialogue, justice and peace, and contextual theology.
Meanwhile, the Asian bishops will meet in South Korea Aug. 17-22 for their quadrennial plenary assembly. The assembly theme is "The Pastoral Care of the Family."
USA
Plan targets homelessness
ST. PAUL, Minn. -- Minnesota Gov. Tim Pawlenty has announced a seven-year, $400 million plan to build homes or subsidize rents in an effort to end homelessness in the state. The plan would aid the 4,000 Minnesotans that are most at risk of homelessness, Pawlenty stated.
"This is a really good first step," said Kathy Tomlin, director of the Office of Social Justice for the Minneapolis-St. Paul archdiocese, noting there has never before been an effort of this scope in any state. However, she said, the program would require not only buildings but operating funds for support and services. There is a question about where some of the funding will come from, she said. The plan would require the state to borrow $20 million for this year's phase of the program.
Death penalty moratorium sought
ST. LOUIS -- Bills seeking a moratorium and further study on the death penalty were introduced in the Missouri General Assembly Jan. 7. The Senate sponsor, Democratic Sen. Mary Groves Bland, has filed similar bills in the past. Republican Rep. Sherman Parker has said that he probably will sponsor a House bill.
Bland's bill would create a nine-member commission to study all aspects of the death penalty as administered in Missouri. The commission would hold public hearings and review all charges of murder or voluntary manslaughter filed after 1977. All executions would be prohibited during the review.
The commission would report its findings by Jan. 1, 2006, and make recommendations on modifications to state law to ensure adequacy of counsel, accuracy of findings of guilt, elimination of race disparity, fair court procedures, and fairness and consistency in charging and sentence recommendations by local prosecutors.
Lawyers told to defend marriage
BOSTON -- Speaking Jan. 11 at the annual Red Mass in Boston's Cathedral of the Holy Cross, a liturgy for the legal community, Archbishop Sean P. O'Malley of Boston urged members of the legal profession in Massachusetts to have the courage of St. Thomas More, the patron saint of lawyers, who "lost his life defending the sacredness of marriage."
He told the congregation to "witness to the truth about marriage," and defend traditional marriage in the commonwealth.
By watering down the definition of marriage, he said, the courts risk creating "some new kind of marriage" in which the only criterion is to be "household-sharing domiciles -- something akin to carpooling."
In November (NCR, Nov. 28) the Massachusetts Supreme Judicial Court endorsed civil-marriage rights for gays under the equal protection and due process provisions of the state's constitution. The state's bishops did not support the ruling.
Military see creates youth office
WASHINGTON -- The National Federation for Catholic Youth Ministry and the U.S. Archdiocese for the Military Services have created a new office to advocate for the needs of youths and young adults in the military. Mark Moitoza was named director of youth ministry for U.S. military services. He served as Catholic youth ministry coordinator at two U.S. Army installations in Germany in a pilot program during the past four years. He has worked in full-time youth ministry for the past 12 years.
Bob McCarty, executive director of the National Federation for Catholic Youth Ministry, said the new office "will enable the church to better respond to our young people in military communities through a comprehensive approach to youth ministry."
---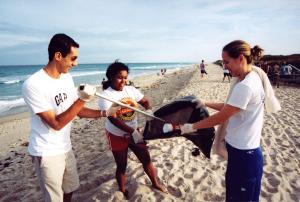 Students clean beach
Students Paul Mosso, Mary Rona Shell and Heather Quinlan of the National Catholic Student Coalition help clean up the shoreline at Cape Canaveral National Seashore in early January. Members of the organization meeting for a leadership conference in Orlando took on a few social service projects during their time in Florida.
-- CNS photo by Peter Kaleta, Florida Catholic
---
Religious press Bush on AIDS funding
WASHINGTON -- The week before President Bush was to give his State of the Union address, religious leaders were pressing the president to make good on his promise to fight global AIDS by providing $3.6 billion in his budget proposal for 2005.
Last year, Bush outlined his Emergency Plan for AIDS Relief, which called for spending $15 billion over five years to combat the disease in Africa and the Caribbean.
Speakers at a Jan. 13 news conference said they believe Bush intends to ask for only $2.7 billion in actual spending for 2005, compared with the $3.6 billion authorized by Congress.
"If we can harness the human ingenuity and resolve to send people to Mars, we can certainly meet this challenge," said David Dahlin, Compassion International's chief operating officer, referring to Bush's recent announcement of plans to create a space station on the moon and eventually to send astronauts to Mars.
Americans say time better than money
MINNEAPOLIS -- Fifty percent of Americans believe that giving one's time to charity is more important than giving money, according to a poll by Thrivent Financial for Lutherans. Other results found that 22 percent said money is the more important gift to charitable causes and 23 percent said time and money had equal importance.
"This research suggests that there's an emotional, visceral connection to volunteering that just cannot be duplicated by writing a check," said Brad Hewitt, a Thrivent Financial senior vice president. Thrivent Financial is a not-for-profit Fortune 500 financial services organization.
The survey also found that 66 percent of those who attend religious services weekly and 58 percent of those who pray daily said they had volunteered in the past year. In comparison, 28 percent of those who rarely or never prayed and 25 percent of those who never attend religious services said they had volunteered in the last year.
Campaign seeks solutions to poverty
NEW ORLEANS -- "I doubt that many of us here would have comfortably enjoyed a Thanksgiving dinner if we knew that our own relatives were hovering outside our door with no food to eat," said Fr. Robert Vitillo, executive director of the U.S. bishops' Catholic Campaign for Human Development.
"Yet we do, in fact, tolerate this very injustice when we quietly ignore the plight of some 34.6 million of our sisters and brothers in the human family who are burdened each day by poverty in this, the richest of nations."
People of good will need to focus not only on the magnitude of poverty in the United States but also on solutions to the problem, he said. Vitillo spoke Jan. 12 at launching the organization's fourth annual national campaign to raise public awareness about the challenges faced by poor and low-income people in the United States.
The news conference was held at Café Reconcile, a project that uses funds from the Catholic campaign to offer employment and job skills to unemployed and underemployed people who live in the neighborhood around the café. Vitillo called Café Reconcile "one of the bright spots."
"By teaching [people] vital skills and by patiently training them to find and retain better-paying jobs, Café Reconcile has brought new hope and brighter futures to so many of its 'graduates,' " Vitillo said. "In addition, this thriving business has literally transformed the commercial corridor in this part of the city."
-- Catholic News Service
COMPILED FROM NEWS SERVICES, CORRESPONDENTS AND STAFF
National Catholic Reporter, January 23, 2004