Issue Date: January 23, 2004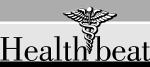 Dignity amid trauma
Hospital serves one of Southern California's toughest urban territories
This is the first in a three-part series on the work, financial strategies and budgetary constraints facing St. Francis Medical Center in Lynwood, Calif., a hospital that turns no one away. Like other Catholic hospitals around the country that adopt this outreach-to-all approach, St. Francis has to balance budget and belief in the midst of traumas that come down to caring for sick and dying people one person at a time.
Part One: The ER -- violence in the city. Personal tragedies -- and $3,500 a day in the intensive care unit for penniless survivors. "Angels" in the mortuary.
Part Two, Feb 20: No boundaries -- creating jobs and futures to heal the community while healing the sick: the hospital that intends to open its own inner-city university.
Part Three: Twenty hours in the ER: a pile of paperwork two-and-a-half feet high, plus bills that no one can pay. Hard cash and fundraising at a medical center that does not intend to go away.
By ARTHUR JONES
Lynwood, Calif.
Code Yellow. Trauma victim. A shooting. Ceiling speakers echo the alert throughout the Emergency and Trauma Services Department. As the ambulance wails toward St. Francis Medical Center emergency department bay, this is not television ER, with green or blue scrubs-garbed medical staff running and shouting, alive on an adrenalin rush.
Those assigned to Trauma Room One here move quietly yet quickly along the corridors to take up position. The operating table is covered with sheets. Hope is high but experience breeds practicality -- the edge of a body bag can be seen under the top sheet.
The en route emergency medical technicians -- EMTs -- in the ambulance have already reported the victim's cardiac arrest and resuscitation.
The alerted team is arriving: trauma surgeon, and ER doctor, anesthesiologist, surgery RNs, ER RNs, the X-ray tech with his mobile unit, respiratory therapist, people from admissions and social services. And the chaplain. Some take up positions around the bed, others remain by the curtains or in the corridor.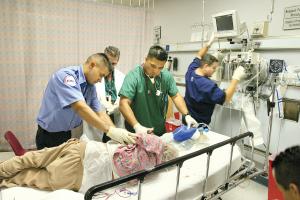 An EMT ambulance team brings in an older woman who is having difficulty breathing. She was stabilized and later returned home.
-- Photos by Rick Reinhard
The exterior doors swing open. The gurney is on its way in. In the lead, IV drip held high, a Los Angeles County Fire Department EMT, two others alongside. They head straight into Trauma Room One, the lead EMT clearly reporting the situation. The gurney-to-table transition is smooth. The victim -- Latino judging from his light brown skin visible in the break between the gurney sheet and the top of his shorts -- is a dark-haired young man, early 20s. His faced is masked by oxygen equipment.
Around the table, skilled hands move rapidly. Electrodes for monitors, IV hook-ups, painkillers. The surgeon has the chest open, his hand is inside seeking to massage the heart. Readings freefall into another cardiac arrest. The resuscitation team "whoomps" the chest. The surgeon's hand is back inside the chest in an attempt to locate the severed blood vessels. His finger goes into a hole in the heart. A bullet had come through from the back.
"I'm calling it," said the surgeon. The young man was dead.
He died as John Doe. The chaplain did not know a name to use as she commended the young man's soul to God.
Southern California's most prestigious hospital is probably Cedars-Sinai in Beverly Hills. Think of St. Francis Medical Center as "Cedars-Sinai for the Poor." There are private rooms in an ultramodern complex, the latest technology. The medical center has its own career college. Twice-a-year health fairs attract thousands, and a mobile health unit is out in the neighborhoods five days a week.
Note from the Editors:


This is a premium content page.



During the initial launch of Health Beat coverage, NCR will make these articles available for all Web site visitors.
The hospital's income from the care it provides falls millions of dollars short of the costs. St. Francis turns no one away in an area where the per capita income is $9,000 a year (compared to $23,000 for Los Angeles, $30,000 for the United States).
The city of Lynwood has gone from being white in the 1940s and '50s, to African-American in the 1960s and '70s, to all Hispanic in the 1980s and '90s. Population is mostly Catholic and mainly -- 85 percent -- extremely poor.
Overcrowding has reached astonishing proportions with two-and-three bedroom houses now occupied by 12 or more, sometimes many more, people. People live in garages and in their cars.
Despite its sun-drenched, pastel bungalow appearance, this is tough territory.
St. Francis Medical Center is in the toughest of hard-boiled urban territories. Nearby neighborhoods served by the hospital are staked out by no fewer than 240 active gangs in Lynwood, Compton, Downey and abutting Los Angeles.
Little wonder that the hospital initiated an anti-gang program -- or that the trauma department's flow by mid-evening is periodically punctuated by a siren wail signaling another assault, another drive-by shooting, another beating, another knifing. Between times the emergency room also serves the heart attacks and respiratory failures, car crash victims, people injured in household accidents, folks who have fallen off ladders in their backyards picking avocados, or another homeless person collapsed on the sidewalk.
Some victims of random violence survive, but not necessarily into a full life. A walk through the Intensive Care Unit makes that clear. A gas station attendant, 19 years old. The customer refused to pay and held the attendant by the collar while he fractured his skull with a baseball bat. The attendant will never walk again.
What, in that situation, does a chaplain say? To the family? To the young man?
"Mostly I don't say anything," said Friars of the Sick Poor Br. Richard Hirbe. "Being silent, that's more than saying something. Present to the pain, testifying to God's love. That's all they want. We don't have an answer. If you don't have an answer, don't make one up. Just be present. You have to cry with them."
One day it was a victim who had something to say.
Cesar Galant, in his late 20s, had been shot. Paralyzed from the nipple-line down. His brother was killed. When Hirbe leaned over Cesar's bed to tell him he was paralyzed, the young man said, "Teach me to fly, Brother. Teach me to fly."
Those words were a defining moment for both Hirbe and Galant. Hirbe was so moved he founded the Friars and Sisters of the Sick Poor (NCR, Oct. 10, 2003).
Galant was so strong and determined that after he had regained strength and gone through rehab, he was hired as the medical center's posttraumatic stress disorder counselor -- part of the spiritual care team.
Five days a week he wheels into the rooms of patients suffering some type of trauma, listens and talks. And gives off encouragement by being who he is, not what he is, a person in a wheelchair. Not long ago he stopped by the friars' house in Long Beach. He told Hirbe, "I've been to places that my legs could not have taken me."
It's true. He has brought his children and extended family back into the church; and made a series of pilgrimages to Mexico and elsewhere. In Rome Oct. 15, with Hirbe, Galant was blessed by Pope John Paul II, to whom Hirbe presented a copy of the statutes of the Friars and Sisters of the Sick Poor.
When Galant pulls up at the bedside of a young man newly paralyzed, said Hirbe, that young man already knows his legs are going to go. "The big concern -- their hormones are raging at that age -- will I be able to father children? And when they see Cesar and some of the things he does," said Hirbe, "other questions surface, and it puts them on a spiritual path."
Day in, day out, the hospital's clientele is dealing with "grief, hopelessness, trauma, death, a tremendous amount of abuse, a tremendous amount," said Hirbe. "So it's about being a ray of hope, giving them some inspiration, pushing them to a window. This is not about health care, that's not why the hospital is here. We're continuing the mission that was started 2,000 years ago, to give people a sense of dignity."
A day's tally in the 36-unit ICU department includes a gunshot wound to the face; overdose; stab wound; gunshot wound to the left leg; rip in the stomach that won't, can't heal; and a woman in a coma, Jane Doe, on full life support until the ethical team meets to discuss her status. Unknown, broke -- treated like a human being, a lady, a person of dignity. At a cost of $3,500 a day for days on end.
The cost of three days in ICU is more than the average Lynwood resident sees in a year.
Money no one's got, and someone has to find.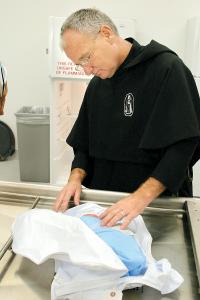 Br. Richard Hirbe with Angel, a baby who died postpartum.
Downstairs in the morgue, there's more evidence of the Catholic way of death and life. A white household freezer hold fetuses and amputated limbs. There's a contract with a local mortuary that will dispose of them properly, in a way that satisfies Catholic religious sensibilities.
From one freezer Hirbe removes a small white zippered case not much larger than one that could hold a laptop. He places it on a table and unzippers it. Inside there's a little boy in blue, fully clothed and ready to go home. But frozen, awaiting burial instead. He died postpartum.
He was baptized "Angel."
"Distraught mothers say, 'God took my baby because he wanted an angel,' " said Hirbe. But the chaplains -- St. Francis has a 10-member full-time pastoral team -- softly suggest that "God didn't take your baby. Your baby died because of a heart condition, or whatever that condition was. Parents need an explanation. They blame it first on God. … So we try to turn that. God is Abba, father," Hirbe said.
There are corpses in the ice-cold receptacles, drawers of undocumented men hit by cars, new arrivals who came from regions south of the border where cars don't move at drag race speeds through city streets. The bodies will remain as agencies try to find a relative in Mexico or Central America. There are bodies being held for the coroner. And unknowns, to be buried without mourners.
There's an adjoining viewing room, for closure, before the body goes back to Mexico or to the mortuary for burial. The body is brought in on a gurney, for a short time. It cannot be out of the freezer for long.
This is the room where chaplain "Sister Paz," Laura Maripaz Sanchez of the Sisters of the Sick Poor, was later able to take the young wife, now widow, of the young man who died on the table during the Code Yellow.
Two hearts were breaking, the wife's, and Sanchez's.
It's a homicide case referred to the coroner. The corpse itself may hold clues. And that's the moment Sanchez finds hardest -- having to prevent, sometimes even by gently taking hold to restrain the grieving spouse or parent or teenage child from engaging in that last embrace. The physical farewell -- denied.
Denied to a life snatched away by violence before it was lived.
Arthur Jones is NCR editor at large. His e-mail address is arthurjones@comcast.net.
St Francis Medical Center provides safety net for more than health

St. Francis Medical Center, Lynwood, Calif., a mission of the Daughters of Charity of St. Vincent de Paul, was founded in 1945. It has dozens of programs to meet the surrounding community's health needs. But few speak to the poverty of the area more than a program that has little to do with health.

Children in the surrounding neighborhood were being turned away from school because they had no shoes. Life in 21st century Los Angeles: no shoes. Now they have them. St. Francis Medical Center's Footprints Program distributed 7,000 pairs of shoes and items of essential clothing last year in an operation also supported by Sears, BMW and Maryvale, a Daughters of Charity-sponsored group home.
St. Francis Medical Center, which in 2003 touched the lives of 24,125 inpatients and 235,065 outpatients, is a federally designated "disproportionate share" hospital -- one serving a disproportionate share of the poor. More than 80 percent of all reimbursements for the center's services are from Medicare and Medi-Cal (California state Medicaid).
St. Francis is one of only 13 trauma hospitals remaining in Southern California or Los Angeles County. It established its Trauma Center when other hospitals closed theirs.
St. Francis operates the busiest private paramedics base station in Los Angeles. With a glance at the screen a mobile intensive care nurse coordinates 19 paramedic squads to area hospitals with trauma beds still open. Some evenings every trauma bed, intensive care unit bed and emergency room slot in Los Angeles County is filled. That's when the beds begin to line up in hospital corridors.
Day in, day out, the medical center that turns no one away faces a clientele characterized by:
poverty, high unemployment, education deficiencies;
high crime and violence rates;
high teen pregnancy rates;
a disproportionate number of undocumented persons;
lack of health insurance coverage.
St. Francis was one of seven sites in a Catholic Health Association study leading to the report A Commitment to Caring: The Role of Catholic Hospitals in the Health Care Safety Net, by Alexandra E. Shields, Ellen O'Brien, Darrell J. Gaskin and Georgetown University's Institute for Health Care Research and Policy.
The other six Catholic medical centers, all hospitals facing variations on the difficulties in Los Angeles, were:
Our Lady of the Way Hospital in Martin, Ky. (Catholic Health Initiatives health system);
St. John's Health System, Detroit (Ascension Health);
St. Mary Hospital, Hoboken, N.J. (Bon Secours and Canterbury Partnership for Care);
St. Vincent Catholic Medical Centers in Queens, N.Y. (NCR, Nov. 21, 2003);
Christus Santa Rose Health Care, San Antonio (Christus Health);
Providence Hospital, Washington (Ascension Health).
-- Arthur Jones
National Catholic Reporter, January 23, 2004