Issue Date: January 23, 2004
To the Mountaintop:
Martin Luther King JR.'s SACRED Mission to Save America, 1955-1968
By Stewart Burns
HarperSanFrancisco, 502 pages, $27.95
Into the Wilderness
Author recounts Martin Luther King's struggle to live out his prophetic destiny
Reviewed by JOSEPH BROWN
In most accounts of religious conversions in African-American history, an individual is compelled into a wilderness, where visions of hell and heaven deluge the soul, causing much fear and trembling. After a seemingly extended, terrifying encounter with apocalyptic scenes (traditionally lasting a mystically appropriate three days), the individual is led back among the believers who await a testimony of all that was "seen and heard."
Zora Neale Hurston identifies the vision as an essential part of African-American religious experience. She says that a vision "almost always accompanies conversion. It always accompanies the call to preach." While discussing conversions and visions, Hurston makes a distinction that could serve as the foundation for Stewart Burns' To the Mountaintop. Hurston says that in the conversion, "we have the cultural pattern of the person seeking the vision and inducing it by isolation and fasting. In the call to preach we have the involuntary vision -- the call seeking the man."
Burns delivers what is perhaps the clearest account in years of this phenomenon of both the conversion and the call to preach in the life and struggles of Martin Luther King Jr. For King, the wilderness was America, the South, the black church, the Civil Rights movement and his own tortured and flawed soul. Beginning with his uncertain and hesitant role within the Montgomery, Ala., bus boycott that began in December 1955, and ending with his assassination in Memphis on April 4, 1968, Martin Luther King Jr. stumbled or was dragged, pulled, sucked into hell after hell.
In all the years since he first walked into the public arena, we have trouble remembering just how young King was in 1955 (26 years old), how untrained he was for political leadership, even how uncomfortable he was with many of the elements of the African-American community that thrust him into a soul-devouring scrutiny conducted by the media, the United States government and his own fellow church members and coworkers for justice.
It is one of Burns' most important accomplishments in this book that the reader follows King as he stumbles in a wilderness he never sought. In the terms of Hurston, the "call to preach sought the man." Burns gives a much-needed portrait of the "wilderness," both within and surrounding King, as he finds his voice, his authority and his vision. From the newly minted pastor to the Nobel laureate who challenged all who sat upon the thrones of power and domination, King's journey becomes the reader's journey.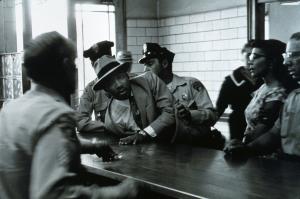 In Montgomery, Ala., in 1958, Martin Luther King Jr. is sprawled across a police desk after being arrested for loitering outside a courthouse. After being roughed up and jailed , he was released when authorities were informed of his identity.
-- BlackStar/Charles Moore
We are allowed to meet the women who were plaintiffs in the lawsuit that challenged segregation in Montgomery. We are present in the congregations as King relaxes his theoretical and intellectual dependencies on Hegel, Paul Tillich and H.W. Wieman, when he is called to speak to the needs of the socially mixed classes of pro-testers and resisters. King's initial call to ministry was a blending of family expectations and intellectual idealism. He described an "inner urge calling me to serve humanity," based on "the noble moral and ethical ideals" found in the church of his parents, grandparents and great-grandparents.
The bombs; the death threats called in at midnight; the stabbings, stonings and assaults; the infiltrators who betrayed him and his organizations; the lies and psychological attacks sponsored by the Federal Bureau of Investigation: King did not seek hell. It found him.
What is most amazing about To the Mountaintop is not the author's desire to show how King found meaning and significance in becoming a prophet of salvation to all the people who were (and are) America. It is not clear that Burns ever actually proves this point. Indeed, the evidence suggests that King never found solace. He was more than reluctant to take on the mantle of Elijah; as he became clearer in his understanding of his prophetic destiny, he became more isolated, more driven, more certain of the inevitability of his own violent death. His bouts with depression and his reliance on alcohol and promiscuous sexual encounters grew more intense as the years passed and the pressures increased.
The Word that came to him consumed him, and Burns makes this palpable throughout this book. In narrating how Martin Luther King became a more and more permanent resident in the garden of Gethsemane, Burns presents King as a "representative self" -- a man whose life shows us all how to live what the old songs of his faith tradition have been teaching us for centuries. One of those songs says, "I know my wings are gonna fit me well. I tried them on at the gates of hell." Another says, "O Lord, stand by me, as I walk this lonesome road; help me drink this bitter cup."
Songs such as this sound throughout this text, whether or not they are directly quoted. By focusing on all the people who chose King to be their leader, and who taught him how to embrace their lived and suffered truth and not to rely only his own extraordinary gifts, Burns gives us a man of great humility and perseverance. The author provides generous portions of testimony from many who were there before King, in Montgomery, St. Augustine, Birmingham, Chicago, Cincinnati and Memphis; who were with him every inch of the way, from his fellow ministers to his wife; and all the young and old who confronted dogs, fire hoses and midnight assassins when King was either physically absent or spiritually paralyzed.
Burns is able to tie together many seemingly opposite influences in King's life. From early in the book when King reads The Souls of Black Folk, while jailed for the first time in Birmingham, Ala., to the epilogue of To the Mountaintop, we grow to know, love and grieve a man who balanced all the conflicts and confusions of his life into an act of faith. He is presented as the avatar of W.E.B. Du Bois' theory of double consciousness, "a Negro, an American … two souls striving in one dark body." It is the most extreme form of existential doubt and dread, except for one factor. When Du Bois finishes his description of double consciousness, he says that it is the Negro's "dogged strength alone" that keeps him from "being torn asunder."
We see the courage to continue, the determination to stand fast on the mountaintop, which is, simultaneously, the deepest of deep rivers, the coldest of chilly Jordans, and the darkest of lonesome valleys. King lived in all those places, and continues to be a beacon for those of us who see the same forces of darkness crowding our spirit and our faith today.
This book is of vital importance in explaining how one child of God can show the way for all of us on the journey "from can't to can."
Jesuit Fr. Joseph A. Brown is professor and director of Black American Studies at Southern Illinois University, Carbondale.
National Catholic Reporter, January 23, 2004