Issue Date: January 23, 2004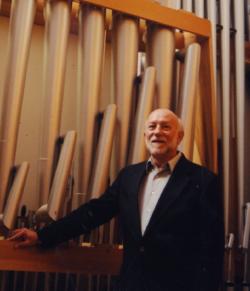 Dan Wyatt, director of worship ministry for St. Frances Cabrini Parish in Littleton, Co.
-- Melissa Jones
'Good tunes and good text' create vital liturgy at Colorado parish
It takes time, dedication to build quality music program, says director
By MELISSA JONES
Littleton, Colo.
St. Frances Cabrini Parish is a place where quality liturgical music is foremost in the minds of the church's leadership and parishioners. A passion for "good tunes and good text" has helped the parish grow from 900 initial members in 1972 to the present 9,000 parishioners, said Dan Wyatt, director of worship ministry for the suburban church located in Littleton, southwest of Denver.
Wyatt came to St. Frances Cabrini in 1990, hired by then-pastor Richard Ling, a noted liturgical writer. Ling was fundraising for a state-of-the-art worship space with a strong music program, but left before bringing that dream to fruition.
The original worship space was a dim, squarish area with low ceilings and a sliding back wall that could open to the adjoining gym for an overflow crowd. The acoustics were dismal and the choir was tiny. "There were six people in the choir," Wyatt recalled. His initial plan to have a solid choir in two or three years proved unrealistic. It took about five years of recruiting and forming talent to truly tap into the parish's musical potential. Wyatt advises parishes hiring liturgical ministers to be reluctant to hire anyone who can only give the job two or three years. "I know it takes five to 10 years to build a program. People need consistency," he said.
When the present pastor, Fr. Ken Leone, arrived in 1993, he renewed the building project, and in 1998 the parish dedicated its large new music-friendly worship space. The sanctuary is roughly octagonal, with the altar in the middle. A niche behind a large crucifix is filled with pipes from a huge organ that easily fills the church with rich sound. The interior has lots of angles and hard surfaces, the pew backs are wood, and only the aisles are carpeted. Wyatt said architecture is a great asset to musical worship, "a really good naturally acoustical, reverberatory environment is so important, so the assembly can hear itself singing, because it doesn't have microphones."
Wyatt said building quality liturgical programs is very much tied to staff development, budget issues and priorities. A good relationship between the liturgist and the pastor also makes the job easier. He's been lucky to work with pastors who share an enthusiasm for music ministry. He said pastoral leaders must ask, "What does it take to create support for a very vital liturgical life, and a vital liturgical worship experience?" He added that the parishioners' attitudes are also important, for they must willingly participate in "that vigorous vital worship."
To build musical support in the liturgy, Wyatt said, the first job is to tap into the talents of the community. He used a number of techniques: "beating the bushes," putting out the call, and approaching people from the congregation directly. Most crucial, he said, choir members "must have a high reward experience." He said, "Who wants to waste their time on schlock or shoddy stuff?" When choir members get frustrated, they drop out. Even small things, like starting rehearsals on time, are important. "Part of the high reward you want people to experience is that they find a certain discipline maintained," he said. "Then it becomes a matter of recruitment by attraction, rather than recruitment by persuasion."
Wyatt also advised music ministers "to tend the building of community in the choir." Most choir directors have dealt with "choir divas" (male and female) who want to run things or be the star of the show. Wyatt said liturgical leadership requires balancing personalities. He sees the choir as a small community within the larger community, "so we have to model the virtues of faith, love and charity that one would expect the larger community to be living," he said. "If we can't get along in the choir there's not much hope for the parish." At St. Francis Cabrini, Wyatt said, "we really want to be a 'best in class' music group, but we're not going to do that at the expense of love or charity or forgiveness. We're not just about the music."
According to Wyatt, "the sound of the assembly singing is the most desired sound." He said, "If we do nothing else but create a singing assembly, then that's the goal. And that can be done without a choir. It can be done, and historically has been done, without instrumentation." He said there is a place for complex choral or instrumental pieces "as long as they're not usurping the parts of the Mass that rightly belong to the assembly."
He also noted that today's liturgical ministers are working against societal trends. "We're living in an entertainment culture where the assembly assumes a role of passivity and just wants to be entertained." He said the challenge is to move the congregation beyond this trend and say, "This is not to entertain you, it is to support your song."
The reforms of the Second Vatican Council (1962-65) had a positive impact on liturgical music because it articulated the principle of active participation, said Wyatt. Vatican II changes recognized that "the assembly as passive observers with the music done by the choir in a loft was a distortion of the basic liturgy," he said.
Although some Catholics found the post-Vatican II years of liturgical music experimentation distasteful, Wyatt said music was then appropriated from popular culture "because we had nothing! There was a vacuum." Now, he said, "You've got three major Catholic publishing companies putting out tons and tons of stuff." But with so much music available, he said, there's a temptation to change the music too frequently. "There's something about repetition that allows people to appropriate the texts and tunes as their own, but they've got to hear them over and over before they can even feel comfortable in singing them."
Wyatt said musical leaders must decide, "Is this music any good? Is it crafted well? Is it theologically appropriate?" And, he said, pastoral judgments are also required regarding particular groups, "I'm not going to give a group of senior citizens rock music to sing and I'm not going to give a group of teenagers crusty old hymns to sing." However, he warns against ghettoizing groups, and always seeks crossover music that brings people together. He asks, "What will help these people express their faith?"
For example, a "mainstream" Advent service at the parish included the old favorite "O Come, O Come Emmanuel," and Bach's "Jesu, Joy of Man's Desiring," with more contemporary compositions. The evening Teen-Life Mass also mixed a standard "O Come, O Come Emmanuel," into its electronic repertoire. The teens' Mass also contained an emotionally stirring rendition of "Praise God from Whom All Blessing Flow," that started with a low note from an electric keyboard and rose in volume with a subtle drumbeat to back it.
Wyatt said the pastoral leaders at St. Frances Cabrini have "tried to build a liturgical music program that engages people's imaginations, enables them, gives them words and tunes that are accessible and that they can appropriate and make their own."
"I certainly believe in the power of music as an evocative art form and as a cultural experience," he said. "It has great potential to allow people to express dimensions of feeling and faith that can't be done any other way. Anyone who doesn't recognize that is missing some real opportunities for expression."
Melissa Jones is a frequent contributor to NCR.
National Catholic Reporter, January 23, 2004