Issue Date: January 23, 2004
Tradition, spontaneity enliven weekly Mass
By CHUCK COLBERT
West Concord, Mass.
Great preaching and liturgy are what draws together the vibrant parish of Our Lady Help of Christians, say parishioners, who gather for the Eucharist at four standing-room-only weekend Masses.
According to Anita Tekle, longtime parishioner and lector, "It's the pastor." Fr. Austin Fleming, who has served at the parish for nearly 10 years, "is the one bringing people together," she said. "It's a dynamic that he has created resulting in a more involved community."
But, Tekle added, "I think we all feel this will live on beyond him. It's not just one person."
Another reason people come to Mass and get involved in parish life, Tekle said, is the preaching. "His homilies appeal to all ages, they are memorable, personal and relate to personal situations."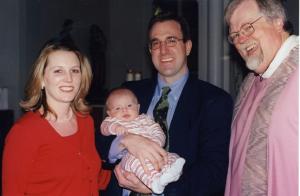 Suzanne and Joseph Cushing with their son, Samuel, who was baptized Dec. 14 by Fr. Austin Fleming, right.
-- Chuck Colbert
Ellen Oak, who serves as a cantor, said, "He uses the sacramentary as a recipe book, so the liturgy is rooted in the tradition and yet spontaneous in the moment."
Witness one example of that blend of tradition and spontaneity, the 11:30 Sunday morning Mass, Dec. 14, the third Sunday in Advent.
Trekking all the way from the Charlestown neighborhood of Boston, Joseph and Suzanne Cushing presented their son Samuel for baptism that morning. In doing so the couple returned to the parish where they were married two years ago with Fleming as celebrant.
There's nothing more traditional than baptism, Fleming said before Mass. "It's when we are at our very best as community," he added.
"We've had baptism at Mass for nine years now," Fleming explained. "At this point a simple majority of them happen on Sunday. I don't get complaints, 'Oh, no, not another baptism.' It's part of their prayer. We do it in a way that flows very well in the liturgy. People take ownership. And people love babies, particularly at this time in the church's history -- to see young families bringing their families here, it's so important."
The readings that morning came from Zephaniah, Philippians and Luke. To set a context for each passage Fleming prepares scriptural introductions, based on the work of Bishop Kenneth Untener of Saginaw, Mich.: brief explanations that Fleming gives before the lector or deacon reads from the lectionary.
"I try to set the barest context," he said. "It helps for people to know, for instance, that Paul is writing from prison to persecuted people."
Fleming added, "Or in the case of Zephaniah, it helps to know that he woke up in a good mood for a change, telling the people to rejoice because God loves them."
Fleming based his homily that morning on Luke's Gospel reading -- about the exhortations of John the Baptist. In his interactive homiletic style, Fleming made that passage relevant to contemporary life.
"The crowds, the tax collectors, the soldiers -- they all asked John the Baptist, 'What should we do?' And in each reply, John the Baptist invited those who questioned him, simply to be more caring, more generous, and more honest in their daily lives," Fleming explained.
"Let's see," he said to parishioners. "What would happen if we asked John the Baptist, 'What should we do?' "
At Fleming's prompting, with the aid of a placard, students at Mass asked out loud, "What should we do?"
Fleming responded, "John might say to the elementary schoolchildren: 'Be more helpful around the house. Share with your brothers and sisters. Be kind to all the kids at school -- not just your friends.' "
To the married folks, parents and couples, Fleming, again with the aid of his trusty placard, prompted the same question from those parishioners.
"What should we do?" they asked.
Fleming responded, "To you John might answer: 'Be faithful to each other in everything you say and do. Whatever the circumstances in your home, do everything you can to live in peace and do it with an understanding heart. And if you have children, remember that the most precious gifts you can give them are your time, your care, and your attentiveness.' "
Similarly, Fleming asked senior members, retired people, those who have lost a spouse: "Let's hear you ask John the Baptist, 'What should we do?' "
Fleming's contemporary version of John's response: "Know and trust that God loves you deeply, even and especially in your loneliest mornings, noons, and nights." He added, "Think often of the good times in your life, and thank God for every one of them. Be patient with yourselves, for you have earned our love and respect. Know that this parish is blessed by your presence and prayer."
The main point Fleming drove home that third Sunday in Advent -- in the words of St. Paul, "Rejoice in the Lord always, again I say rejoice," Fleming said. Oak, the cantor, and Fleming assisted the congregation in proclaiming that refrain in a round of song.
Fleming, who holds a master's degree in liturgical studies from the University of Notre Dame, is the author of a highly regarded book, Preparing for Liturgy: A Theology and Spirituality. "Liturgy cannot be planned" because the church already does that, Fleming wrote. Rather, "liturgy must always be prepared. And preparing for the celebration of liturgy is both a ministry and an art."
"There is no magic. We really do it by the book," Fleming told NCR. "And any number of people make good liturgy happen here. We're always preparing."
Journalist Chuck Colbert writes from Cambridge, Mass.
National Catholic Reporter, January 23, 2004