Issue Date: January 23, 2004
Innovative liturgist keeps eye on the details, down to the last amen
By MICHELLE GAHEE
Carson, Calif.

Renette Scott
-- Photos by Michelle Gahee
Renette Scott, liturgy director of St. Philomena Church here, sees herself as a lifelong student. She credits this intellectual curiosity as the force behind the innovative liturgies she delivers to this large and multicultural parish.
Scott has directed liturgy at St. Philomena, one of the most racially diverse parishes in the United States, since 1988, giving her plenty of time to nurture the love for liturgy "that was in my bones."
Raised in the close-knit Creole culture of New Orleans, Scott, 66, said her devoutly Catholic mother instilled in her an early love of church traditions and rituals.
"It's my mother who formed me and shaped me and put me in that place where the seeds of passion for liturgy were rooted," said Scott. "I looked back and realized how much of our life was centered around the church even as imperfect as the church was at that time in Louisiana. But it was not cerebral, it was what we did."
Taking a break from directing a weeknight penance Mass, Scott recalled her experience growing up in the segregated church of the South, noting that if she didn't attend Mass at an African-American parish she had to sit in the back behind a "Colored only" sign and wait in line to go to Communion after all the white people had finished.
"But I love this church and I'm not ever going anywhere," said Scott.
The penance Mass, which Scott conceived, is a telling reminder of how her past exclusion informs the liturgies she creates today.
The Mass included the many cultures and languages of the parishioners without seeming contrived or overblown. The gathering song in English transitioned smoothly into the opening prayer in Samoan and Spanish. Twelve confession stations spread throughout the sanctuary were staffed with priests conversant in English, Tagalog, Spanish and Vietnamese.
What one would expect to be a logistical nightmare runs like a well-oiled machine in Scott's hands. She choreographed each movement of the priests involved, who were at their assigned station after the homily without a hitch. Upon arrival at the Mass, each member of the assembly was given a detailed map of the stations and corresponding languages so they move to their desired area smoothly and quickly. Over 200 people had their confessions heard.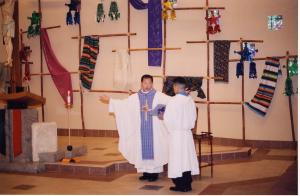 Fr. Raymond Becipeda presides at Sunday Mass Dec. 21 at St. Philomena Church. The bamboo and cloth draping was part of the Filipino Simbang Gabi celebration, a novena of Masses held in Advent.
"Renette makes liturgy look easy," said her friend and coworker Dolores Rubalcaba. "People are not aware of what it takes to bring together an excellent liturgy. Renette's passion, consistency and her dedication to being faithful to liturgy show every day."
With characteristic humility, Scott credited the success of her liturgies to the collaborative spirit of her parish and to her frequent attendance at workshops, which keeps her on the cutting edge of new liturgy directives.
"I've just been lucky to work with teams who really have a passion for liturgy," Scott said. "I just can't believe I've been so gifted to spend time and space with these people who have such vision for liturgy."
This innovative spirit shows not only in the creativity of the liturgies at St. Philomena but also in the implementation of the new directives of the General Instruction of the Roman Missal, some of which she began to introduce years ago.
Scott recalled the resistance she confronted in 1995 when she began implementing the directive for the congregation to remain standing until Communion was completed. "It said in the sacramentary to 'make an act of reverence,' " she explained.
"You wouldn't believe the flak I caught for this change," she said. "It's amazing how inflexible people can be."
But Scott, a mother of eight, is used to standing her ground, and soon enough she had people seeing it her way, making St. Philomena one of the first parishes in the Los Angeles archdiocese to make this change. "We're so far ahead of the game. The priests have to catch up to us," she laughed.
Parishioner Marcia Arandas has worked with Scott for more than 10 years in many capacities. She said Scott is continually learning and seeking out new ideas for liturgies. "This is what keeps us so innovative. We are ahead of the church already in implementing the [General Instruction] guidelines thanks to her," said Arandas.
Arandas then laughingly added, "She is a nice lady but she can be tough … but this is what keeps us so organized and creative."
On a rainy Sunday morning after the second of eight Masses, Scott laughed when asked if she ever gets bored with her work or restless for something else. "No," she said, "there's still too much to learn."
She noted that her work is not just about the rituals but about collaboration, teamwork and constant change.
"I've been fortunate enough to work with excellent priests who trust my vision and we've been lucky that our collaboration comes together smoothly each Sunday," she said.
Scott leaves little to chance as she moves through the crowds on Sunday, greeting parishioners and quietly smoothing out little details in the service.
For each Mass, Scott has prepared for the priests an intricately detailed script -- showing what special guests will be seated where, to the name and location of each usher, down to the last amen.
"Even the smallest details are important because I think everything in church should be authentic," she said. "If you cannot find truth in the church, where are you going to find it? Everything I use is real from the candles to the flowers and plants. You don't create illusions in church. You come to church for the truth and these are the principles we operate on here."
Michelle Gahee is a freelance writer and filmmaker in Los Angeles. She writes frequently on religion and social justice.
National Catholic Reporter, January 23, 2004