Issue Date: January 23, 2004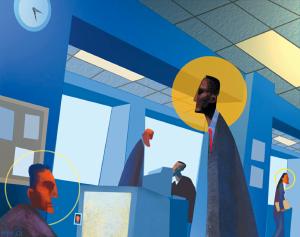 -- KRT/Kirk Lyttle
Meaning and passion
Vocational ministry focuses on finding life's work in the church and world
By ANTONIA RYAN
Most Catholics have grown up hearing the word "vocation," but today the word is used in a wider sense from the way it was understood 50 years ago -- both in the Catholic world and in secular surroundings.
The Vocation Office of the Brooklyn, N.Y., diocese offers a workshop for faculty members in Catholic schools and parish religious education programs. The booklet for this program opens with a diagram of a pyramid labeled "1950s view of vocations," divided into the hierarchical view of bishops and priests on top as those who "receive a vocation," religious sisters and brothers, who are "called to holiness," and the laity, with no special designation at all.
The booklet then shows the Vatican II view of holiness, a model with all forms of life -- single and married, priests and deacons, sisters and brothers -- arranged in a circle around a nucleus containing the words, "All are vocations. God calls all to holiness."
It is important to go into schools to talk about this circular concept of vocation because, even now, many people still think according to the earlier pyramid model. "When people talk about 'church vocations,' the average person in the pew is thinking 'priest,' " said Benedictine Sr. Anita Louise Lowe, vocation director for the Benedictine Sisters in Ferdinand, Ill. She is a board member of the National Religious Vocation Conference, an organization that has the special purpose of promoting vocations to be a sister, brother or religious order priest. Dioceses have their own vocation directors for diocesan priests.
"If we want to evangelize, we can evangelize the word 'vocation,' " said Immaculate Heart of Mary Sr. Regina Wilson, associate director of vocations for the Brooklyn, N.Y., diocese. "I have nieces and nephews who don't even know what my lifestyle is. People today don't know what a sister is, what a brother is. They don't understand consecrated life. Their awareness of that way of life needs to be raised."
The single vocation, especially, is often not thought of as a "vocation" at all. "People see [single people], they think, OK, they're single because they didn't have the opportunity to marry," said Wilson.
"There's something lovely about the word 'single' on the tongue," said Mary Schaffer of St. Cloud, Minn. "It calls up the image of moving toward the One." But Schaffer agreed that people do not always understand her single vocation, and said she disliked the social connotation of the word that meant "unattached."
"I really prefer the term 'solitary,' " she said. "What that monastic heritage of 'solitary' has done is to help me understand my solitude and silence as a way that I have chosen … a path that helps me to be in communion with God and with the wider community."
Renée LaReau said that young people today tend to view vocation more fluidly than the traditional church categories of single life, married life, religious life and priesthood. "I do not like those classifications at all," she said. "It seems to isolate vocation in terms of marital status. I think we need to be careful in using those terms."
LaReau is author of the recent book Getting a Life: How to Find Your True Vocation, which addresses the issues faced by people in their 20s trying to figure out their futures. LaReau is also a facilitator for the Notre Dame Vocation Initiative, which was established to help students "understand their future work in light of their faith commitments."
"We cannot talk about this [vocation] enough with young people," said LaReau. Whatever life choices we make, from becoming a doctor to moving across the country, she said, "We have to let people know that faith can be part of that discernment.
"I think we need to throw this term [vocation] around with reckless abandon."
Younger people tend to do more exploration before making a permanent commitment to work or relationships, LaReau said, and that influences how they think of "vocation."
"There's a really big generational difference," she said. "I'm very close to a lot of older people because of my work in a large parish. They started off with one thing, and they've stayed with it their whole life. They're not closed-minded, but in regard to how they spend the bulk of their time, they have not changed much.
"I almost feel like our generation is more reflective, because we have the luxury to be more reflective." It is more socially acceptable now to go through long periods of searching, she said, partly because of the popularity of psychology.
The word vocation comes from the Latin vocare, "to call." The primary English definition is that of a call from God to exercise a special function. Its secondary definition -- work -- is what drives vocational psychology, a subdivision of counseling psychology.
"Vocational psychology is the study of human behavior at work," said Bruce Growick, associate professor of rehabilitation services at Ohio State University. He is editor of the Journal of Forensic Vocational Analysis, the official publication of the American Board of Vocational Experts.
"Vocational psychology is exclusively secular," said Diane DeWitt, president of the board. "I don't profess special knowledge in spiritual matters."
Though they may not be searching in a religious sense, many people who come to DeWitt for vocational counseling are thinking of doing humanitarian work. "People want to do something that has commitment, meaning, personal worth," said DeWitt. "Often that's what people are looking for -- something beyond the ordinary.
DeWitt notes that though most people regard this search for meaning "as an aspiration," they feel that this kind of fulfilling work is unattainable.
Vocational psychology tends to focus on paid, primary work instead of unpaid pursuits, known in the language as "avocations." Growick's work in rehabilitation counseling helps people experiencing disability that prevents them from pursuing a former paid occupation. "Disability in our society is much more prominent now because of all the technology that is around us that can harm us," he said. "So some of what we do is counseling to help people adjust."
He said that it is certainly a hope that they can "match the job requirements with the person's desires … [so] they'll be happy doing what they're doing," but added that, in job situations, "usually we use the term 'satisfaction.' It's hard to quantify happiness."
"And, of course, there's always the reality of the paycheck."
"Some people are perfectly content with that," said LaReau. But if people have a strong vocation, she said, they will push beyond job setbacks and will not stay in an unsatisfying job just because of the pay. Suffering and rejection, she said, can be a test of vocation.
"I think that's when you weigh the obstacles against the passion," said LaReau. "If you have that kind of passion and conviction, you'll have the strength to push through the rejection."
LaReau acknowledged that the word has been used lately in many recent publications about work. "The spiritual use of the word has an appeal to the business world," she said. "It seems like there's some sort of trend in the business world where they're really trying to infuse some meaning into the workplace."
Those who promote church vocations do not focus on this aspect of the term. "I don't see my work as my vocation," said Wilson. "I see my vocation as a consecrated woman."
"I think that vocation is not what I do, it's who I am," agreed Lowe. "We make choices of what we do based on who we are." Asking, "What is my vocation?" means, for her, "What is my purpose for being?"
DeWitt notes that she works with people of different religions and has to bear in mind as she counsels them that faith will influence how they see the world, so, in that way, it is not irrelevant to any vocational counseling session. And she agrees that people in religious life, for example, have that as their primary vocation. What they do is secondary, but it is still important, and that is why religious people come to her for questions about their life's work.
"We're using the same words, but our application and context are different," said DeWitt. "The parallels are stronger than the differences, I think."
Benedictine Sr. Antonia Ryan is an NCR staff writer. Her e-mail address is aryan@natcath.org.
National Catholic Reporter, January 23, 2004