Issue Date: January 30, 2004
WORLD
Edited by Dennis Coday
Iraqis 'not ready' for elections
ROME -- While the Iraqi people have a right to control their country's destiny, they are not ready for direct elections, said Chaldean Archbishop Louis Sako of Kirkuk, Iraq. Thousands of Iraqis marched in Baghdad, Jan. 19 to support a call by Shiite leader Ayatollah Ali Sistani for direct elections of a new Iraqi government by May.
The current U.S. plan is for members of the U.S.-appointed governing council to choose members of a national assembly by May 30. The assembly would appoint a transitional government that would take power July 1.
In a Jan. 20 interview Sako said, "The Iraqi people are not yet ready" for direct elections. "They must be prepared; they need to assimilate democracy; they must learn to respect and accept others," he said. "Ayatollah Sistani is a person respected by everyone, myself included, but we must be realistic. His request to hold elections within two months is impossible."
Sako said religious leaders in the country had an obligation to encourage patience among the people, "but no one has a magic wand." The violence in the country, he said, is partially a sign of frustration.
Bishops denounce Israeli wall
JERUSALEM -- U.S. bishops and other Catholic bishops concluded a four-day conference in the Holy Land Jan. 15 with a statement critical of the Israeli government, especially its so-called security barrier. The bishops, who said they had come to the region first and foremost to express solidarity with the dwindling community of local Catholics, blasted the wall Israel is building between the West Bank and Israel proper.
"We have seen the devastating effect of the wall currently being built through the land and homes of Palestinian communities," the bishops said. "This appears to be a permanent structure, dividing families, isolating them from their farmland and their livelihoods and cutting off religious institutions.
The bishops also implicitly criticized the Palestinian leadership and the world community when they observed "the lack of political will" to work for a peaceful settlement.
Bishops from 10 other conferences, including Germany, France, Switzerland, Italy, Canada, El Salvador, Spain and Scandinavia as well as England and Wales, attended the conference. Bishop Wilton Gregory, president of the U.S bishops' conference, lead the U.S. delegation.
Priest applicants tested for AIDS
MONTREAL -- Montreal is becoming the third diocese in Canada to test applicants to the priesthood for HIV. At a news conference Jan. 12, Montreal Cardinal Jean-Claude Turcotte said the measure was taken mainly because of health concerns. He defended himself against accusations he was discriminating against gays.
"For me the criteria is not what is your sexual orientation but what is your capacity to maintain, with God's help, interpersonal relationships within the celibate commitment," Turcotte said.
The dioceses of Vancouver and Edmonton began testing prospective priests for HIV last year. Vancouver spokesperson Paul Schratz said, "It's just a matter of prudence to include [the HIV test] among a definitive battery of health tests." A health adviser recommended including the test for HIV, Schratz said, adding he didn't know which other medical tests had been instituted.
Cardinal Marc Ouellet of Quebec said he would not begin the HIV tests.
---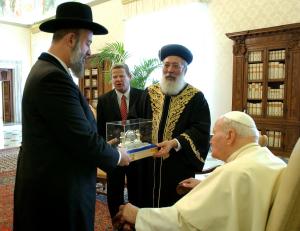 Meeting with rabbis
Pope John Paul II receives a gift from Chief Rabbi Yana Metzger, left, who represents the Ashkenazi tradition in Israel, and his Sephardic counterpart, Chief Rabbi Shiomo Amar, during a meeting in his private library at the Vatican Jan. 18. In a talk to the rabbis, the pope urged all religious leaders to promote dialogue and peace. Read more about the rabbis' Vatican visit on NCROnline.org in the Jan. 16 The Word from Rome column.
-- CNS/Reuters
---
Gun sales curtailed
SÃO PAULO, Brazil -- Brazil's Congress has approved the Statute of Disarmament, a law that prohibits civilians from carrying firearms and severely curtails private gun sales. The new statute must be ratified by a popular referendum to be held in October 2005.
According to the civil society group, Sou da Paz, someone is murdered in Brazil every 13 minutes, and 90 percent of homicides are committed with firearms. "This is equivalent to 45,000 deaths a year and 13,000 only in São Paulo," said Denise Mizne of Sou da Paz.
The law is likely to be resisted by the arms industry in Brazil, which earned an estimated $142 million in profits in 2002.
According to the law, a person convicted of carrying a firearm illegally would receive two to six years in prison, without the possibility of bail. Discharging a firearm in an establishment filled with people would be punished with two to four years of prison. The prison term for being convicted of international trafficking in military weapons would be increased from four to eight years in prison to 12 years.
Attack on church condemned
LAHORE, Pakistan -- The president of the Pakistani Catholic bishops' conference condemned an attack on an Anglican church in Karachi. Fifteen people were injured Jan. 15 when a bomb exploded in a parked car in the Holy Trinity Church complex. Minutes earlier, a hand grenade was lobbed into the Pakistan Bible Society on the premises of the church complex.
Archbishop Lawrence Saldanha of Lahore, president of the bishops' conference, said the attack "deeply shocked and grieved the Christian community of Pakistan." He called upon Pakistani President Pervez Musharraf, the provincial government and law enforcement agencies to thoroughly investigate the crime and punish those responsible.
"Let all moderate and peace-loving people join hands and work together for tolerance and interreligious harmony in Pakistan," the archbishop said. Pakistani church sources said the attack was the seventh on a church or church institution since the U.S.-led invasion of neighboring Afghanistan in 2001. They said 46 people have been killed and more than 93 seriously injured in attacks targeting Christians.
Quick briefs from Latin America
Mexico launders between $25 billion and $30 billion annually in money from drug trafficking, due to the existence of financial, political, military and judicial systems that facilitate this crime, the U.S. Drug Enforcement Agency said. For this reason, the United States had included Mexico among its "countries of concern."
In Peru, 28 percent of births are not registered, meaning that every year 210,000 children are born without birth certificates and are not considered in government health and education programs, said the United Nations Children's Fund (UNICEF).
In Colombia in the last decade, 691 teachers were murdered as a consequence of the internal conflict, said Katarina Tomasevski, special United Nations rapporteur on the right to education. She said none of the deaths has been cleared up.
In Latin America, one out of every 160 women dies in childbirth, according to a recent United Nations study. The risk of dying in childbirth is highest in Haiti, Bolivia, Guatemala and Peru.
---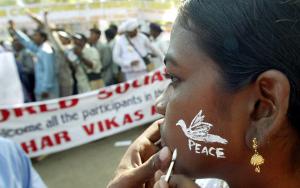 People before profit
An Indian activist with the word "peace" and a dove painted on her face joins activities at the World Social Forum in Mumbal, the commercial center of India, Jan. 19. The forum was a gathering of groups and individuals who consider people first before business profit in the global economic environment. Representatives from aid agencies Pax Christi and members of religious orders were among Catholics attending the events. Coverage of the World Social Forum can be found on NCROnline.org in the Jan. 22 Global Perspective column.
-- CNS/Reuters
---
USA
Bush pressed to fulfill promises
WASHINGTON -- Leaders of the United States' largest ecumenical and interfaith organizations "applauded" President Bush for his "vision of renewing and expanding our nation's exploration of outer space." But they added: "Before we embark on this great adventure, we urge you to join us in refocusing on the unfulfilled promises we've already made here on Earth." (See NCR editorial, Jan. 23.)
Writing to the president on the eve of his state of the union address, heads of the National Council of Churches and the Interfaith Alliance noted that in the United States 13.1 million children live in poverty and are inadequately fed. Five million children live in "extreme poverty," and 4.6 million children won't benefit from the No Child Left Behind Act because it is underfunded by nearly $10 billion.
They wrote: "Under your [Medicare reform] plan … 2.7 million seniors could lose the benefits they currently have and will end up with worse drug coverage than they had before, which was already inadequate for most.
"How exhilarating it will be to fly into the cosmos with you," the letter said. "Let us book the first flight for the day after this nation faithfully fulfills these moral mandates."
Faith-based funding advances
NEW ORLEANS -- The U.S. Justice Department proposed Jan. 15 its final draft of a rule to provide equal treatment for faith-based groups applying for department grants. The rule says government funds cannot be used for "inherently religious" activities but that groups receiving federal funds may retain their religious identity.
The rule would permit government-funded religious organizations to consider faith in hiring because their consideration of mission and ideology, the rule says, "improves their effectiveness and preserves their integrity."
The White House said the Justice Department's action applies to $3.7 billion in federal funds for programs such as those supporting safe schools, assisting crime victims and preventing child victimization.
Speaking the same day at Union Bethel African Methodist Episcopal Church in New Orleans, President Bush said, "Faith-based programs are only effective because they do practice faith. It's important for our government to understand that."
Episcopalians plan coup d'état
WASHINGTON -- Episcopalians upset by the consecration of an openly gay bishop say they are ready to launch a plan to "replace" the national church. A confidential memo to supporters of the American Anglican Council, which is coordinating the opposition, said open defiance will be inevitable if bishops do not agree to cede authority and church property to conservatives.
The Rev. Geoff Chapman of Sewickley, Pa., who wrote the memo, said conservatives are being harassed and punished for their opposition to openly gay Bishop V. Gene Robinson of New Hampshire.
Chapman's six-page letter, obtained by Religion News Service, details a two-phase plan to fulfill conservatives' ambition to be recognized as the "legitimate franchise" of Anglicanism in the United States. The first stage was to be launched the week of Jan. 26 at a meeting in Plano, Texas, where officials from 12 dioceses will inaugurate the Network of Anglican Communion Dioceses and Parishes.
The second phase will "probably" start this year and involve a "faithful disobedience of canon law on a widespread basis," said Chapman. It will also likely spur a spree of expensive litigation. The plan calls for conservative bishops to cross traditional boundaries to supervise clergy, preside at confirmations and provide administrative oversight, among other things.
Students online with Balkans
LOS ANGELES -- St. Joseph High School in Lakewood, Calif., part of the Los Angeles archdiocese, is one of 16 high schools in the United States participating in the School Connectivity Project that links U.S. and Balkan high school students through computer technology. The program sponsored by Catholic Relief Services and the U.S. State Department began in September.
St. Joseph student Sarah Zapeda said the program has made her more aware of how she views other people. "When I began hearing from students in Europe I was shocked at how good their English was and surprised that they were able to talk about topics that I was interested in," Zapeda noted. "I … was totally surprised because I didn't expect them to know about U.S. hip-hop music."
Tiffany Gumabon, a St. Joseph junior, said the project "is cool because it's widening our views of people so we aren't so narrow-minded."
Schools in Albania, Bosnia-Herzegovina, Bulgaria, Macedonia, Serbia, Montenegro, Kosovo, Croatia and Romania are grouped into clusters; each cluster is paired with a U.S. school in California, Idaho, Maryland, Montana, New Jersey, North Carolina, Ohio, Utah or Virginia.
Students sponsor land mine week
RUTLAND, Vt. -- Gina Mondella, a senior at Mount St. Joseph Academy in Rutland, said she had heard about land mines but didn't truly understand their effects until she took Paolo Zancanaro's class on ethics and 20th-century genocide. "We live here in the United States far away from that," she said. "Other people have land mines right outside their door, and little kids walk out and get a leg blown off."
Students at the Catholic school in the Burlington diocese have been working to raise funds for Clear Path International, an organization that serves land-mine and bomb accident survivors, their families and their communities in former war zones in Southeast Asia.
The school recently had a land-mine awareness week, organized by students. It included a prayer service, educational posters, paper "land mines" loaded with thought-provoking messages and several fundraising efforts that garnered about $600.
Course teaches screenwriting
HOLLYWOOD -- Act One, a Christian educational outreach for entertainment professionals, is sponsoring a pair of screenwriting seminars: one in Washington May 9-June 5 and the other in Hollywood July 5-31. Application deadline for the seminars is March 1. Each seminar is limited to 30 students.
Faculty for the seminars have written for such films as "Batman Forever" and "Urban Legends" and for such television series as "Matlock" and "The Father Dowling Mysteries."
The seminars will cover the full range of elements for successful scriptwriting, including story choice, script structure, character development, industry access, how to pitch a script, and ethics and spirituality for entertainment professionals.
Act One (www.actoneprogram.com) describes itself as an organization that endeavors to create a community of Christian professionals in the entertainment industry who are committed to excellence, artistry and personal holiness.
Documentary film degree offered
LOS ANGELES -- Mount St. Mary's College in Los Angeles is offering a new bachelor's degree program in documentary film and social justice, beginning next fall. The program in documentary, co-sponsored by the college's sociology and art departments, "is designed to not only empower students to use their knowledge and skills to address significant social justice concerns, but to facilitate a deeper understanding and advocacy in the community at large," said Pam Haldeman, sociology department chair.
COMPILED FROM NEWS SERVICES, CORRESPONDENTS AND STAFF
National Catholic Reporter, January 30, 2004