Issue Date: January 30, 2004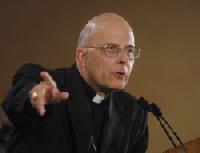 Cardinal Francis E. George
-- CNS/Nancy Wiechec
Changing either/ors to both/ands
Cardinal George makes false dichotomy between evangelization, reform
By RICHARD P. McBRIEN
We live in a world of many false dichotomies -- either/ors that should be rendered as both/ands. This is especially so in the Catholic church where members have too often been asked to choose between spirituality and social action, communal worship and private devotions, priesthood and lay responsibility, obedience to authority and freedom of conscience, papal prerogatives and episcopal autonomy, or Catholic identity and ecumenical and interfaith outreach.
In a well-balanced profile of the current cardinal-archbishop of Chicago, Francis George, the author, Peter Feuerherd, reports that one of the cardinal's "favorite themes is that the church has spent enough time focusing on itself and now must spend more time on the work of conversion. He sees evangelization as the solution to perennial problems such as the looming priest shortage" ("Chicago Catholic: A profile of Cardinal Francis George," Commonweal, Jan. 16).
And so another false dichotomy lands on our collective plate: church reform or evangelization?
Of course, one should not dismiss George's legitimate concern for evangelization or his oft-stated reservations about the efforts of many Catholics to change the way the church functions as a community and as an institution. Both his concern and his reservations are serious, and they deserve an equally serious hearing and response.
Need we agree, however, with the cardinal's implicit assumption that we have to choose between two pastoral priorities? Is it not possible, after all, to be fully committed to the work of church renewal and reform (mindful of the Second Vatican Council's teaching in the Dogmatic Constitution on the Church that the church is "at once holy and always in need of purification"), and at the same time be fully engaged in the church's essential and ongoing task of preaching the Gospel?
But what does the preaching of the Gospel entail? The answer is not self-evident. There are many Catholics (and other Christians, too) who believe that evangelization consists of calling upon people to accept Jesus as their personal savior and then to manifest their acceptance by regular attendance at church, Bible-reading, and personal prayer laced with multiple invocations of the name of Jesus.
In what was perhaps his best and most important papal document, Pope Paul VI gave us a much broader and richer understanding of evangelization. It involves conversion, to be sure, but it is a conversion that touches "both the personal and collective consciences of people, the activities in which they engage, and the lives and concrete milieus which are theirs" (Evangelii nuntiandi, "On Evangelization in the Modern World").
Evangelization, he wrote, is "a complex process made up of varied elements: the renewal of humanity, witness, explicit proclamation, inner adherence, entry into the community, acceptance of signs, apostolic initiative."
"The value of the last synod [in 1973]," Paul VI continued, "was to have constantly invited us to relate these elements rather than to place them in opposition one to the other, in order to reach a full understanding of the church's evangelizing activity."
Who in the church is to direct this complex evangelization process? From which ecclesiastical ranks are those who direct the evangelization process to draw their coworkers? To whom should these coworkers be sent? And to do what, exactly?
If we are to answer the first question with "the bishops," that answer, in turn, begs still other questions: Where do bishops come from? How are they selected? What pastoral criteria determine their selection? Who participates in the selection process? To whom are the bishops accountable? Are there limits to their authority?
How, in turn, do the bishops determine who shall be their immediate collaborators in the work of evangelization? What criteria are the bishops to employ in the selection, education, training and spiritual formation of these coworkers? Are the coworkers to be of one gender only, and unmarried for life?
Do the coworkers need, in turn, the support and cooperation of others in the evangelization process? How are these others chosen, trained and formed? What relationship do these others have to the coworkers of the bishops, and through them to the bishops themselves? How are everyone's assignments determined and the lines of responsibility drawn?
There is a lengthy chain of questions of this sort, and each link has to do with church structures, processes, rules and standards of behavior. Have we really "spent enough time focusing" on them?
The "work of conversion" does not happen in a vacuum. It is not a matter of either/or: either evangelization or church renewal and reform.
We are dealing here once again with a false dichotomy. It has to be named as such and then rejected.
Fr. Richard P. McBrien is the Crowley-O'Brien Professor of Theology at the University of Notre Dame.
National Catholic Reporter, January 30, 2004