Issue Date: February 6, 2004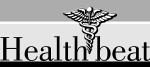 Movie smoking hooks teens, experts say
By SUZANNE BATCHELOR
"Smoking in movies is responsible for addicting 1,080 U.S. adolescents to tobacco every day, 340 of whom will die prematurely as a result." -- Editorial, The Lancet British medical journal, June 10, 2003
Watching popular movies is the No. 1 factor leading nonsmoking teens to light up, say researchers from New Hampshire's Dartmouth Medical School in a landmark 2003 study published in The Lancet. They found film character smoking more persuasive than traditional advertising, peer pressure or parents.
"Smoking in movies is having a major effect on health," concluded The Lancet editorial accompanying their findings.
Note from the Editors:


This is a premium content page.



During the initial launch of Health Beat coverage, NCR will make these articles available for all Web site visitors.
Given that the tobacco companies have agreed in settlements to cease marketing to the young, the question remains, how is it that the film industry has begun to release movies that give special play to lead figures who smoke?
No one seems to have any easy answers, but regardless of why movie characters are smoking, the health harm is the same.
"There's a link between movie smoking and what kids do, and there's a lot of smoking in movies. It's extremely prevalent," said physician Michael Beach, who worked with Drs. Madeline Dalton, James Sargent and others on the Dartmouth study. Surprisingly, the researchers found the persuasive effect was strongest in children of nonsmoking parents.
Beach and colleagues also found that about 60 percent of the smoking in popular films was seen in the youth-rated movies (G, PG and PG-13).
Beach is typical of many tobacco control advocates and researchers who see:
Attractive actors smoking identifiable brands on-screen, making tobacco control advocates fear for the health of a new, young generation of tobacco addicts;
A tobacco industry that says it advertises only to adults who freely choose to smoke while the a film industry keeps producing movies aimed at teens in which smoking is surprisingly widespread;
Intriguing questions -- but no answers -- about how tobacco products get such big play in most top-rated and youth-rated movies.
To take the last point first: Among the top 10 box office movies reported for the week of Nov. 10 -- including "The Matrix Revolutions," "Elf," "School of Rock," "Mystic River," "Scary Movie 3," "Radio" and "Brother Bear" -- only "Brother Bear" was smoking free. Characters smoke in more than two-thirds of youth-rated movies released in 2002 (movies rated G, PG and PG-13), according to a survey by Dr. Stanton Glantz, a professor of medicine, and analyst Karen Kacirk.
Most smokers begin as teenagers, researchers say, and smoking may be more addictive begun in those years when the brain is still forming.
"If you don't smoke by 18 or 21," Beach said, "the odds of starting as an adult are extremely small. It's getting these children through adolescence that's particularly important."
Only the major characters
The Dartmouth movie study didn't count the characters lighting up in the background, only cigarettes on the lips of major film characters. Researchers followed 2,600 children who had never smoked, ages 10 to 14, for one and two years, tracking which of 50 randomly selected top-selling movies they watched. Smoking by each film's central characters was measured.
Movie watching nearly tripled the risk a teen would start smoking, said Beach, who added, "What's surprising to some people is that movies can have that much impact." But is it? "Tom Cruise wore Ray-Ban sunglasses in one film and suddenly everyone has them." No surprise then at what results when "Julia Roberts and Sean Penn are seen smoking in movies."
Along with smoking, clearly visible tobacco brand names in movies are a major issue with anti-smoking advocates.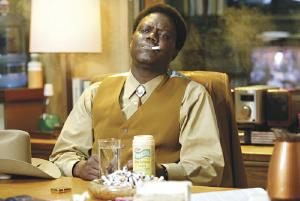 Bernie Mac smokes in the 2003 comedy "Bad Santa."
-- Zuma Press/Tracy Bennett
Health advocates point to the Marlboros smoked by Sam Rockwell in the 2003 film "Confessions of a Dangerous Mind," Sissy Spacek's Marlboros in "In the Bedroom," Russell Crowe's Winstons in "A Beautiful Mind," or John Travolta's Skoal in "Basic," to name but a few examples.
"Product placement" is an accepted form of advertising in which companies pay for movie exposure of their products. But paid product placement for tobacco products has been illegal since the signing of the 1998 Master Settlement Agreement (see related story). No one has come forward with evidence of paid product placement of tobacco products since then.
Products might also appear as a matter of artistic expression or because they are integral to the plot of the story.
"In 'Men in Black II,' " said Beach, "you see the stars with a Marlboro carton. But when they open a refrigerator to get a jar of mayonnaise, the label on the mayonnaise is covered."
"If producers or directors use or depict our brands, they do so without seeking or obtaining our permission," said spokesperson Jennifer Golisch of Philip Morris USA, maker of Marlboros. "Our policy for over a decade has been to deny requests for use of our cigarette brands, name or packaging in motion pictures or television shows for the general public, irrespective of whether that audience is adults or minors."
Catholic ethicists question Hollywood's attractive presentation of the harmful habit to adolescents.
" 'Persuasion' we usually think of as the art of convincing somebody of something they're capable of thinking through, like persuading someone to vote for the candidate of our choice. This is different. We think it's something young people can't think their way through," says ethicist Carol Bayley of Catholic Healthcare West in San Francisco. "Then it's not free choice and it's not persuasion. It's something else."
Bayley said Catholic Healthcare West held tobacco stocks for many years, using ownership as leverage to urge tobacco companies to stop advertising to young people. "We ended up divesting of the stock because they just wouldn't change," she said. But, she added, widespread public opinion against such marketing might halt it.
Five years ago, one university professor began his own campaign, "Smoke Free Movies," and Web site. "Many women have told me they started smoking because of Olivia Newton John in 'Grease,' " said Stanton Glantz, professor of medicine at the University of California-San Francisco and a director of its Center for Tobacco Control Research and Education.
More than in the 1960s
When Glantz and analyst Karen Kacirk found there is more smoking in movies now than in the 1960s, his outrage led Glantz to create the "Smoke Free Movies" campaign, documenting the evidence frame by frame -- Gwyneth Paltrow lighting Kools in "Great Expectations" (1998), Johnny Depp smoking Lucky Strikes in "The Ninth Gate" (2000), stars such as Julia Roberts, Brad Pitt and Drew Barrymore exhaling smoke onscreen.
Glantz and Kacirk want Hollywood to rate "smoking" movies "R."
If an actor says the "F-word" twice in a film, or once in a sexual context (versus a single profanity exclamation), that film receives an R rating, explained Glantz. "I want tobacco treated as seriously as they treat the F-word."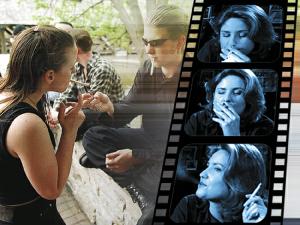 According to a 2003 study from Dartmouth Medical School, movie watching nearly tripled the risk a teen would start smoking.
-- KRT/Rodney Turner
Glantz criticized last year's Oscar-winner "Chicago" for its strong influence on teen girls. "In the 1920s about 5 percent of women smoked and the ones smoking were the rich ones, not the 'gun molls' -- so the fact they were smoking at all was completely misleading. You have very high-profile actresses in a tremendously successful movie," said Glantz of "Chicago" stars Queen Latifah and Catherine Zeta-Jones, who smoke in the movie, as does star Richard Gere. "There's a lot of girls who are smoking now because of that movie and girls will start smoking for years because of that movie."
Glantz said the Smoke Free Movies group's ads and letter campaigns have provoked no explanation from the movie industry. "We do know smoking is there, that there's more than there used to be, yet everybody denies everything. That's nothing new," said Glantz. "Nobody is taking responsibility."
The U.S. Centers for Disease Control and Prevention in Atlanta found an increase in high school age smoking from 1990 through 1996, and that group continues to smoke, said Corinne Husten, a physician and chief of epidemiology at the center's Office on Smoking and Health.
"Each day, 6,000 children under 18 years of age smoke their first cigarette. Almost 2,000 of them will become regular smokers -- that's 757,000 annually," states the American Lung Association Web site.
"If current tobacco use patterns persist, an estimated 6.4 million children will die prematurely from a smoking-related disease," the association estimates.
Seeing smoking as normal
Husten said movies subtly suggest, especially to the young, that smoking is normal. She mentions a 1999 study by the U.S. Department of Health and Human Services that found tobacco use in 79 percent of movies rated G or PG and 82 percent of those rated PG-13. That study, "Substance Use in Popular Movies and Music," was done by the Office of National Drug Control Policy and the Department of Health and Human Services' Substance Abuse and Mental Health Services Administration.
"To some extent, tobacco companies preach that it [smoking] is a choice, but if you're addicted to something, it's not really a choice," said Husten. "Most of the time people try to quit they're not successful. They find they're unable to quit. That points to a strong need to help adolescents understand it's dangerous to dabble."
"Young adults think they're in control, they can stop," said Sherry Marts, science director at the nonprofit Society for Women's Health Research in Washington. "A few might be able to but the majority of us, our brains are wired in a way that makes us susceptible to this addiction."
Smoking's persistence, Husten said, is aided by a key misunderstanding. "People probably get addicted much faster than we used to think," she said. "I think the power of addiction has been underestimated, and adolescents underestimate the likelihood that they themselves will become addicted."
Now Fr. Michael Crosby, a Capuchin priest, has joined Glantz's challenge to the movie industry. Head since 1980 of the tobacco program at Milwaukee's Interfaith Center on Corporate Responsibility, Crosby and allied religious orders have begun filing shareholder resolutions with major film industry leaders: Universal (and parent General Electric), Warner Bros (and parent Time Warner), Paramount (and parent Viacom) and Disney. Two-third of Disney's youth-rated movies show tobacco use, according to a survey of 2002 movies by Glantz and Kacirk.
Glantz calls the interfaith center's resolutions "a very big deal. The work Mike Crosby is doing is tremendously important."
Crosby's Midwest Capuchins and the interfaith center are joined by the Sisters of St. Francis U.S. Province (Milwaukee), Trinity Health (Detroit), Sisters of St. Dominic (Sinsinawa, Wis.) and Servants of Mary (Ladysmith, Wis.) in filing the shareholder resolutions against movie smoking.
"When you don't get anywhere communicating with management," Crosby said of past outreach to the film companies, "you have to go to the shareholders." Crosby said the interfaith center will publish ads to reach shareholders and generate public support in preparation for next spring's film industry shareholder meetings.
"How can anybody who is on the board of these companies who has teens or young kids themselves not understand this issue?" he asks.
Hanson, director of Santa Clara University's Markkula Center for Applied Ethics, said the ethical value of free choice may be trumped by tobacco's harm.
"It is particularly objectionable to target young individuals because of the addictive character of cigarettes," said Hanson. "If you can get them while they're vulnerable and not thinking as clearly, you can get them for life, except for a Herculean effort to extract themselves.
"A lot of Catholic thinking about issues like tobacco is based upon the concept of respect for the human being. Clearly, one is not respectful of the human body if one produces a product which used as intended produces harm to the body," said Hanson.
Suzanne Batchelor is a freelance writer on health care issues.
Tobacco and advertising

Tobacco companies spend an average $30.7 million a day on advertising and marketing campaigns, the Federal Trade Commission reports. In 2003 spending by all 50 states on smoking prevention was less than 6 percent of that amount -- $1,869,315 a day. For all of 2003, states' spending amounted to $682.3 million. And that spending for 2004 is being cut due to budget shortfalls.

Television tobacco ads have been illegal since 1970, but movies shown on television may show smoking

Tobacco ads in magazines read primarily by adults are legal.

The tobacco industry is not permitted by law to advertise to "underage," meaning below the legal smoking age, which varies from state to state but is often age 18

A California court found in 2002 illegal tobacco ads in Rolling Stone, Spin, Vibe and Sports Illustrated, which have as many underage as adult readers, said Bill Lieblich of the National Association of Attorneys General in Washington. Defendant tobacco company R.J. Reynolds is appealing the decision.

Tobacco companies cannot legally pay for or offer other compensation to place their products in movies, according to the 1998 legal settlement reached by 46 states with the major tobacco companies. Remaining states reached separate settlements.

-- Suzanne Batchelor

Taking a stand against smoking

Film celebrities on record against movie smoking include Esai Morales and screenwriter Joe Eszterhas:

Esai Morales (Tony Rodriguez on ABC's "NYPD Blue") made a 2001 anti-smoking ad for the Centers for Disease Control and Prevention. In an Aug. 6, 2003, Associated Press report, Morales rebuffed a celebrity sponsorship offer for a new brand of cigarettes made by Freedom Tobacco International Inc., calling celebrity sponsorship "using our God-given talent and kind of trading on it for a corporate interest. ... It may be legal, but it's immoral."
Former smoker Joe Eszterhas, screenwriter for "Flashdance," "Basic Instinct" and a dozen other films, began smoking at age 12 and underwent surgery for throat cancer in 2001. In a WebMD interview posted Nov. 20, 2003 (my.webmd.com/content/Article/77/95433.htm), he said, "I think that the best and continuing remedy is to keep lighted cigarettes off the big screen so people won't be tempted or seduced by the way smoking can be glamorized in the hands of a talented visual artist."

-- Suzanne Batchelor
National Catholic Reporter, February 6, 2004