Issue Date: February 6, 2004

The University of Notre Dame and St. Mary's College were among the many Catholic colleges and universities with a visible presence at the March for Life.
-- NCR photos/Joe Feuerherd
Casting stereotypes aside
Young crowd at annual march views antiabortion cause as human rights issue
By JOE FEUERHERD
Washington
A passerby could easily have mistaken some aspects of the 31st annual March for Life for a "Bush for President" rally. The traditional pre-march assembly between the White House's South Lawn and the Washington Monument consisted of a stream of Republican members of Congress praising Bush to rousing response from an eager crowd.
"We pro-life Americans now have a friend in the White House," declared Ohio Congressman Steve Chabot. The enthusiastic gathering applauded.
"We have a pro-life president in President Bush," shouted three-term Representative Patrick Toomey, "and we have to reelect President Bush." Cheers erupted.
Bush, as he did last year, addressed the marchers by telephone. Speaking from Roswell, N.M. -- he was there to promote his economic program -- Bush highlighted the ban on "partial-birth abortion" and his support for the recently enacted Born Alive Infants Protection Act. He reiterated his opposition to "the destruction of embryos for stem cell research" and to funding of "international programs that promote abortion overseas."
Said Bush: "During the past three years we've made real progress toward building a culture of life in America."
The march -- held each year to commemorate the anniversary of the Roe v. Wade Supreme Court decision legalizing abortion throughout the United States -- is a gritty grass-roots affair. Overwhelmingly Republican? No doubt. But this is not the country club or corporate set.
Young mothers and fathers push stroller-strapped toddlers along the national mall's hardened grass; motorized scooters help the disabled navigate through the throng. Mass manufactured signs ("Stop Abortion Now") and T-shirts ("Abortion is Homicide") abound.
And while it's an ecumenical gathering, it's also a decidedly Catholic event. For every Baptist, Pentecostal or mainline Protestant denomination represented, there were dozens of parish groups and parochial school students who made the trek to Washington. More demographics: The crowd was disproportionately young, largely female and firmly committed to the cause.
And despite the stereotypes ("The antiabortion wackos are in town," one Washingtonian, frustrated at traffic delays, barked into a pay phone) the marchers -- particularly the college students -- are not noticeably intolerant or doctrinaire. To them, abortion is not primarily about the "tough cases," a "women's right to choose," irresponsible sex or politics. It's a human rights issue -- and the "human" they defend is the unborn child in the womb.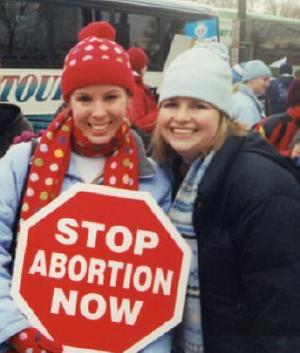 From left, freshmen Beth Tulli and Clair Cole were among 140 students from St. Louis University who participated in the March for Life.
"I've never done anything like this before," says Beth Tulli, one of 140 St. Louis University students, three charter busloads full, who came to Washington. Tulli and her friend, fellow St. Louis University freshman Claire Cole, would like to see Roe v. Wade overturned. But they don't expect that to happen anytime soon.
Cole says education is the key. "I hope people realize there are other options." She mentions adoption. "A lot of people think we're just about saving the babies, but we're here for the moms too," said Cole.
Senior biology major and future doctor Joe Eble of the same university was attending his fourth march. Influenced by Pope John Paul II, said Eble, "My generation is more pro-life" than any since the 1973 court decision.
Still, the inconsistencies of the pro-life movement concern him.
"Take, for example, the college Republicans," explained Eble. "They are very much against abortion and they are also very much for capital punishment. And while they are not the exact same issue, I think there is a consistent ethic of life which might suggest that you would be against both abortion and capital punishment."
But that's not the case. "I think a lot of college Republicans are for capital punishment and against abortion simply because that is what Republicans do."
A senior St. Louis University chemistry major, Maria Thorson, attended her third march for a simple reason: "I think we need to stand up for the unborn who cannot stand up for themselves."
Back on campus -- even a Catholic campus -- abortion is no less emotionally charged than it is in the rest of society.
Speaking at a pre-march conference at Georgetown University, National Right to Life Committee field coordinator Holly Smith said the Jesuits at her alma mater, the University of Seattle, were not hostile to pro-life activism; they just weren't very interested.
"They were more concerned about the [World Trade Organization] and [protests surrounding] the School of the Americas," said Smith.
Meanwhile, campus women's centers and university pro-life groups don't see eye-to-eye. That was the case at the University of Seattle, said Smith, and a similarly wary relationship between the two groups exists at Georgetown, said Laura Peirson, president of the school's right-to-life group.
Seattle University theology professor Gary Chamberlain did not dispute that characterization. A majority of the students at the university, said Chamberlain, are not Catholic "and don't really understand the church's position on the abortion issue." While Students for Life is a recognized student organization, issues such as U.S. support for the military training provided at School of the Americas receives greater attention, particularly since graduates of the school are held responsible for the assassination of six Jesuits in El Salvador in the 1980s.
"Because of the assassination of the Jesuits in El Salvador and [the SOA's] association there's an extra emphasis from Jesuit colleges," said Chamberlain.
Chamberlain and a university spokesperson were unaware of any Seattle students who attended the antiabortion protest in Washington, D.C.
Abortion, said Loyola of Chicago Pro Life University Students co-president Monica Hortobagyi, "gets a lot of people riled up, especially [students] from the women's studies program."
Hortobagyi, a member of Loyola's Amnesty International affiliate, sees abortion as part of a larger picture. "If you're involved in the pro-life scene, you are automatically involved in humanitarian issues because you are interested in the people and protecting the rights of those involved," said Hortobagyi.
Meanwhile, waiting for the march to begin, three Jesuit scholastics from the Weston Jesuit School of Theology in Cambridge, Mass., met at the corner of 14th Street and Constitution Avenue.
What brought them to Washington?
"It's an urgent human rights issue, it's an urgent social justice issue, and I have a responsibility to participate in movements like this," said 38-year-old Sean Raftis.
Jesuit scholastic Jim Collins pointed to his colleague, Ray Donaldson, and noted that "Ray and I went to the [School of the Americas protests] the last few years and now we're coming to this."
"It falls under the same category," says Raftis. "It's a human rights issue."
Joe Feuerherd is NCR Washington correspondent. His e-mail address is jfeuerherd@natcath.org.
National Catholic Reporter, February 6, 2004