Issue Date: February 6, 2004
WORLD
Edited by Dennis Coday
Cuba builds Orthodox church
HAVANA -- The spiritual leader of the world's Orthodox Christians dedicated a government-built Greek Orthodox cathedral in Havana, Cuba, Jan. 25, and called U.S. sanctions against the communist nation a "historic mistake."
Ecumenical Patriarch Bartholomew, in the first visit by an Orthodox patriarch to a Latin American country, dedicated the tiny San Nicolas Cathedral in downtown Havana. Bartholomew was presented with keys to the cathedral by Cuban President Fidel Castro, who paid for the church's construction. It is the first Orthodox church built to serve the island's estimated 2,000 Orthodox Christians.
Muslims and Christians meet
LAHORE, Pakistan -- Pakistan's largest mosque has welcomed a Christian delegation for the first time, something Christian and Muslim leaders see as an important development in interreligious relations. Dominican Fr. James Channan led a Christian delegation to Badshahi Mosque in Lahore for a Jan. 16 conference organized to pay tribute to the late Maulana Muhammad Abdul Qadir Azad, the mosque's former grand imam.
"The doors of Badshahi Mosque have been opened for Christian-Muslim dialogue. This marks the dawn of a new era of Christian-Muslim dialogue in the history of Pakistan," Channan said after the visit. Channan is a consultor of the Holy See's Commission for Religious Relations with Muslims.
The 17th-century Mughal mosque is said to have the largest courtyard of any mosque in the world and can accommodate as many as 100,000 worshipers. About 95 percent of Pakistan's 140 million people are Muslims.
Bishops urge voting conscience
JAKARTA, Indonesia -- The Bishops Conference of Indonesia has made a nationwide call urging Catholics to vote during national elections this year. Some bishops are supplementing this with individual initiatives. Elections for the national legislature are scheduled for April 5, and the first round of voting for the country's first direct presidential election is set for July 5.
"Every citizen should use his or her right to vote," says a booklet published by the bishops' conference and distributed to every diocese. It suggests establishing special groups to provide electoral information. The booklet presents conclusions from a meeting late last year of bishops and lay people.
Divine Word Bishop Antonius Pain Ratu of Atambua issued a pastoral letter urging Catholics not to be among the golput, an Indonesian term that refers to people who refuse to vote. "We invite all people who meet the electoral requirements … to participate in the 2004 elections and to use their right to vote," says the letter read in all diocesan churches Jan. 11. It urges Catholics to listen to their conscience and vote for legislative candidates who have a "clear conscience."
U.S. denies choir girls visas
LONDON -- A choir from a Church of England girls boarding school will fly to the United States later this month for a weeklong tour of California five members short because they cannot get visas. The five, all from mainland China, and all due to take graduation examinations this summer, were refused visas by the U.S. embassy in London because they could not prove they did not intend to remain in the country.
Mary Steel, headmistress of St. Mary and St. Anne at Abbots Bromley, Staffordshire, has written to Ambassador William S. Farish, urging him to reconsider the refusal. "The sad comment made by the girls was, 'It's just because we're Chinese,' " she wrote. "I am sure that you do not wish the United States to gain a reputation for wholesale discrimination."
-- Religion News Service
USA
No Communion for Catholic pols
NEW ORLEANS -- Catholic politicians who are out of step with church teachings on "life issues," such as supporting abortion or assisted suicide, should refrain from Communion, according to New Orleans Archbishop Alfred C. Hughes. Hughes' statement is in stride with a ratcheting up of nationwide pressure by Catholic bishops to enforce orthodoxy among Catholics in public life (NCR, Jan. 30).
"When Catholic officials openly support the taking of human life in abortion, euthanasia or the destruction of human embryos, they are no longer faithful members in the church and should not partake of Holy Communion," Hughes wrote in a column for his diocesan newspaper in late January. Hughes called for politicians to voluntarily withdraw from Communion and did not instruct priests to refuse them.
A spokesperson said the column is part of a series of columns on life issues, which range from war and peace, poverty reduction, prison reform, abortion, capital punishment and others.
Study refutes teen stereotypes
CHAPEL HILL, N.C. -- American teens are not as hostile toward organized religion as researchers once thought, according to a recent study conducted at the University of North Carolina, Chapel Hill.
The National Study of Youth and Religion found that about two-thirds of American 12th-graders say they do not feel alienated from organized religion. Only 15 percent said they feel hostile toward established religion, while another 15 percent said they have no feeling about religion at all.
The study also found that the numbers of teens who said they are alienated from religion have hovered at about 15 percent of the population since studies began in 1976.
---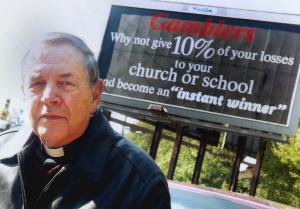 Plea to gamblers
Fr. Edmund Nadolny, pastor of St. Stanislaus Church in Meriden, Conn., seeks to raise money for churches and schools from gamblers who patronize nearby casinos. On billboards throughout the state, the priest prods gamblers to reflect on gambling as an addiction and donate a percentage of their losses to their parish.
-- CNS/Record-Journal
---
Abuse fund called 'too small'
CINCINNATI -- A local attorney is challenging the size of Cincinnati archdiocese's $3 million fund to compensate victims of clergy sexual abuse, saying the fund is too small to properly compensate victims. The archdiocese says it is the highest amount it can spend without special permission from the Vatican, a process that could take months or years.
The fund is part of the archdiocese's Nov. 20 plea of "no contest" to five misdemeanor counts of failing to report a crime. The plea agreement ended a 19-month grand jury investigation into clergy sex abuse by county prosecutors.
Compensation is to be made available to any victim who is not currently suing the archdiocese, including persons who have sued and lost a case because of the statute of limitations.
Bishop, teens discuss sex abuse
ANAHEIM, Calif. -- Bishop Tod D. Brown of Orange, Calif., addressed the clergy sexual abuse scandal in the Catholic church in a speech before 4,000 teens gathered Jan. 24 for a weekend youth event. Brown played a three-minute video featuring local Catholic high school students discussing the importance of speaking out against sex abuse. He then urged the teens to continue the discussion in their home parishes.
"The subject of sexual abuse of minors in our churches and in society needs to be confronted by all of us -- by you and by me," Brown said. "I'm sure you are aware a number of priests and lay leaders in our church have betrayed their positions of trust and have caused a lot of pain."
An estimated 800 lawsuits have been filed against the Catholic dioceses in California. Brown's diocese faces some 50 suits.
The presentation came less than a week after Brown nailed a "Covenant with the Faithful" to the front door of Holy Family Cathedral in Orange (NCR, Jan. 30). The covenant calls for greater public honesty in dealing with sex crimes committed by church leaders.
Church delegation barred from Guantanamo
WASHINGTON -- The National Council of Churches has been denied access for a humanitarian visit to terrorism detainees at the American base in Guantanamo Bay, Cuba. A delegation from the New York-based group toured Cuba the last week in January and had asked U.S. government officials for access to the more than 600 detainees at Guantanamo.
The council General Secretary Bob Edgar said the request "stems from our religious conviction that all people -- regardless of religion, culture, or status -- be treated with dignity, which translates to humanitarian concern for the detainees' physical and mental well being, and pastoral concern for their spiritual well being."
The Defense Department told the church leaders that only representatives from the International Committee of the Red Cross and government officials are allowed access to the detainees.
Edgar said he would continue to press for access with "U.S. government officials" after the delegation retuned to the United States. The national council has filed a brief with the U.S. Supreme Court in support of granting the detainees legal rights in the U.S. court system.
--Religion News Service
COMPILED FROM NEWS SERVICES, CORRESPONDENTS AND STAFF
National Catholic Reporter, February 6, 2004