Issue Date: February 6, 2004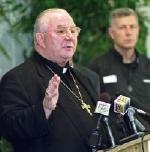 Bishop Anthony J. O'Connell answers questions at a press conference following his resignation as bishop of Palm Beach, Fla., in 2002.
-- CNS/Lannis Waters
School, chancery still honor bishop who admitted abuse
By DENNIS CODAY
Two years after he admitted to sexual abuse of minors, photos of Bishop Anthony J. O'Connell still hang in the Catholic high school in Knoxville, Tenn., and the chancery displays a bust of the resigned bishop.
A group of determined Catholics, however, is working to remove the images. Led by Susan Vance, it's the same group that campaigned to have O'Connell's name removed from the Family Life Center building at St. Mary Parish in Oak Ridge, Tenn. That campaign took a year. The name was finally removed in January 2003.
Displaying images of an admitted pedophile in places of honor "is nothing short of disgraceful," Vance told NCR.
But more than being disgraceful, keeping the images creates a "very victim-unfriendly atmosphere in the diocese" that discourages other victims of sexual abuse from coming forward, said Vance, who is a cofounder of the Tennessee chapter of the Survivors Network of those Abused by Priests -- SNAP.
O'Connell headed the diocese of Knoxville from its founding in 1988 until he was named bishop of Palm Beach, Fla. in 1999. In March 2002, he resigned after admitting to sexual improprieties with two teenage boys. O'Connell's predecessor in Palm Beach, Bishop Keith Symons, resigned in 1998 when it was revealed that he had sexually abused five young men earlier in his career.
In Knoxville's chancery, a near life-size bronze bust of O'Connell sits at the hallway that leads from the public lobby to the administrative offices. It is outside the office of the chancellor, Fr. J. Vann Johnston.
Johnston says the bust appears with the decree from the Holy See establishing Knoxville as a diocese and is meant as a historical display. It has been in the hallway since about 1996 when a friend of O'Connell gave it to the bishop as a gift.
"I don't think it's inappropriate [to display the bust] in a certain area to recall the roots of the local church -- whatever they are," Johnston said. The bust simply acknowledges that O'Connell was the founding bishop of the diocese, he said. "The presence of it is not to make a statement."
Johnston said that he knows the local SNAP chapter has asked that the bust and other images of O'Connell be removed from church property, but he said did not know if that has been discussed and he knows of no plans to remove the images.
Asked if he thought the presence of the bust might create an unfriendly atmosphere for victims of clergy abuse or might be intimidating to someone who wants to report abuse, Johnston said, "It's hard for me to speculate on that. It's hard for me to say what would be a barrier to a person in that situation.
"It's not the only thing that could be a barrier," he said. "That is why the assistance coordinator is in another place to help." The assistance coordinator, who handles abuse reports for the diocese, is a contracted lay professional, and her office is not in the chancery.
Johnston also said that a person could contact the diocese and report abuse without ever knowing the bust is there.
Aurelia Montgomery, principal of Knoxville Catholic High School, told NCR that a portrait of O'Connell hangs in a row of photographs of clergy -- three bishops and two priests -- who were instrumental in the development of the school.
She said the photo is high up on the wall near the school's back entrance. "It is not displayed in any prominent way at all," she said.
Montgomery, who has worked in Knoxville Catholic schools since 1978 as a teacher, principal, assistant superintendent and superintendent, said she does not believe displaying O'Connell's photo creates an intimidating atmosphere or sends a bad signal to students.
"I believe that it is appropriate to have history displayed," she said. "For example, if I had a history of my family with photographs and a member of my family did something that we would not want to display or have emulated … I would not destroy that picture. That person would not be erased from the history of the family," she said.
O'Connell is, in fact, an "adopted" member of Montgomery's family. "Bishop O'Connell was adopted as a member our family by my mother, who passed three years ago," Montgomery said. O'Connell blessed the marriage of Montgomery's son, and she keeps a photograph of the bishop, her son, his bride and herself in her office. Until very recently, she hung a second picture of O'Connell and herself in her office but has replaced that with a photo of Pope John Paul II.
She said there are no plans to remove O'Connell's photos from the school. She also said that the students understand O'Connell's full history. When O'Connell resigned from Palm Beach, she held an assembly and read the student body a letter from Bishop Joseph Kurtz, the current bishop of Knoxville.
Vance said this appeal to history is an attempt to gloss over O'Connell's crimes and in a sense to redeem him. When people tell her, "We should hate the sin but love the sinner," Vance replies, "We're caught in a web of forgiveness, but we call that cheap forgiveness when it is not based on fact."
Vance said she hears people saying things like what O'Connell did "happened more than 30 years ago" or that it was "a consenting relationship" or that "it was an indiscretion" and "we all make mistakes."
These are not true, Vance said. She wants to make sure these facts are not glossed over. "O'Connell admitted he sexually abused minors," Vance said.
Just because no victims have stepped forward in the Knoxville diocese does not mean they are not there, she told NCR. She is convinced that if the diocese were more aggressive in seeking out victims, more would come forward. "But the diocese will do nothing," she said.
"The statute of limitations is going to run out and close the victims off from justice," Vance said. "That's why the diocese of Knoxville is willing to let this go on because it's to their advantage."
Last year the parishes in the diocese sent a "spiritual bouquet" (prayer intentions) to O'Connell "to honor him on his 40th anniversary as a priest. "You can't tell me that people understand the situation when they honor him in this way," Vance said.
National Catholic Reporter, February 6, 2004