National Catholic Reporter
Subscribers only section
February 6, 2004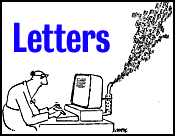 Bush and the Vatican
As a Catholic who has great respect for both Pope John Paul II and President George Bush, I find your article stating the pope would like to "give peace a chance" (NCR, Jan. 15) rather customary for the church. Considering that the sexual abuse crisis has been going on in our church for well over the past 50 years without anyone in the hierarchy choosing to address it directly or even declare it a problem, it seems to me that church leadership is not particularly equipped with good judgment when it comes to handling the tough issues.
At this point, you can count me in with those who say, "Give Bush a chance" when it comes to the Iraq war. It's time for the Vatican to turn its attention to the horrendous crisis of abuse within its own organization, both bureaucratically and spiritually.
MARGERY K. ENGLISH
Apple Valley, Minn.
---
Among several interesting articles in NCR's Jan. 16 issue was Gabe Huck's piece on Catholic liturgy on the 40th anniversary of Sacrosanctum Concilium.
I enjoyed Huck's discussion of "full, conscious and active participation" in the liturgy and of some of the difficulties that are with us today -- the battles surrounding Catholic worship. And Huck did well to point out that the Mass is not the only liturgical celebration.
I would have liked, however, for Huck to have addressed the issue of whether our worship today is God-centered or only about ourselves. I firmly believe that liturgy is God-centered, expressing people's need to pray -- to give thanks and praise, to lament, to plead -- yet the charge that it is otherwise remains.
What I have observed is that many of us see ourselves primarily as an audience. Yes, we have a few "lines" to deliver, and we're often trying to recall what they are. We don't see ourselves as actors in a ritual, one that will transform us. We especially do not see ourselves as a community of the baptized, as, in fact, the body of Christ.
I would like to propose that faith formation for younger children be primarily about worship. Teach our little ones to participate in ritual -- to pray, to sing, to keep silent, to listen, even to dance. Help them to experience mystery. Add to that stories about Jesus and about our call to carry on his mission in our place and time. What do other NCR readers think?
SHERYL B. ZABEL
Fairport, N.Y.
* * *
I virtually could not read fast enough to take in what Gabe Huck had written. It felt like I was reading another chapter of Peter Steinfels' A People Adrift. Being one who, like Huck and Steinfels, was in college in 1963, who watched the council with hope, I still hope.
When our liturgies, our sense of baptism come alive to Vatican II and the Constitution on the Liturgy so well described in hopeful and challenging terms, we will go out and invite others in to share what we cannot contain within ourselves. Our churches will be full of active participants, we won't have to wonder how to invite back, only how to make room for more people.
Thank you for the challenge.
(Deacon) LEO T. BISTAK
Sylvania, Ohio
---
On this 40th anniversary of the "I have a dream" speech, I have a dream that the Jesus Martin Luther King Jr. knew, loved and followed will be revealed as a passionate advocate for justice and peace.
I have a dream that Jesus' first homily from Isaiah will come to be seen as a political statement for the poor. "The spirit of the Lord is upon me. He has anointed me to bring glad tidings to the poor. He has sent me to proclaim liberty to captives, recovery of sight to the blind and to let the oppressed go free." Sitting down, he announced, "Today this prophecy has been fulfilled in your hearing."
I have a dream that Martin Luther King Jr., Gandhi and Archbishop Oscar Romero will come to be known as martyred prophets in the cause of nonviolent love.
(Deacon) LARRY LANGE
Devils Lake, N.D.
---
I just finished reading an article (NCR, Dec. 26) about the need to close parishes in the Boston archdiocese due to a lack of priests.
In all similar discussions over the years it seems to me that clerical bureaucracy has nicely shaded the real message.
Here is a suggestion that has probably not come to mind. Why not keep all the parishes open. In those where a priest is not available, let the lay people continue to do the work in the parish, convene meetings, plan and run communal services, oversee finances and have a real functioning in the parish council. Honestly announce that because male clerical celibacy is the overriding value in the church, there will be no sacraments. The truth shall set you free.
Over the past few years I've watched the "consolidation" of two parishes in a small Ohio town where some of members of our family live. Where once there were three priests serving, now there is one. That one man is trying to do a good job. What has been sacrificed is the parish community.
The mission given to the apostles and disciples was, "Go out to the whole world, proclaim the good news to all creation" (Mark 16:16). Now the Gospel and the sacraments take a second place to the preservation of a male celibate priesthood. The people know this is wrong.
MARYANN SAMMON
Brecksville, Ohio
* * *
In his letter in the Jan. 23 issue Bob H. Fincutter writes: "There are many Catholics, myself included, who have thought a married clergy would solve the problem of an insufficient number of vocations to the priesthood." After reading several articles from the Christian Century magazine for April 11, 2001, and in the Nov. 29, 2003, issue, Mr. Fincutter writes: "I realized that I had a naive, idealistic view of a married clergy. The research done for these articles convinces me that there may be serious unintended consequences from allowing optional celibacy and that there may not be an increase in quantity or quality of priests. Those who promote a married clergy should read the Christian Century articles."
Here is one possible unintended consequence. It's a friendly warning from the former Anglican bishop of Kamloops in Canada to his Catholic counterpart: "You Catholics don't know how lucky you are with your tradition of priestly celibacy. We Anglican bishops can't move our priests around. Being almost all married to professional women -- lawyers, doctors, professors, CEOs -- our Anglican priests refuse to move to other parishes in the diocese because their wives are not going to give up their professions to follow their husbands."
Nor is a married priesthood the answer to the vocation shortage if you talk to rabbis. In an article titled "The Rabbi Crisis" in the May 2003 issue of Commentary, Jack Wertheimer, provost and professor of American Jewish history at the Jewish Theological Seminary in New York, stated that there is a shortage of rabbis serving congregations. "Ever-growing numbers of rabbis" are leaving their congregations to serve as teachers, administrators or chaplains in a variety of Jewish institutions, even at a "lower remuneration than the pulpit rabbinate," even though "in keeping with the rising demands, compensation [for rabbis] has reached impressive levels."
Neither are women priests the answer. Wertheimer writes: "While all rabbinical schools except those within the orbit of Orthodoxy now ordain women … the supply side [for rabbis] looks very poor."
(Fr.) GINO DALPIAZ
Stone Park, Ill.
---
Raleigh Bishop Joseph Gossman's action in firing the editor of the NC Catholic the week before Christmas is a sure sign of the church's sickness. According to the Jan. 9 issue of NCR, editor John Strange was fired simply because he reported the warning issued by author William Powers that the church is sick.
Healthy institutions welcome diagnosis and criticism. Sick institutions dread the painful truth.
Gossman's actions have had two effects on me. I have ordered a copy of the Powers book, and I plan to write the diocesan office asking them to return our contribution to the Bishops' Annual Appeal.
ALLAN A. GLATTHORN
Washington, N.C.
* * *
Along with many fellow Catholics I was angry and dismayed at Bishop Gossman's firing of the editor of the NC Catholic newspaper. I felt a sense of betrayal by the bishop. His action seemed so out of character, its timing so mean-spirited, thoroughly unlike the man I hold in high esteem.
So I called Bishop Gossman, told him how I felt, and listened to him. I still don't think his reaction fit the situation, nor do I think the timing appropriate. I can, however, understand from the bishop's perspective what upset him. I understand, too, the legal ramifications that limit what he could say. I didn't think to ask him at the time if pressure had been put upon him from above. My concern was the bishop himself and if he had changed. I don't believe he has.
In the 28 years that I've known him, I've never found Joe Gossman to lie, unlike some of his fellow bishops and cardinals. He is a caring, compassionate man. We've had our battles through the years, but I've never found him to be dishonorable or vindictive.
The question that remains for me is, given the bishop's reasoning, why was the article later taken off the diocesan Web site and by whom? Its removal to me smacks of censorship. A "well" church doesn't have to resort to such actions.
JOAN WELCH PEAK
Durham, N.C.
---
Letters to the editor should be limited to 250 words and preferably typed. If a letter refers to a previous issue of NCR, please give us that issue's date. We reserve the right to edit all letters. Letters, National Catholic Reporter, P.O. Box 419281, Kansas City, MO 64141. Fax: (816) 968-2280. E-mail: letters@natcath.org Please be sure to include your street address, city, state, zip and daytime telephone number.
National Catholic Reporter, February 6, 2004