Issue Date: February 13, 2004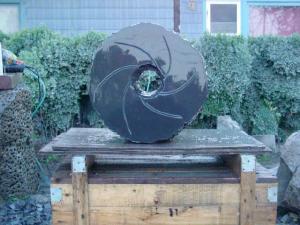 A 2-by-2-foot monument in the shape of a millstone is being sculpted to pay tribute to victims of clergy sexual abuse.
-- RNS/St. Joseph's Roman Catholic Church in Mendham, N.J.
Clergy abuse monument inscription stirs debate
By JEFF DIAMANT
Religion News Service
No one knows whether James Kelly's suicide last October in front of a New Jersey Transit train in Morristown, N.J., stemmed from the childhood sexual abuse by a Mendham, N.J., priest or from other personal problems.
Still, while gathered after his funeral on the grounds of St. Joseph's Roman Catholic Church in Mendham -- where the abuse occurred more than two decades ago -- people who were abused by the same priest discussed naming their support group chapter after Kelly, a 37-year-old telecommunications salesman from Morristown who had recently been laid off.
"We were just kind of having an open table discussion," recalled Bill Crane, who, like Kelly, was sexually abused by the former Fr. James Hanley. "And it dawned on me that something really needs to take place that is tangible, to bring to light the seriousness of what we endured as children, so it won't be forgotten."
Crane suggested erecting a small monument, and received approval from the group and the church's pastor, Fr. Kenneth Lasch. When dedicated in April outside the church's Pax Christi Center, the 400-pound basalt monument -- shaped like a millstone -- will evoke a biblical saying that is meaningful to Christians who were sexually abused as children.
In the passage, from the Gospel of Matthew, Jesus addresses those who would harm children, saying, "It would be better for you if a great millstone were fastened around your neck and you were drowned in the depth of the sea."
The monument apparently would be the only marker in the nation dedicated to victims of the clergy sex abuse crisis located at a church. Lasch said it could help victims feel the church will not forget what happened to them there.
"I'm very interested in the notion of having a tribute," said Lasch, who has been praised by Hanley's victims for an attitude they say is an antidote to negative experiences with many other clergy. "The millstone is symbolic of the burden they have carried because of sexual abuse. It also stands as a warning to anyone who would hurt children."
The monument -- sculpted by Mark McLean, a Portland, Ore., artist engaged by Crane -- measures about 2 feet by 2 feet and seems more like a marker than a monument, Lasch said. Individual donations will cover the approximately $5,000 cost of the project. A local landscaper has offered to prepare church grounds for the monument free of charge, Lasch said.
For all the good feelings that talk of the monument has inspired among victims and their supporters at St. Joseph's, a low-key debate has arisen over the inscription for the accompanying plaque.
Among the issues: Might the inclusion of Jesus' words about drowning offenders be too harsh? And, would it be wise to install a monument that permanently brings attention to such an unpleasant subject?
"As a parish, we don't want to be known just as the place where sexual abuse took place by one priest," Lasch said.
Lasch wrote, on the parish's Internet site, "We want to affirm [victims'] thirst for justice but we also want to affirm our desire for reconciliation and will continue to discuss the details of this tribute to assure that the message is a positive expression of healing and hope."
Crane said Jesus' words about the millstone belonged on the inscription, and that people should view them metaphorically, not literally.
"I don't think it's Christ communicating it as a commandment to be taken in a wooden, literal sense that we go around with millstones and sink people," Crane said. "I'd like to communicate that it's a divine illustration. It's something we can connect visually in our own mind-set and relate to. It's very sobering."
Buddy Cotton, president of New Jersey's chapter of the Survivors Network for those Abused by Priests who also was a childhood victim of Hanley, favors including the passage.
"Those are the words Jesus used to describe his reaction to those that would harm children," he said. "I don't think the millstone is a condemnation for mistakes people made. It's a recognition that a crime took place here, a crime of a huge scale, a crime against a generation of children."
A compromise might include an inscription that uses the quotation but almost immediately follows it with a different, positive biblical passage about Jesus and children, Lasch said.
In many ways, the 1,700-family parish in wealthy Mendham is the New Jersey epicenter of the national Catholic church scandal. Kelly and Crane were among about 15 people there to accuse Hanley of molesting or sexually assaulting them as children, and have faulted Bishop Frank Rodimer for not removing Hanley from ministry or alerting authorities earlier than he did.
Hanley served in five North Jersey churches from 1962, the year he was ordained, until 1986. Former parishioners from all but one of those churches have come forward to say he abused them.
Rodimer has publicly supported the notion of a monument at St. Joseph's.
Mark Serrano, another Hanley victim who is a national board member for SNAP, said he does not care whether the biblical passage accompanies the millstone, but that even if it does, the monument would help, not harm, the church's reputation.
"Because there are so many from the parish who've been so supportive [to sex abuse victims], the parish doesn't always have to be remembered for a decade of sexual crimes against children," he said. "It can be remembered for historical opportunities for healing for victims and their families."
National Catholic Reporter, February 13, 2004