Issue Date: February 13, 2004
Two movies in contrast
Afghan women under Taliban rule; a talking dog goes to school
By JOSEPH CUNNEEN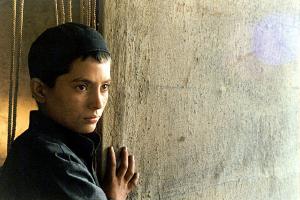 Marina Golbahari in "Osama"
Osama is both international news and movie news. The first entirely Afghan movie shot on home soil since the emergence of the Taliban, it presents a stark picture of the oppression of women under the regime that was toppled by the United States in 2002. The project, completed in early 2003, is the first feature-length film of Siddiq Barmak, who had earlier been head of the Afghan Film Organization but was forced into exile in Pakistan.
The movie opens on a peaceful street demonstration of women that is brutally terminated when the authorities turn water cannons on the protesters. As the crowd flees in terror, the camera singles out a young village beggar before focusing on a mother and her 12-year-old daughter. It develops that the girl's father and brother have been killed fighting the Russians, leaving her mother in an impossible position: She must find some sort of income while not being seen to violate the Taliban mandate that no woman work or be outside the home without a legal male companion.
The impetus for the movie came to Barmak in Pakistan when he received a letter from a former Afghan teacher about a girl who wanted to attend school even though it was forbidden by the Taliban. Her desperate expedient of cutting her hair and wearing boy's clothes initially shocked Barmak, but he eventually saw it as a perfect "story about a time when people fear even the sounds of shadows, a story about the seeming endless injustices committed against women."
Barmak was determined to use only amateur actors. Fortunately, he found Marina Golbahari, a remarkable 12-year-old, to play Osama, as common a masculine name in Afghanistan as John is here. The girl's big brown eyes project the sense of dread that dominates the film; she understands only too well the risks of masquerading as a boy under the Taliban regime.
After the authorities shut down the understocked hospital where the mother and daughter have been caring for patients, the mother cuts the girl's hair and dresses her as a boy, and asks a grocer, who had been a friend of her husband in the army, to let her earn some money for the family. The grocer coaches the girl in how to act and helps to reassure a suspicious Taliban official when she makes mistakes at a prayer service in the mosque. The next day, however, she is taken with all the boys of the village to the religious school, which is also a military training center. On several occasions, her secret identity seems about to be revealed but the young village beggar from the first scene manages to protect her. Finally, however, the fact that she is a girl is revealed, and she is put on trial.
"Osama" benefited from the aid of Iran's Ministry of Culture and the Makhmalbaf Film House. Barmak is understandably an ardent admirer of the films of Iran's Mohsen Makhmalbaf, but the nature of his subject precludes the possibility of psychological subtlety or the lyricism of the latter's "Gabbeh." Although "Osama" inevitably paints a grim picture of life under the Taliban, its Golden Globe award for best foreign-language film is easy to understand in light of one's inevitable identification with Golbahari. Barmak is especially successful in dealing with crowd scenes and in portraying the rote-like training of the young by the Taliban. He offers his film with high expectations: "that our nation's pain, sorrows, and suffering shock the world's audience and change its point of view about the future of the human psyche."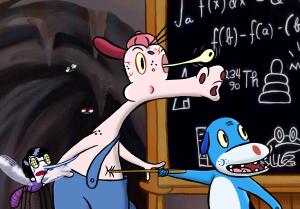 Spot points out the missing link in Dr. Krank's formula for transforming animals into humans in "Teachers Pet"
-- CNS/Buena Vista Pictures
Disney's Teacher's Pet offers a perfect contrast, a hand-drawn cartoon comedy about a talking dog, Spot, who wants to be a human boy, and starts appropriately with an entertaining parody of Pinocchio. Although adults who know that the movie is based on a Saturday-morning cartoon series may be suspicious, those who take their children will be glad they did. Much of the fun is provided by the voice of Nathan Lane, who leads a double life as both Spot and Scott Leadready II. Spot actually goes to school with Leonard Helperman (voiced by Shaun Flemming), where both are taught by Leonard's mother (voiced by Debra Jo Rupp).
"Teacher's Pet" moves quickly under the first-time direction of Timothy Björklund, and gross humor makes up only a small percentage of its 74 minutes. What might seem excessive on the stage works well for Lane in this nonstop talkative role; his high excitement when he hears of Dr. Ivan Krank (Kelsey Grammer), a mad Florida scientist who can turn animals into humans, seems perfectly in character. Conveniently enough, Mrs. Helperman and her son are going to Florida to attend a teachers conference, and Spot manages to hook a ride.
The proceedings may seem exaggerated, but the artwork of Gary Base-man is inventive; the screenwriters are former "Cheers" veterans Bill and Cherie Steinkellner, and there's lots of singing and dancing. It's hard not to smile at Spot's insecurity, his excessive desire to do well in class, and his fellow household pets, Pretty Boy the parakeet (Jerry Stiller) and Mr. Jolly the fraidy-cat (David Ogden Stiers). Even if I didn't get all the in-references to contemporary culture, I appreciated "Teacher's Pet" for its jokes about Disney.
Joseph Cunneen is NCR's regular movie reviewer. His e-mail address is SCUNN24219@aol.com.
Quick Takes:
Win a Date with Tad Hamilton wants to be a harmless PG-13 romantic comedy, but its exaggerated improbabilities send mixed signals. Kate Bosworth is charming as Rosalee Futch, a checkout clerk at the Piggly-Wiggly in a small West Virginia town who wins a date with handsome movie star Tad Hamilton (Josh Duhamel). Although she's so excited in Hollywood she throws up in Tad's car, her non-obnoxious wholesomeness leads Tad to abandon his usual wild ways and follow her back to Frazier's Bottom. Pete Monash (Topher Grace), Rosalee's store manager who sees through Tad, keeps warning her to "guard her sacred treasure" instead of telling her he loves her. Eventually, Tad proves to be more interested in his new starring role than in the virtues of West Virginia, and Rosalie shows herself too levelheaded to want a life in Hollywood. Moral, pleasant, but skin-deep.
National Catholic Reporter, February 13, 2004