Issue Date: February 20, 2004
WORLD
Edited by Dennis Coday
Bishops urge fast drug delivery
CAPE TOWN, South Africa -- The Catholic bishops of southern Africa have called on the South African government to speed its delivery of anti-retroviral drugs. The government needs to "overcome all bureaucratic hurdles," the bishops said in a statement after their Jan. 28-Feb. 4 plenary meeting. It would be tragic if red tape deprives HIV-positive Africans of basic assistance and medical care, they said.
The church was scheduled to start a project in mid-February to provide anti-retroviral drugs and other treatment to HIV-positive South Africans at 24 sites throughout the country. About 4.5 million of South Africa's 43.5 million people are infected with HIV, one of the world's highest HIV/AIDS rates.
During the meeting, the bishops also approved a protocol requiring church officials to report to police all incidents of clergy sexual abuse of children and issued a statement against government corruption.
Churches suffer organized attacks
COLOMBO, Sri Lanka -- The National Christian Council of Sri Lanka has condemned recent attacks on churches and criticized police for not taking swift and adequate steps to curb violence. In a statement published Feb. 2, the council expressed concern over resentment against Christians and the increasing incidence of unchecked violence aimed at their places of worship.
More than 20 churches have been attacked since the cremation Dec. 24 of Venerable Gangodawila Soma Thero, 54, a Sri Lankan monk who condemned alleged "unethical conversions" of Buddhists to Christianity. The monk died of a heart attack Dec. 12 while on a visit to Russia, but rumors circulated in Colombo that Christians were involved.
The Christian council said the attacks on churches have been "well-planned and coordinated, and are meant to intimidate Christians and provoke undesirable religious strife in the country." The council said it would assist in investigating specific allegations of "unethical conversions."
---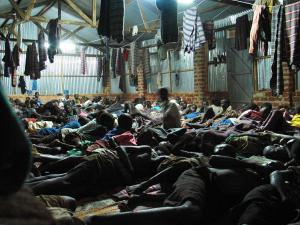 -- CNS/Declan Walsh
Children escape abductions
GULU, Uganda -- At night, soldiers of the Lord's Resistance Army, the rebel army behind one of Africa's most tragic wars, swoop down on rural Ugandan villages, murdering adults and abducting children to turn them into soldiers. As a result, thousands of youngsters flood into Gulu, an army garrison town, in search of shelter and sanctuary every night.
The "night commuters," as local people call them, crowd into large, dormitory-like shelters. About 1,500 boys and girls sleep like sardines, head-to-toe, on the hard concrete floor of the Rural Focus Uganda shelter. Conditions are basic. The children arrive after school, at dusk, and leave again at dawn. Some walk 10 miles each way, but for them the perilous alternative -- to stay home and risk abduction -- is far worse. An estimated 10,000 children have been abducted since 2001 and 30,000 in the past decade. Up to 80 percent of the rebel ranks are under age 18. Comboni Fr. Carlos Rodriguez Soto, a Spanish missionary with 20 years' experience in Uganda, is leading efforts to end the conflict. At this stage, only discussion can end the war, Rodriguez said. "That is why we need to get the international community involved -- now."
---
Priests barred from elected office
ATAMBUA, Indonesia -- The bishop of Atambua, in eastern Indonesia, has publicly forbidden clerics and religious in his diocese from running in the April 5 general election. Divine Word Bishop Anton Pain Ratu issued his statement Jan. 29 after a local election commission announced two Catholic priests were among the legislative candidates for a district in north central Timor.
The bishop said church law forbids clerics from assuming public office and joining partisan politics. He also said that Indonesian law required candidates who are members of a legal entity -- such as priests in a diocese -- to seek permission from the head of the legal body. Pain Ratu said the priests, Makarius Molo and Amandus Nahas, had not sought his permission.
USA
Religious press for amendment
BOSTON -- Massachusetts religious leaders, including Catholics, mainline and evangelical Protestants, Jews and Muslims, have urged lawmakers to amend the Massachusetts state constitution to define marriage as a union between one man and one woman. A statement released Feb. 7 was endorsed by more than 3,000 religious communities within the state. The state Supreme Judicial Court ruled in November that gay marriage is constitutional and in an advisory opinion Feb. 4 declared "civil unions" to be insufficient and discriminatory.
The group's statement was endorsed by four Catholic dioceses, 100 Orthodox churches, the Islamic Council of New England, the Black Ministerial Alliance, and a variety of other religious leaders including three rabbis.
Deportation stayed for now
CLEVELAND, Ohio -- The deportation of a Muslim woman has been halted for a second time. Amina Silmi, the mother of three children ages 12, 6 and 5, was set to leave the country Feb. 4. She had said goodbye to her children and was on her way to the airport when news of her deportation's stay came.
Silmi had been married to two Muslim men, both of whom were legal U.S. residents and both of whom were abusive, she says. Neither husband began the process for Silmi to obtain legal residency, so she remained in the United States for 12 years after her visitors visa expired.
If deported, Silmi, a native of Venezuela, will be barred from entering the United States for 10 years.
Disgruntled Anglicans keep aid
WASHINGTON -- Though overseas Anglican Communions unleashed a torrent of criticism when an openly gay Episcopal priest became a bishop, none has refused the millions of dollars in aid the U.S. church sends overseas, officials said. At least nine provinces in the 77 million-member Anglican Communion have declared themselves in "impaired communion" with the U.S. church following the ordination of Bishop Gene Robinson in New Hampshire.
"What has been the practical outcome of these declarations? Very little, to date," said a report compiled by Patrick Mauney, director of Anglican and global relations. Between 2000 and 2003, the Episcopal church spent $33.6 million overseas, including $7 million in disaster relief and development. None of that money was returned, but the fallout could be felt in the new 2004-2007 budget.
"At least some of the provinces in question are likely to decline the grants, based on statements made by them," Mauney said.
In the nine provinces with "impaired" communion, 34 church missionaries are currently working. "No missionary has been asked to leave. ... No requests for missionaries have been withdrawn," he said.
Voter registration drives launched
WASHINGTON -- Religious organizations and grassroots voter mobilization groups launched a program Feb. 4 aimed at assisting and encouraging people in the faith community to register and vote in the 2004 election year. The Interfaith Alliance's "One Nation, Many Faiths: Vote 2004" kickoff brought together leaders of faith-based groups representing Christian, Sikh, Muslim and Unitarian agencies, among others. "We are registering voters to see that people of faith and goodwill function as an important part of the election," said the Rev. Welton Gaddy, president of the Interfaith Alliance, a religious grassroots organization.
Religion written into job duties
NEW YORK -- In a decision that is raising questions about religious discrimination and may draw a lawsuit, the Salvation Army of Greater New York is requiring job descriptions to clearly state that the army's mission includes spreading the Christian Gospel. It is reiterating that message to employees who work in children's programs and is also asking them to sign a form declaring their religious affiliations.
Some employees see the changes as intrusions of privacy. The New York division receives $70 million in funding from New York City and the state of New York. It employs some 1,700 in its social service agencies.
A division administrator has filed a complaint with the Equal Employment Opportunity Commission, alleging that a Salvation Army official announced that those refusing to sign the new job descriptions would lose their jobs.
Cases may be consolidated
SACRAMENTO, Calif. -- Seven of the eight Catholic dioceses in northern and central California filed a court request Jan. 26 to coordinate all pending civil sexual abuse lawsuits in one courtroom, calling it an attempt to streamline legal proceedings and "minimize confusion."
Lawyers for the dioceses of San Francisco, Fresno, Monterey, Oakland, San Jose, Santa Rosa and Stockton asked the State Judicial Council to consolidate an estimated 150 sexual abuse lawsuits they face under a single judge in Santa Clara County Superior Court. Santa Clara is centrally located among the dioceses making the request. Sacramento diocese did not join the others but plans to seek a separate coordination of cases it faces.
Earlier, the council accepted a similar proposal to coordinate abuse suits against Southern California dioceses.
The dioceses are not asking to have a single trial for all cases. A coordinating judge would oversee settlement talks and make rulings on pretrial issues such as admissibility of evidence, insurance coverage and scheduling.
Major settlement reached
OAKLAND, Calif. -- The Oakland diocese agreed Jan. 23 to pay $3 million to Jennifer Chapin, 31, who was sexually assaulted as a child by her pastor, Msgr. George Francis. The settlement was one of the first to resolve claims against priests under a California law that temporarily lifted the statute of limitations for civil suits claiming childhood sexual abuse.
California dioceses are facing an estimated 800 such suits filed during 2003, the one-year filing period.
Victim asked to join board
BOSTON -- The Boston archdiocese announced a settlement for an undisclosed amount with the family of the late Rita Perry, who had two children in the 1960s fathered by a Boston priest, James D. Foley. Foley had been with Perry in 1973 when she overdosed on barbiturates. Foley fled the scene and Perry later died.
Boston Archbishop Sean O'Malley invited one of the children, James Perry, to join an advisory board for the archdiocesan Office of Pastoral Support and Outreach.
"We hope in that way Jim will be able to convey to others the destructive impact of any sexual relationship between a priest and parishioner" and help the office respond to others in need, O'Malley said in a statement.
Priest pleads guilty
ORANGE, Calif. -- An Orange, Calif., assistant pastor pleaded guilty Jan. 30 to two counts of committing a lewd act against a child in July 2003. The Los Angeles Times reported Fr. Gerardo Jarencio Tanilong, 72, was accused of groping a 15-year-old girl's breast and reaching into her underwear as they were driven to evening Mass in the back of her parents' car. He will be sentenced in April.
He is the fourth Orange County priest to be accused of sexual misconduct in the last year but is the only one who has faced criminal charges, said diocesan spokesman Fr. Joe Fenton. Tanilong's guilty plea and release from the priesthood is Orange County's first since U.S. dioceses adopted in 2002 a policy requiring dismissal of clerics facing any credible allegation of physically abusing minors.
Tanilong joined the priesthood 40 years ago in the Philippines and has served the Orange diocese for 17 years.
COMPILED FROM NEWS SERVICES, CORRESPONDENTS AND STAFF
National Catholic Reporter, February 20, 2004