Issue Date: February 20, 2004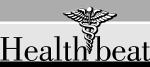 An inner-city university in the works
Hospital's ambition will expand medical education programs
This is the second in a three-part series on the work, financial strategies and budgetary constraints facing a Catholic hospital that turns no one away. Like other Catholic hospitals around the country that adopt this outreach-to-all approach, St. Francis Medical Center in Lynwood, Calif., has to balance budget and belief in the midst of traumas that, in the final analysis, come down to caring for sick and dying people one person at a time.
By ARTHUR JONES
Lynwood, Calif.
St. Francis Medical Center doesn't know when to stop.
What's next?
How about creating your own university smack in the middle of some poorest of poor, toughest of tough Los Angeles County communities. The Daughters of Charity of St. Vincent de Paul aren't satisfied with their hospital sticking to its prime function -- providing health care. They are intent on being a continually expanding Catholic presence, the Jesus ministering to the poor throughout the surrounding communities.
For sure, a prime educational component of the envisioned university will be training for various medical fields -- but this academic excursion is no mere pious hope.
Note from the Editors:


This is a premium content page.



During the initial launch of Health Beat coverage, NCR will make these articles available for all Web site visitors.
About 13 years ago, Marilyn Overby was appointed director of the medical center's three-year-old educational services department. At that time, in 1991, the medical center was working with one local high school to graduate licensed vocational nurses (LVNs -- elsewhere called LPNs, licensed practical nurses). The medical center's licensed vocational nurse course was intensive, and lasted an entire school year.
St. Francis added more school districts to its program. Encouraged by the then-president of the center, Daughters of Charity Sr. Margaret Keaveney, and motivated by the urgency of the early 1990s Los Angeles riots, the Career College was formally created here in 1994. Accreditation paperwork took a year. In September, the college opened a satellite campus in San Jose, Calif., to serve the Daughters of Charity's O'Connor Hospital. Thirty-two enrolled in its first class.
Today the Lynwood Daughters of Charity's Career College admits some 350 students annually to its various core programs, with an 88 to 90 percent student retention rate in its LVN program, a phenomenally high figure, given many of the life and education difficulties the students have to overcome.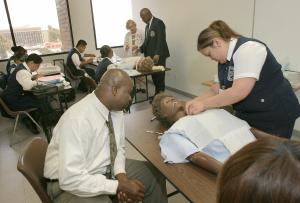 The paramedic training class at St. Francis Medical Center in Lynnwood, Calif.
-- Photo by Rick Reinhard
In 2002, the college added an Emergency Medical Technician program that graduated 25 EMTs the first year. Students can qualify as home health aide (45 hours), phlebotomy technician I (120), certified nursing assistant (150), EMT (260), patient care technician (699), medical assistant (980), advanced health care technician (1,072) and LVN (1,551).
Fees are area standards -- $13,600 for the LVN, for example, and $1,400 for the EMT. The college works with students on the required applications for available federal and state tuition grants.
Remedial and catch-up programs are provided for those who need such courses, with workshops scheduled on weekends for English, math and basic skills.
This is a no-nonsense college. One minute late for class and the student has to wait until the break to join in. Students know in advance there is no leeway in tardiness, dress code or behavior. But when personal and family problems press hard and threaten the student's ability to complete the course, the college goes to great lengths to help. "We have a range of comprehensive support services, from counseling programs to daycare," said Overby.
In collaboration with the East Los Angeles Community College and the medical center's Career College, and aided by medical center and Daughters of Charity scholarships, each year 15 LVNs from the medical center complete their education to become registered nurses. "We hope [the new RNs] come back to work for us," said Overby. "At least 60 percent stay," she said, but they are free to move on.
It's Overby who has the university gleam in her eye. "We're working toward becoming a degree-granting institution," she said, "with our own RN program -- a hospital-run nursing school, and ultimately on to university level. We already have housing proposed for the campus."
The Career College is simply one example of how St. Francis Medical Center is transforming its concept of holistic care into something beyond medicine and health wellness. It's as if the medical center is attempting to wrap its arms around every problem and need in this poverty-stricken town and its neighboring area.
Even today the college's payoff is remarkable. People in the community see neighbors -- folks like themselves whose education and circumstances gave them no reason to hope they could break loose of poverty's grip -- finding the means and support to do so.
Earlier this year, two Career College students, Ebony White and Doris Delatorre, volunteered to help out at the mobile health clinic when NCR photographs were being taken. Traveling with the mobile clinic is part of the required 200 hours of community service expected of LVN students.
The students carry a heavy workload and most carry heavy personal responsibilities. White, for example, has four children ranging from 3 to 15. But when we spoke she had not missed a day at the five-day a week college.
Dean Overby measures the college's success -- and her own -- not by the numbers. Success is achieved, she said, when, despite major problems with transportation, daycare, remedial education needs, and pressing family concerns about sickness or money worries, the students graduate into lifetime career possibilities.
Filling hospital staffing shortages is one problem, reaching out to the local community to alert poor people to their health needs is another. Neatly, St. Francis Medical Center has combined the two issues to great effect.
Overby said that at least 40 percent of all students who enroll in the Career College are signed up at one of the hospital's two annual Health Fairs. Each fair, one in August and a second at Christmas, attracts well over 1,500 people from the community for free screening, referrals and immunizations for the children.
The August health fair is one of the largest of its kind in the state. More than 1,600 adults and children came this year, up 50 percent over 2002. It attracts children just before school starts, explained Gilda Acosta-Gonzalez, director of the center's Healthy Community Initiatives department. The kids get free backpacks stuffed with school supplies along with their shots, she said.
Acosta-Gonzalez joined medical center staff 12 years ago to manage its network of satellite clinics, all within a five-mile radius of the hospital. She operated the first mobile clinic, providing basic screenings using equipment in the back of her car. Five years later the medical center got its mobile clinic. Driver Richard Gardea is on the road with it five days a week, along with a receptionist and two Career College students doing the free screenings (blood pressure, cholesterol, glucose) and immunizations -- 32,000 people in the past 12 months, 12,000 immunizations, she said, proudly.
"We're the first step to anyone obtaining any kind of medical service," she said. "And we're always amazed at how many people are walking around who should actually be having a stroke or should not be walking around because of their high sugar levels.
"The people in the community know St. Francis doesn't turn anyone away," said Acosta-Gonzalez. "They're not intimidated."
The clinic's visit to six area communities is publicized through schools, fliers and community calendars. It's booked three to six months advance, she said.
Acosta-Gonzalez still occasionally goes out with the mobile clinic -- in a different form of community outreach: showing its work to politicians and potential funding sources.
Arthur Jones is NCR editor at large. His e-mail address is arthurjones@comcast.net.
National Catholic Reporter, February 20, 2004