Issue Date: February 20, 2004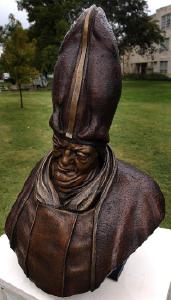 The sculpture by Colorado artist Jerry Boyle titled "Holier Than Thou" in front of the Washburn Student Union in Topeka, Kan., has stirred up some controversy among Catholics. The sculpture is part of a program at Washburn University that brings sculptures to campus to be viewed for about a year.
Controversy rages over sculpture at Topeka university
By ANTONIA RYAN
A sculpture at Washburn University in Topeka, Kan., has sparked a controversy about government involvement in religious symbols, academic freedom and the subjective interpretation of art.
The 38-inch tall bronze sculpture, titled "Holier than Thou," depicts a cleric wearing a miter that some think looks like a penis. A plaque along with the artwork says that this is the "persona" the artist fearfully encountered when making first confession as a 7-year-old. Jerry Boyle, the artist, is a practicing Catholic.
Washburn biology professor Thomas O'Connor and Andrew Strobl, a Washburn senior, filed a lawsuit against the university in early January, saying the sculpture is anti-Catholic and asking a judge to order it removed from campus. "Holier than Thou" stands near the Washburn student union.
O'Connor said it was the first time in his 39 years at the school that he had felt any anti-Catholic sentiment.
"I tried to work through the system by talking to people on campus [about removing the sculpture]," he said. "Their refusal to do anything is what prompted me to file the lawsuit."
He said the suit is based in part on the First Amendment, which prohibits Congress from making any law "respecting an establishment of religion."
Other courts have ruled that public agencies cannot promote religion by displaying the Ten Commandments on their premises, O' Connor said. Their lawsuit takes the "flip side" of the issue, saying the courts should also rule that publicly funded agencies cannot show a display that some see as hostile to religion. Washburn receives tax money from the state and from Shawnee County.
Testimony for the case took place Feb. 3-5 in federal court in Kansas City, Kan. Archbishop James P. Keleher of the Kansas City, Kan., archdiocese, of which Topeka is a part, was the first to testify. Keleher, among those who asked for the sculpture to be removed, said "Holier than Thou" attacked the Catholic church.
"If you are an informed, practicing Catholic, you will be offended by this," Keleher said in court, according to a Feb. 4 article in The Kansas City Star.
David Monical, executive director of governmental and university relations at Washburn, said he respected the sincerity of everyone's responses to "Holier than Thou" and regretted any hurt that had been caused by its presence. But he said the reaction to the artwork is a matter of interpretation.
"The negative reaction that some have had to the piece is not universal," he said. "The interpretation of art is, in part, individual. We all see art from our own perspective."
"The differences in perspective are something universities must accept, not reject."
The sculpture came to campus as part of Washburn's eighth annual Outdoor Sculpture Exhibition, for which 90 pieces were submitted. Designated jurors, guided by community volunteers on a campus beautification committee, chose five pieces, including "Holier than Thou," for temporary display throughout the 2003-2004 academic year.
A Sept. 30 statement from Washburn University said that no tax dollars were used to support the exhibition.
Jeanne Bertelson, chairwoman of the beautification committee, said she was "absolutely surprised" about the controversy surrounding the piece. "We have Catholics on our committee, and no one else raised any question about it," she said.
"It was never our intent to cause pain or hurt or demean a religion."
She said the sculpture was chosen because it was a fine, complex work of bronze. The artist had shown "Holier than Thou" in different places, she said, and there had never been a controversy like this before.
Boyle, the artist, is not involved in the lawsuit. He created the sculpture in 1990. It is one of an edition of nine. Another edition has been sold to a think tank in Bath, N.Y., where, to Boyle's knowledge, "no one has been disturbed by it."
The sculpture was not intended to be anti-Catholic, Boyle said. In a phone interview from his home in Longmont, Colo., he said the plaque along with "Holier than Thou" referred to how he felt when he was 7, wondering about the mysterious person waiting to hear his first confession -- who he was and how much power he had. "When I look back at it, it was a humorous thing," he said, about his childhood fears.
He said he never tells people exactly what his pieces are about because others always think of meanings that he would never expect.
"Art and art-talk is all subjective," Boyle said. "There's all different types of interpretation; that's what makes a piece so powerful."
The case is supported by the Thomas More Law Center, based in Michigan, which describes itself on its Web site as "dedicated to the defense and promotion of the religious freedom of Christians." Robert J. Muise, an attorney for the center, is representing O'Connor and Strobl. Stanley D. Davis is the Kansas City, Mo., attorney representing Washburn. U.S. District Judge G. Thomas Van Bebber was expected to rule on the case by Feb. 20.
Benedictine Sr. Antonia Ryan is an NCR staff writer. Her e-mail address is aryan@natcath.org.
National Catholic Reporter, February 20, 2004