Issue Date: February 27, 2004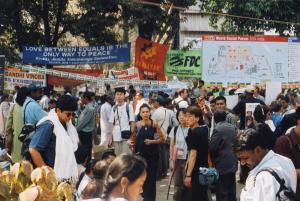 Demonstrators pack the main boulevard of the NESCO compound during the World Social Forum in Mumbai. India.
-- Photos by Claire Schaeffer-Duffy
Forum challenges globalization
By CLAIRE SCHAEFFER-DUFFY
Mumbai, India
In mid-January, the walkways of the NESCO compound in Mumbai turned into a traffic jam of social and political causes. On one particular afternoon, magnificently attired Indian tribesmen, drumming for land rights, stalled behind a contingent of energetic South Korean students denouncing the U.S. occupation of Iraq. They in turn waited while a procession of anti-Coca Cola activists diverted their march to accommodate the congestion. Above all of this fluttered posters and banners that seemed to proliferate by the hour: "US Out of Iraq" . . . "IMF Out of the South" . . . "Our World is Not for Sale."
What appeared at first glance to be a mega-fest of the masses was, in fact, the highly organized, well-attended World Social Forum, an annual gathering of peace and anti-globalization activists. Nearly 100,000 people attended this year's forum, held Jan. 16-21 on the open grounds of the NESCO compound here. Among them were Catholic nuns in saris, sandaled Jesuits, and members of Catholic nongovernmental organizations, youth groups and peace and justice commissions. They came, they said, to learn, to network, and to show solidarity with people of goodwill working for alternatives to war and to an economic ordering of the world that valued profit over human beings.
Although the Indian bishops have identified globalization as their No. 1 pastoral concern, the Catholic hierarchy in India, as in Brazil, where the first forum was held three years ago, kept a safe distance from the left-leaning forum whose participants included socialists and communists. According to the Catholics attending the Mumbai gathering, this caution seemed unfortunate and unnecessary. The World Social Forum, they said, was too useful and too relevant to pass up.
"This is where the church belongs," said Duncan MacLaren, secretary general to Caritas International, a confederation of Catholic relief, development and social service agencies operating worldwide. "The church is always present where human beings are. The church has always been with the poor."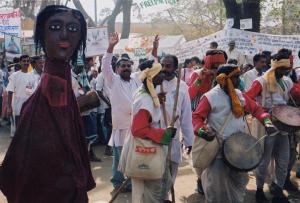 Indian tribesmen dance and march for land rights during an afternoon procession.
The first World Social Forum was held in Porto Alegre, Brazil, in 2001 and was timed to coincide with the World Economic Forum in Davos, Switzerland. Organizers for Porto Alegre billed their event as the people's alternative to the Davos gathering, which they viewed as exclusive and pro-corporate.
In an effort to include greater participation from Asia and Africa, the World Social Forum relocated this year to Mumbai, a financial hub and a city of extremes. The majority of the world's poor reside in Asia. Here in Mumbai, population 13 million, the gulf between haves and have-nots is instantly and starkly apparent. Just blocks from the NESCO grounds, glossy billboards advertising mobile phones and vitamins for "the healthy life" border a row of shacks made of burlap bags and inhabited by families who bathe, defecate and cook along the roadside because privacy is an unaffordable luxury.
Ancient and irrepressible, India is perhaps also the best place for challenging the imposition of globalization. This is the world's biggest democracy, rich in people's movements. Many were present at the NESCO compound, sharing the organizing space with notables like Iranian human rights attorney and Nobel Peace Prize laureate Shirin Ebadi, former senior vice president of the World Bank Joseph Stiglitz, and Indian writer and activist Arundhati Roy.
To many, Davos and Mumbai represent opposite perspectives on what the world needs economically. But economic policy adviser Christine Loh said both forums have valid views and provide "a part of the truth." According to Loh, "Davos says, 'Let's promote environmental protection and improve social programs.' Mumbai says, 'The basis of economics and investments needs to change.' "
A former businesswoman and Hong Kong legislator of international acclaim, Loh now serves as CEO of Civic Exchange, a Hong-Kong based public policy think tank that works on issues of sustainable development and environmental protection. She recently submitted a paper to this year's World Economic Forum.
According to Loh, "The fundamental problem is modern-day materialism. We believe buying things makes the economy grow and therefore the world goes round. However, we have not learned to respect and treasure natural resources and so we want more things at lower and lower prices. Current-day economics have not worked out the externalizations of costs and therefore have failed to price things properly," she said. Loh believes a "more comprehensive" understanding of economics would include factoring in environmental impact and social consequences as costs.
Many Catholic activists interviewed by NCR said it was the social consequences of globalization that had brought them to the World Social Forum, and they told of how multinationals and big development projects were undoing the local economies of the people they serve.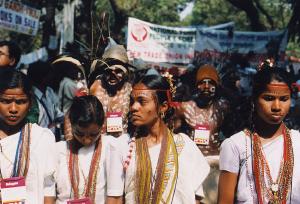 Indian tribal women were among the forum's nearly 100,000 delegates.
"In this new world people count for less and less. Capital is dominant," said Julian Filochowski, former director of Catholic Agency for Overseas Development and a participant in this year's forum. "The market is in danger of becoming a god or an idol. If the market is a god, then trade is to be maximized and this freedom to trade becomes license to exploit. That is the reality of the globalization project. It's one world. One market," he said.
"Because of globalization," said Sr. Udaya Thomas, an Ursuline Sister of Mary Magdalene who works with the poor in India, "many of the things that we produce in our villages can no longer be sold. Because we were importing many things, our products became very expensive."
Thomas, who brought a group of women from the slums of Mumbai, was among a significant number of women religious and priests who came to the forum, accompanying the "victims" of free trade and privatization. Three hundred Jesuit priests brought more than 1,500 Indian activists, representing Adivasi and Dalit organizations from around the country. The Adivasis (indigenous peoples) and Dalits (formerly known as India's untouchables) are the most marginalized members of Indian society and often the most adversely affected by globalization.
Representatives from the Catholic Health Association of India, which is the largest health care network in the world, said they had come to the forum because globalization is affecting people's health. They reported that the presence of multinationals in India had meant the loss of land and jobs for many Adivasi communities.
"Health is not the mere absence of sickness," said health care administrator James Veliath. "We have [tuberculosis] problems because people do not have enough to eat. Why do people not have enough to eat? Because they do not have enough land."
In densely populated India, development and displacement often go hand-in-hand. Build a dam, highway or even a shopping mall and large numbers of people have to be evicted from their homes. Typically, the evicted are Adivasis or Dalits.
Speaking at the forum's opening plenary, Roy, who has written much about the human casualty count of development, said, "Millions of people have been dispossessed" by such projects. "In the past 55 years, big dams alone have displaced between 33 million and 55 million [people] in India. They have no recourse to justice," she said.
Roy said that in the past two years there has been a series of incidents in which police have opened fire on peaceful protesters; most were Adivasi and Dalits. "They get killed for encroaching on forest land, and killed when they're trying to protect forest land from encroachments -- by dams, mines, steel plants and other 'development' projects," she said.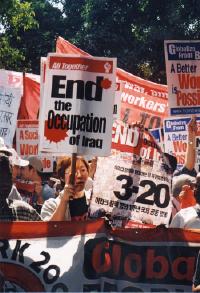 South Korean students protest the U.S. occupation of Iraq.
Catholic activists have been involved with the World Social Forum since its beginning in Porto Alegre. India, however, offered a different context for their participation. Unlike Brazil, where Catholicism is the majority religion, Catholics make up 2 percent of the population in Asia and only 1 percent if you don't count the Philippines. The issues raised at the forum -- globalization, gender equality, opposition to war and caste -- are neither politically safe nor socially neutral. When asked what it was like for a member of a minority to take on these "hot topics," many Catholics stressed the importance of working with others.
"We are not doing it by ourselves. We are part of a group," said Jesuit Fr. James Mascarenhas, who also is an attorney. Mascarenhas, who was a presenter at a forum seminar titled "Indigenous People and Their Land Rights," works with Adivasis in the Indian state of Maharashtra. Many were evicted several years ago when the Maharashtra government constructed a highway through their villages.
"No one was given compensation for their lands," said Mascarenhas. So the Adivasis organized, he said, and waged a two-year campaign that included sit-ins on the highway, stints in jail, sessions in court, and ultimately compensation. He stressed that such victories are made possible only by collective effort.
Shortly after the first World Social Forum, Jesuits in India launched the South Asian People's Initiative. Described by one Jesuit as "an initiative to pull together like-minded movements to fight against global and national evil," the initiative is an alliance of groups addressing the issues of globalization, fundamentalism and the human rights violations of India's most marginalized. This year, the initiative sponsored 17 workshops in Mumbai.
The World Social Forum is a networker's heaven for critics of war and globalization, and many attendees described the Mumbai gathering as a great venue for forging alliances. In four short years, the forum has grown from 20,000 to 100,000 participants. It has also spawned regional gatherings. In 2003, the European Social Forum and the Asian Social Forum convened for the first time. Last year's World Social Forum in Porto Alegre provided much of the organizational base for international opposition to the war on Iraq.
Despite this growth, the forum has remained true to its mission of being "an open meeting place." Political parties and militaries are excluded, but any member or group in civil society opposed to "the domination of the world by capital and any form of imperialism" is welcome. This year's program, as thick as a small-town phonebook, listed 300 workshops, 12 plenaries and a major public meeting for each day of the conference. These were offered alongside a film festival, and four outdoor stages featuring everything from political hip-hop to Indian classical dance.
Karine Meaux, a delegate with Secours Catholique, the Caritas agency in France, said her organization came to the World Social Forum because, "the priority of Caritas is to fight against poverty. One of the ways to fight against poverty is networking and advocacy. We find the WSF is a very good network."
Noting that Caritas is one of the largest humanitarian organizations in the world, MacLaren said that Caritas' decision to become more engaged with the World Social Forum reflects the changing realities of relief and development work. Peacebuilding is now seen as essential to relief work because today most of the world's disasters are man-made and caused by war.
"Formerly we were thinking of helping people in terms of giving material aid, but we now understand development work as basically an educational process," said Fr. Yvon Ambroise, the coordinator for Caritas Asia. This education, he said, involved organizing people at the grass-roots level to have "a critical consciousness of what is going on in their lives" so they might be motivated to act for their own betterment."
"There are several forums that will raise this consciousness to critical levels," he said. "The WSF is one more occasion to express and learn."
Claire Schaeffer-Duffy, a freelance writer, is a frequent NCR contributor.
National Catholic Reporter, February 27, 2004