Issue Date: February 27, 2004
WORLD
Edited by Dennis Coday
Vatican supports land mine ban
GENEVA, Switzerland -- The international community has a responsibility to help "the innocent victims of this vile, murderous and useless [armament]," Archbishop Silvano Tomasi told a meeting of land mine experts in Geneva Feb. 10. Tomasi, the Vatican's representative to U.N. organizations in Geneva, emphasized the Holy See's support of the 1997 Ottawa Convention, which called for a ban on land mines, destruction of stockpiles and increased aid to mine victims.
Three-fourths of the world's countries have ratified the convention. But 47 countries -- including the United States, China and Russia -- with a combined stockpile of 200 million antipersonnel mines remain outside the treaty. Tomasi called the victims of antipersonnel mines "innocent witnesses of a wrong approach to security."
According to the Landmine Monitor Report 2003, only two governments -- Myanmar and Russia -- were using antipersonnel mines on a regular basis in mid-2003. It estimated that between 15,000 and 20,000 new land mine casualties occur each year.
State takes back control of gas
LA PAZ, Bolivia -- President Carlos Mesa revoked Feb. 1 Supreme Decree 24806, which recognized foreign oil companies as owners of the gas extracted from wells in Bolivia, giving the government once again control over this energy resource. Massive protests against the sale of gas forced President Gonzalo Sánchez de Lozada to resign Oct. 17 of last year.
Mesa also announced a package of measures that included rising taxes on oil companies -- up to 50 percent -- and on financial transactions, as well as an austerity program for the state bureaucracy that will permit an annual savings of $35 million.
"With this economic program we will be able to … cover the totality of our non-financed deficit and reach the deficit goal of 6.8 percent of gross domestic product," Mesa said in a message to the nation.
American trade pact advances
SAN JOSE, Costa Rica -- Costa Rica became the sixth country to join the Central America Free Trade Accord (CAFTA) and U.S. trade representative Robert Zoellick has encouraged the Dominican Republic to join the trade pact. El Salvador, Guatemala, Honduras and Nicaragua signed the trade treaty with the United States in December.
Costa Rica negotiated out of the trade accord two agricultural products, potatoes and onions, and obtained better access to the U.S. market and a better timetable for elimination of import tariffs on pork and sugar. Nevertheless, Patricia Zamora, executive director of the Rice Growers Chamber, announced that her sector would join unions in opposing approval of the accord in Congress, because the agreements on agricultural products will adversely affect small and medium-sized farmers.
The Dominican Republic, which in 2003 exported $4.3 billion to the United States, its largest trading partner, is the largest economy in the Caribbean Basin.
Religious push peace talks
KAMPALA, Uganda -- A religious coalition is opposing a government plan to prosecute rebel leaders for crimes against humanity. Comboni Fr. Carlos Rodriguez Soto, secretary of the interfaith Acholi Religious Leaders' Peace Initiative, said pursuing prosecutions now would end the peaceful negotiations underway to end the 18-year-old conflict in the North.
Rodriguez, a Spanish missionary, said it took his group years to establish contact with leaders of the rebel Lord's Resistance Army and then open negotiations between the rebels and government. "Any plans by the government to prosecute its [the rebels'] top leaders would ultimately bring everything to a standstill," he said.
Over the last decade, rebels have abducted up to 30,000 children to be soldiers, slaves or concubines. At least 100,000 people, mostly civilians, have been killed in the conflict, and the fighting in the North has displaced more than 1 million people.
By condemning the impending prosecution of the rebel leaders, Rodriguez said it did not mean that Acholi leaders condone the rebels' atrocities. "We have many times condemned their actions," he said.
---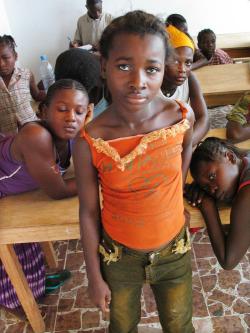 -- CNS/Declan Walsh
Child soldiers carry scars
Demobilized girl soldiers receive care at Samaritan's Purse, a charity that houses young fighters in Bo Waterside, near Monrovia, Liberia, in December. Girls as young as 11 years of age were abducted and conscripted into military service during Liberia's long civil war. The girls carry the physical and psychological scars of war, often dreaming about citizens they killed during the conflict.
---
Promised land reform expedited
RIO DE JANEIRO, Brazil -- President Luiz Inácio Lula da Silva has appointed an inter-ministerial group, coordinated by the secretary general of the presidency, Luiz Dulci, to speed up plans for an agrarian reform, an important plank in his election campaign. The government is committed to settling 400,000 people without land by 2006, when Lula's term ends.
Tribal ordained auxiliary bishop
MYMENSINGH, Bangladesh -- Bangladesh has a tribal bishop for the first time with the Feb. 13 ordination of Paul Ponen Kubi as auxiliary bishop of Mymensingh. Kubi, 47, is the country's first Adivasi (indigenous) bishop. He belongs to the Garo tribe, some of whose leaders approached the Catholic bishop of Dhaka in 1914 for a priest to administer to Garo communities.
Mymensingh is about 75 miles north of Dhaka. The predominantly tribal diocese counts 66,246 Catholics in a population of 13.6 million.
The day before his installation, Kubi was given a grand welcome by local people. According to Garo custom, his head was decorated with a khotup (turban) symbolizing respect for a top leader in the Garo community. During the ordination ceremony, children from the church-run orphanage in Mymensingh, dressed in Garo costume, led the entrance procession to the altar.
Technology targets youth
VATICAN CITY -- While the Internet and new communications technology tend to promote "a culture of the immediate and the ephemeral," the church cannot ignore them as potentially effective tools of evangelization among young people, the pope told French bishops here for their ad limina visits.
Pope John Paul II praised the bishops for setting up Web sites that offer formation and inspiration to young people, along with basic information about the church and its programs.
The pope said the church's efforts among the young are made more difficult by the troublesome social environment in modern Europe and by the fragile family situations in which many young people live. He said youths are hammered by messages that favor an exaggerated subjectivity, excessive freedom, a diminished sense of morality and a belief that "any behavior can be good."
The pope encouraged church leaders to examine carefully the innate generosity of young people and find creative ways to mobilize it.
USA
Bishops face abuse allegations
SPRINGFIELD, Mass. -- A prosecutor in Springfield, Mass., has begun looking into abuse allegations lodged against retired Bishop Thomas Dupre.
Dupre, 70, retired suddenly Feb. 11 after the newspaper The Republican confronted him with allegations that he abused two men in the 1970s. Dupre cited declining health for his resignation.
Hampden County District Attorney William M. Bennett said his office will try to determine if the allegations against Dupre are true. "If true, we want to look into implications they have for possible criminal prosecution," he said.
Episcopal giving drops 7%
NEW YORK -- The Episcopal church has seen a 7 percent drop in contributions from local dioceses since it voted last year to approve an openly gay bishop, but officials said the lagging economy had as much impact on the budget as protests to withhold funds. A report presented to the church's Executive Council Feb. 9 revealed a drop of about $2 million in six months, the first tangible measure of the fallout from the controversial decision to approve openly gay Bishop V. Gene Robinson of New Hampshire.
The 2.3 million-member church asks dioceses to send 21 percent of their budgets to fund the national church. That money -- expected to be $27.5 million this year, down from $29.4 million -- funds 62 percent of the church's operations.
The Dallas and Pittsburgh dioceses have said they will no longer send money to church headquarters. Forty dioceses said they will meet their pledges, and 42 will send a lower amount. Twenty-four dioceses have yet to finalize their budgets.
College degree includes justice
WASHINGTON -- Georgetown University is offering a new international community-based learning initiative that combines social justice work with its study-abroad programs.
Beginning this spring, seven Georgetown undergraduates will participate in community-based learning projects while studying in Dakar, Senegal. Next summer and fall, the pilot program will expand to include host universities in Dominican Republic, Turkey, Great Britain, Ecuador and Chile.
---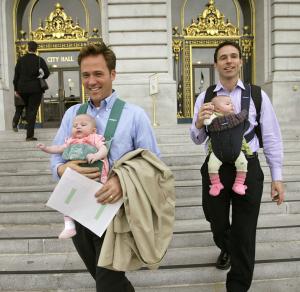 -- CNS/Reuters
Gay marriage debate continues
San Francisco -- Eric Ethington and partner Doug Okun, carrying twins Sophia and Elizabeth, hold their marriage license as they depart San Francisco's City Hall Feb. 13. Mayor Gavin Newsom had directed city officials to issue marriage licenses and marry same-sex couples, despite a recently passed state law that institutes marriage as a union of a man and a woman.
A similar bill that would amend the Constitution has been proposed at the national level. Speaking against that proposal was Rabbi David Saperstein, director of the Washington-based Religious Action Center of Reform Judaism. "Certainly, my family will no be hurt by giving the states the freedom to recognize the committed spiritual relationship of two loving adults," Saperstein said. "How can two loving adults coming together to form a beautiful family harm family values? Are our families and marriages and communities so fragile and shallow that they are threatened by the love between two adults of the same sex?"
---
Abstinence gets federal funding
WASHINGTON -- Federal funding for abstinence programs has steadily increased since it began eight years ago as part of a welfare bill that authorized the provision of $250 million to states over a five-year period for these types of programs. The Heritage Foundation reports that for every $1 spent on abstinence education this past year, $4.50 was spent on comprehensive sex education.
However, what the public thinks about abstinence education is unclear. A Zogby poll for Focus on the Family showed that 96 percent of parents think abstinence is best for America's teens and 91 percent of parents think teens should be taught that sex should be linked to love, intimacy and commitment in marriage. The poll surveyed 1,004 parents and has a 3.2 percent margin of error.
A Princeton Survey Research poll of 1,759 adults showed that only 15 percent believe schools should have abstinence-only sex education programs. Forty-six percent of respondents agreed that because some teenagers do have sex, schools should teach courses that promote abstinence and offer instruction on contraception.
This second survey was sponsored by National Public Radio, the Kaiser Family Foundation, and Harvard University's John F. Kennedy School of Government. It has a 6 percent margin of error.
Caution urged before 'Passion'
WASHINGTON -- With anticipation high before Mel Gibson's "The Passion of the Christ" was to hit theaters on Ash Wednesday, the nation's Roman Catholic bishops took steps to reaffirm church teaching that Jews do not share collective responsibility for the death of Jesus. The bishops Feb. 11 issued a 150-page book, The Bible, the Jews and the Death of Jesus: A Collection of Catholic Documents, that cautions Catholics against linking the Crucifixion with Jewish guilt.
The book does not mention Gibson's film by name, but reflects concern by some interfaith leaders that the movie could derail 40 years of improved relations between the two faiths. The book resurrects 40-year-old church teachings with more recent statements by Pope John Paul II that say flatly that Jews in the Bible, along with current Jews, are not to blame for Jesus' death.
'Judas' slated for TV in March
WASHINGTON -- After seeing "The Passion" in the theaters, you may want to catch "Judas" on TV. The made-for-television movie, which airs March 8, 9-11 p.m. EST on ABC, is the last film project of Paulist Fr. Ellwood "Bud" Kieser, who died in 2000. The film is dedicated to his memory.
Kieser was providing notes on the earliest drafts of the script when he was diagnosed with cancer in August 2000; he died a month later. The priest who picked up Kieser's role as executive producer of "Judas" is Paulist Fr. Frank Desiderio.
"This movie … is a Jesus movie for this generation, in contemporary language," Desiderio said. The movie looks at Jesus' life through his relationship with Judas, whom Desiderio said is depicted as "both suspicious and idealistic at the same time."
COMPILED FROM NEWS SERVICES, CORRESPONDENTS AND STAFF
National Catholic Reporter, February 27, 2004