Issue Date: February 27, 2004
Fear and Fatality
Russian 'Return' rich in symbolism; 'Monster' traces life of female killer
By JOSEPH CUNNEEN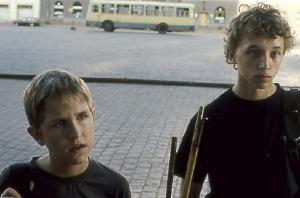 Vladimir Garin and Ivan Dobronravov in "The Return"
-- © Kino International
The Return, a poetic and disturbing first film by new Russian director Andrei Zvyagintsev, will remind cinema buffs of the work of the late Andrei Tarkovsky ("Andrei Rublev," "Stalker"). Its enigmatic narrative, which suggests an allegorical interpretation, deals with the sudden return of the father (Konstantin Lavronenko) after a long, never-explained absence from his handsome blonde wife (Natalya Vdovina) and two adolescent sons, Andrey (Vladimir Garin) and Ivan (Ivan Dobronravov).
The film's powerful opening scene deals with younger son Ivan's fear of heights, and the scene ends with the mother comforting him after he remains shivering on a tower from which he cannot bring himself to dive into the water. The brothers are mad about fishing but have mixed feelings when their sturdy, handsome father suddenly announces a camping trip, since he simply orders them to get ready and doesn't explain where they're going.
"The Return" centers on the interactions between the boys and their father, with the older son anxious to please and Ivan consistently rebellious. Relations are constantly strained as the father, judgmental, demanding and always carrying a knife, drives them through a mysterious, desolate landscape to a deserted island.
On the island, the father leads Andrey up the steps of a high wooden tower from which there is a breathtaking view of the sea, but Ivan refuses to accompany them. The next morning, again without any explanation, the father leaves them and goes off to reconnoiter the island, finally unearthing a small trunk, which he reburies in a suspicious manner. Meanwhile Ivan's anger has led him to steal his father's knife, and the boys fail to meet the deadline the father has set for them to return from a fishing expedition. When the father strikes Andrey, to whom he has given his watch and made responsible to get back on time, Ivan runs off to climb the tower, which leads to the film's climax.
"The Return" is an amazingly assured first film: elemental, taut and demanding. It is hard to believe that the youngsters playing Andrey and Ivan are acting; we feel we are reliving their fears and disagreements as they sleep in their tent at night while a campfire burns nearby. Although the father seems brutal, Zvyagintsev does not make him totally unsympathetic.
Sea, sky and wilderness are powerfully present in Mikhail Krichman's photography, and the director makes good use of the natural sounds of the journey, especially of gulls and surf. The closed logic of the film is tragic but its haunting central questions remain unexplained.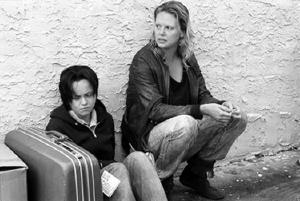 Christina Ricci and Charlize Theron in "Monster"
-- © Newmarket Films
Monster has garnered high praise because of Charlize Theron's Oscar-nominated performance as Aileen Wuornos, a scruffy prostitute electrocuted in Florida in 2002 after killing six men. It's worth pointing out, however, that her willingness to accept the part was largely because such bleak sensationalism seems to offer one of the few chances movie actresses have of getting critical attention. Although Patty Jenkins' film shows sympathy for Wuarnos' miserable childhood, it does not try to sentimentalize its story, remaining content with a fatalistic attitude toward life.
"Monster" centers on the complex lesbian relationship between Wuornos, already at the end of her rope, and Selby Wall (Christina Ricci), a needy, insecure young woman whose pious parents have sent her to central Florida because they don't know what to do with her. Wuornos is almost out of money and beginning to contemplate suicide when she drops into a seedy gay bar by mistake. Selby is immediately attracted to Wuornos as a masterful and attractive older woman, while the latter, who has never had sex with a woman, is initially resistant. The two spend the night at Selby's place, and Aileen shows gratitude for a rare instance of genuine affection.
She soon takes over the part of controlling breadwinner, promising the dependent Selby a better life, even though her moneymaking skills are based on a willingness to pick up sexual partners on the highways of central Florida. The most terrifying scene occurs after a sadist ties her up and rapes her. Wuornos manages to free herself, then shoots her assailant and buries him before leaving with his money and his car.
Selby's desire to travel and enjoy creature comforts drives Aileen to further killings, even of a family man who had shown no intention to abuse her. Finally, after buying Selby a bus ticket to return to her parents, Aileen is arrested for the murder of a plainclothes policeman.
"Monster" ends with a fragment of her trial, at which Selby -- whom she still loves -- serves as a witness for the prosecution. Although the occasional narration by Wuornos doesn't plumb the depths of her story, Theron makes the character frighteningly memorable, her endless bravado concealing a need for help she never receives.
Joseph Cunneen is NCR's regular movie reviewer. His e-mail address is SCUNN24219@aol.com
Quick Takes
Miracle is harmless escapism for sports fans, the story of the remarkable victory of the U.S. Olympic hockey team at Lake Placid in 1980. Its central character is Herb Brooks (Kurt Russell), the determined coach who grabs the chance to impose control over an unsung group of young players who seem to have no chance against an all-conquering Soviet team. The movie's climax is a near 20-minute presentation of the startling victory of team United States, which, of course, had extra impact during the Cold War period. I enjoyed the hockey but couldn't help resisting the overemphasis on pseudo-patriotism, which has undermined the original intention of the Olympics and continues to be exploited in American life.
-- Joseph Cunneen
Precarious Peace: God and Guatemala
Before "terror" became an attachment to "war on," and was applied almost exclusively to violence in the Middle East and to perpetrators who are Muslims, there was terror in our own hemisphere, throughout Latin America.
One of the most horrific examples of the kind of state-sponsored terror that occurred was in Guatemala, where military death squads and paramilitary groups were responsible for tens of thousands of deaths and disappearances. Many of them occurred in the 1980s under the rule of brutal dictators, who had the general approval of the United States. One in particular, Gen. Efraín Rios-Montt, a high-profile evangelical Christian who received special praise from President Ronald Reagan, was accused in a 1999 U.N. report of committing genocide against the Mayan population of Guatemala. Much of the state-sponsored violence was also carried out under the command of graduates of the U.S. School of the Americas.
At a time when the United States is determining around the world what constitutes terror, who should be hunted down and what should done with those who aid and abet terror, "Precarious Peace: God and Guatemala," is an especially valuable educational tool.
Few Americans know the Guatemala story as intimately as the video's co-director, Dennis Smith, a lay missioner in the Presbyterian Church (USA) who has lived and worked in Guatemala for more than 25 years.
Aiding in the storytelling on this video is Paul Jeffrey, a United Methodist minister and journalist, who lived for several years in Guatemala and has traveled and reported widely on Latin American issues. The two-part video incorporates interviews with a wide range of perspectives, including Mayans, a former military officer and leaders of the Roman Catholic, Lutheran, Mennonite and other faith groups.
The 72-minute video costs $24.95. A reproducible 14-page discussion guide with abundant suggestions for supplementary resources is included.
-- Tom Roberts
National Catholic Reporter, February 27, 2004