Issue Date: February 27, 2004

Grace periods provide taste of heaven
By JEANNETTE COOPERMAN
A friend and I fly to a writer's conference in Boston. We have pinched pennies and juggled work and family schedules and crammed the leftover tasks into our suitcases, but from the moment we arrive at the airport, the trip feels graced. We reach the gate of our connecting flight just in time to walk up the ramp to the plane. We find a shuttle to the hotel the minute we step outside Logan's terminal doors. We run into old friends at the conference and meet interesting new ones, diving into stimulating discussions. We make a series of lucky choices, hitting all the best sessions and scribbling reams of excited notes, each hearing exactly what we needed to hear.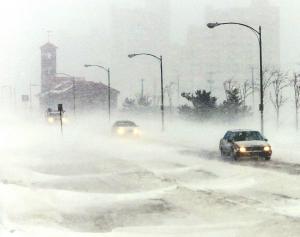 -- Jim Bourg/Reuters
Most conferences leave me cranky. This one has me blissed. Geri and I mention our good fortune to each other at regular intervals. When New England snow starts to fall, we are delighted, and we decide to stay warm and dry and blow our budget eating in the hotel's rooftop revolving restaurant. Documentary filmmaker Ken Burns, easily the most eloquent speaker at the conference, sits down at the next table with his wife, and Geri and I trade looks, no longer even surprised by serendipity. Easing back into the leather booth, we sip champagne and watch the snow fall.
And fall. And fall. And fall. Early the next morning, three feet of snow later, my husband calls. It's now a record blizzard, he saw it on the news, and he wants us to spend another night instead of stressing ourselves out at the airport. An hour later, the question is moot; Logan has shut down completely. The guy at the hotel desk says they might not have a room.
Mid-morning, Geri and I bump into each other at the elevators, frazzled. "It's over," I say, and she nods, knowing right away what I meant. Our grace period, our idyll almost out of time, has crash-landed. There was a time I would have resented the fall. But in middle age, I know I can freeze neither time nor grace. We get our room extended after all, but I miss my husband and our dog. I am rapidly running out of cash, antihistamines and enthusiasm.
Enthusiasm. The word circles back like a bird that's spotted prey. Burns talked about "enthusiasm" in his keynote address, remarking -- odd, for such a secular gathering -- that the root meaning of the word is "God within." For three days, God has felt present at every turn, flowing easily back and forth across the boundaries of self, within and around us at once. Effortlessness and joy, inspiration and rest created a tiny snow-globe world of God. Or, if divinity is a stretch for a journalism conference, at least a world spun out of time and worry.
And now the little globe has shattered, its skies puddling, its fake flakes clumping on shards of glass.
In my teens, I would have felt betrayed. But I'm used to these shatterings. Even Mass offers temporary utopias: For a few moments, usually from the Sign of Peace to the walk back to the pew after Eucharist, I feel lifted, carried along on a tide of perfect community, sheltered in a world where everything goes as it should and all the choices are loving ones. And then, with a jolt, I'm alone again, extricating myself from coffee-hour chitchat, maneuvering my car into traffic, wracking my brain to remember the grocery list I left on the kitchen counter.
Bliss ends. Physical bliss ends, spiritual bliss ends, communal bliss ends. A temporary utopia is better than none at all.
Jesus had to make a big deal out of the Last Supper. I don't think he was just trying to say, "Hey, you selfish idiots, enjoy me while you can, because I'm about to suffer." Jesus gave us the Last Supper as a way back, always, to the moment of communion. A way back to grace and intimacy and the ease of rightness and belonging. Not so we can stay there forever, but so we don't forget the taste of heaven.
Just as married couples need idylls that are carefree, closed off from the rest of the world, focused only on each other, just as a child needs time alone with an adored parent, floating in her arms in the swimming pool or going out for a special dinner, we all need grace periods. They are not random or irrelevant coincidences, shallow escapes or doomed fantasies. They are reminders of who we are and what we love.
Snowflakes on our tongue; they're perfect, and then they're gone.
We swallow, and God slides down our throat.
Inside again.
Jeannette Cooperman is a freelance writer living in St. Louis. Her e-mail address is kabaka@aol.com.
National Catholic Reporter, February 27, 2004