Issue Date: February 27, 2004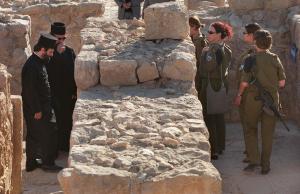 Greek Orthodox priests and Israeli soldiers study the ruins of the ancient monastery of Euthymius, located near the West Bank Jewish settlement of Maale Adumim. The monastery, established by the Armenian monk Euthymius in 428 as one of the first for hermit monks in the Judean desert, continued to function until the end of the Crusades.
-- AFP/Menahem Kahana
'Citizenship in the heavens'
Hermits flourished in the desert in the early centuries of Christianity
By ANTONIA RYAN
Monastic life arose simultaneously in many areas of the early Christian world and saw a variety of expressions. In some areas, like Cappadocia, monastic life began as a communal endeavor. Monastic founder St. Basil of Caesarea (d. 379) cautioned that "a person living in solitary retirement will not readily discern his own defects" and called living alone an "ineffectual and unprofitable life."
Most early Christian ascetics in Egypt practiced the discipline in their homes on the outskirts of villages. St. Antony of Egypt (d. 356) is known as the "founder of Christian monasticism" or the "first hermit." Antony may not be the first, but he is the most famous. When he was about 20 -- after seeking instruction from village masters -- he went to find God in the solitude of the desert, a place traditionally regarded as the realm of demons and death. He became so renowned for his bold renunciation that he spawned a following. Because of him, says his biography, "the desert was made a city by monks, who left their own people and registered themselves for citizenship in the heavens."
According to contemporary ac-counts, there were thousands of monks -- both women and men -- living as hermits or semi-hermits in the fourth-century Egyptian desert. Some lived in caves; some lived in little stone cells; many, though living alone, were affiliated with a monastic settlement. Depending on the settlement's degree of ascetic intensity, some dwellings were quite far-flung, and others were so close that you could hear the other monks chanting the psalms on all sides.
The ancient desert hermits were self-sufficient. They wove baskets and ropes out of reeds, which they would sell to passing traders to make a little income, or sometimes they hired themselves out to work in local fields. They kept little gardens outside their cells. (Antony's garden was shaded by date palms, and he grew grain for his own bread.) They ate leeks and lentils; shunned oil, meat and wine.
A lot of what we know about ancient Christian monasticism comes from John Cassian (d. circa 435), who left a record of the Egyptian monks and their heights of holiness. Yet he warns that not everyone can be a hermit: Some "become so savage due to the unbroken silence of the desert that they are utterly distraught at the society of human beings" or are drawn to the solitary life "out of an immature desire."
Cassian, like most monastic writers at the time, thought hermits were the "highest" form of monk. Living in community was considered a training ground; once someone had passed the "first fervor" stage in a monastery, he or she was ready to stick it out with God's help alone.
Hermits existed in Western monasticism, too, as early as fourth-century Gaul. But the landscape of Western monasticism evolved primarily in a communal direction, thanks to the Italian St. Benedict (d. circa 543), known as the father of Western monasticism. Though he acknowledged the ideal of the solitary life, he wrote his "Rule for Monks" specifically for monks living in community (whom he calls the "strong kind" of monk). In his time, the Roman Empire was falling apart. It was safer to band together with others in a monastery than to live alone and risk being overrun by marauding barbarians.
Between the ninth and 12th centuries, the Rule of Benedict became the template for most Western monasteries. Still, the ideal of solitude persisted. Medieval monasteries often had smaller priories where people could go for personal retreats. There were even monks who lived outside Cluny -- a huge monastic center of 10th- and 11th-century France -- in their own hermitages, sometimes miles from the abbey, and came in to Mass on Sundays and feast days. Anchoresses like Julian of Norwich flourished in England throughout the Middle Ages until the dissolution of monasteries there in the 16th century.
The leaders of the Protestant Reformation rejected monasticism as unnecessary, and the spirit of the French Revolution rejected it as useless. After the Revolution, monks and nuns (if they were not expelled, killed or suppressed) were sometimes allowed to stay in their monastic life if they could demonstrate that they were doing something concretely useful, like running schools or hospitals. In this climate, contemplative life was often hard to sustain. Monastic life in the United States developed in this era of "usefulness," and most of the first nuns and monks came here to exercise a specific function.
After Vatican II, monastic communities began to explore again more openly whether some of their members had vocations to the solitary life.
Benedictine Sr. Antonia Ryan is an NCR staff writer. Her e-mail address is aryan@natcath.org.
National Catholic Reporter, February 27, 2004