Issue Date: March 5, 2004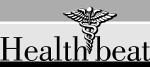 Moral weight of obesity
Christian teachings on reverence for the body, on the sin of gluttony speak to moderation and a healthy lifestyle
By ARTHUR JONES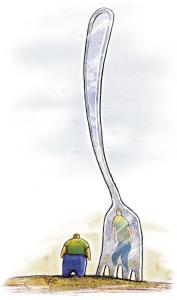 -- KRT/Bob Helf
The nation is awash in obesity awareness and details of obesity's costs in personal ill health and financial burden. But is there a moral cost? Should personal responsibility be weighed along with the extra avoirdupois? Does the church community have responsibilities here?
To answer the latter point first, in Seattle they seem to think so. A cancer research center, a regional church council and more than 60 faith communities are engaged in a two-year "Eating for a Healthy Life Project," one of several funded nationwide by the National Cancer Institute, part of the National Institutes for Health.
On the financial front, obesity-related illnesses last year alone cost U.S. taxpayers nationwide $75 billion in Medicare and Medicaid moneys. That is according to a recent joint study by RTI International and the Centers for Disease Control and Prevention. And no wonder it's so when, in California for example, a recent national study showed 59 percent of Californians either obese or overweight.
But obesity is "not just a monetary issue," said Mercy Sr. Patricia Talone, ethicist at the Catholic Health Association. "Clearly the fifth commandment ['Thou shalt not kill'] insists we have a moral responsibility to care for our own health."
Dr. Howard Markel, professor of the history of medicine and professor of pediatrics at the University of Michigan, interviewed last year by NCR, fine-focused the health issue this way: "There's a contract between doctor, patient and society that has not been well articulated." It is contained, in effect, he said, in such health-implied questions as, "Do you get off your butt and walk once in a while? Do you fill your face with junk food?"
The unarticulated medico-social contract, Markel and Talone are agreed, requires the nation do a far better job of preventive health education where personal responsibility is concerned -- in addition to the provision of health services.
That resurfaces the question as to whether religion -- church teaching in the case of Catholics -- has anything to offer on the topic.
Not at first blush. According to a 1998 Purdue University study, "religious people" are more likely to be overweight than nonreligious people. Baptists weigh in at the heavy end of weight, Jews and other non-Christians at the lighter end, with Catholics somewhere in the middle.
Purdue sociology professor Kenneth Ferraro, when he released that study, said that while the religious lifestyle had "long been considered a healthy one, with its constraints on sexual promiscuity, alcohol and tobacco use, overeating may be one sin that pastors and priests regularly overlook."
Note from the Editors:


This is a premium content page.



During the initial launch of Health Beat coverage, NCR will make these articles available for all Web site visitors.
Which caused agnosticism/atheism blog writer Austin Cline to ask not long ago: "If gluttony is a deadly sin, why are higher rates of obesity associated with greater religious dedication?"
"Gluttony is too simplistic a concept to graft onto modern people," said theologian Eileen Flynn. The St. Peter's College, New Jersey, professor said, "I think the issue in Western Europe and North America is a lack of activity -- the sedentary lifestyle, not burning off calories. I don't think people are seduced by food. Food is a problem for most people. Food is something they have to eat, it's not their friend, it's making them heavy."
"You do have to make a distinction between obesity and gluttony,' said theologian, Jesuit Fr. Thomas Rausch. "People are overweight for many reasons, including the glandular."
For Rausch, rather than lecturing people to cut down on food, the better approach is St. Paul's -- "the temple of the Holy Spirit image for the body. Paul had a good theology of the body, that because the body is destined for the Resurrection, it should be treated with reverence and respect," Rausch said.
"The body is not immaterial, as the Gnostics taught," he said. "The Gnostic tradition was clearly 'anti-body.' The Stoic tradition -- and there's a lot of Stoic influence on early Christianity -- was a kind of 'moderation in all things.' "
So, suggested Rausch, "when Paul says in Corinthians, 'I don't want to be enslaved by anything,' it is that a certain moderation and even asceticism should be exercised over food, drink and over bodily appetites."
Ask Rausch about his weight when he steps on the bathroom scale, and he gives another reason for watching what he eats: the mirror. He's only four pounds overweight. "I'm vain enough that I'm fairly careful," he said.
Flynn, returning to the gluttony theme, said present understanding of the term is one-dimensional. "Gluttony is seen as satisfying yourself with food to the point of ridiculousness. It's not like that -- there's a lot of psychology and a lot of biology that needs to be filtered into this term."
The problems Americans are having with food have much to do with today's frenetic lifestyle, she said. A recent issue of The Economist stated that Americans now take more meals in their cars than they do in their homes.
Commented Flynn, "It's of necessity they're eating in their cars. All parents do after school is ferry their kids in cars, and between 5 and 7 o'clock they have to get them some kind of food. So it's fast food.
"What's that telling us about our lives?" asked Flynn. "That there's an out-of-control element in them maybe. That we need to find a balance, a middle ground. That we need to negotiate our lives a little better. But it's not easy to do this -- people have to work to make enough money. This is a capitalistic society. That's not going to change."
Society weighs in with artificial standards, too. Not only are half the bestsellers on the nonfiction list diet books, young people are taught subliminally in a certain way about what type of appearance matters, she said.
"Last week I was watching [presidential nomination candidate] John Kerry on television, in close-up. And he's one year younger than me," said Flynn. "I'm looking at him, and his hair's the same color as mine -- same gray and brown mix. The next day I'm looking at him and his hair's a different color than mine. It's totally brown. He had to do that. He couldn't get out of it."
Flynn believes people do not need to be hammered on these topics of lifestyle and being overweight. "They need some kind of support to get into a better groove -- including the old adage about exercise. That's significant."
Does Flynn exercise? She does, every day, she said. "I'm not good if I don't."
According to the Purdue University "American Changing Lives" survey, while religious people may be chubbier, they also have higher levels of well-being. In general, said sociologist Ferraro, obese persons are more likely to be depressed and dissatisfied with their health. "But among religious people," he said, "weight had no effect on well-being."
Back in Seattle, health psychologist Deborah Bowen involved church communities in the "Eating for a Healthy Life" research project because their caring "really impressed me. Churches are caring communities," she said.
Most churchgoers in Seattle, she said, do not live near the churches they attend. "And yet we've had so many requests from churches [involved in the study] for copies of the 'better diets' material to distribute in the geographic community" where they worship.
The Eating for a Healthy Life research project is a two-year randomized trial now nearing the end of its first year. Bowen and her colleagues at Seattle's Fred Hutchinson Cancer Research Center are compiling initial results.
Bowen -- whose doctoral dissertation on weight gain in pregnancy led her into the broader eating/dietary behavior field -- said the cancer institute project provides the basic materials. "The religious organizations themselves 'translate' how they're going to present it to their members."
But the reality of overeating quickly strikes home for most Americans, she said -- if they sit down and track how much they ate the day before. Tracking eating patterns is one thing the project requires.
People look at the empty calories they snack on plus their meals. Then they total up the total calories. It's at that point, she said, that most are shocked. The standard response, she said, is, "You're kidding. I eat that much?"
Arthur Jones is NCR editor-at-large. His e-mail address is arthurjones@comcast.net.
National Catholic Reporter, March 5, 2004