Issue Date: March 5, 2004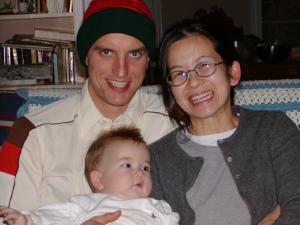 Jeremy Hinzman with his wife, Nga Nguyen, and son, Liam, in 2002
-- David Biesack
Soldier refuses to service 'criminal enterprise' in Iraq
His conscientious objector request rejected, he flees to Canada with family
By PATRICK O'NEILL
Jeremy Hinzman converted to Catholicism at age 18 "because the church's social and moral teachings were concurrent with my own." Particularly, he was moved by the lives of the saints.
"These people truly lived in the radical way that the Gospel calls for," Hinzman said, citing Francis of Assisi as a "striking example" of fidelity to God when he threw all of his possessions off a roof.
Hinzman himself and his wife Nga Nguyen left almost all of their possessions behind Jan. 2 when they packed their small car with a few essentials, and under cover of darkness left their Army housing at Fort Bragg, N.C., to make a 17-hour drive to the U.S.-Canadian border.
On Dec. 20, Hinzman had received the news: His unit -- the 504th brigade, second battalion -- would be shipping out to Iraq shortly after the new year for an indefinite deployment in the war on terrorism. Hinzman, who is a member of the Fayetteville Friends Meeting, said he had a bad feeling about going to Iraq -- he felt like he would have to do some things he would regret.
Hinzman, 25, and his wife discussed their options. He could go to Iraq -- an option they both rejected. He could refuse the deployment order and face court martial and a likely prison term. Or he could follow a plan of action that thousands of young men like himself took during the Vietnam War: He could flee to Canada.
They opted to go to Canada. Quakers living in the United States made contacts in Ontario, and the family was set up with places to stay until they moved into a Toronto apartment Feb. 1.
A story published in the Feb. 7 Toronto Globe and Mail said that Hinzman is believed to be the first U.S. soldier to file for refugee status in Canada for refusing duty in Iraq.
Hinzman said he chose to leave the United States because he did not want to go to jail and be separated from his family again. Last year, he was deployed for more than eight months to Afghanistan. When he left, his son, Liam, was just 7 months old. When he returned, Liam was walking, and didn't remember his father.
When he joined the Army, Hinzman said, he was searching for some meaning in his life, and the military was better than working just for the sake of making a buck.
"I guess I just sold my soul for the college money," he said. "That's probably a little too blunt. I had this notion that, 'Hey, I'm going to go and get paid to exercise, shoot weapons and jump out of planes,' and that sounded real fun. It didn't matter to me at that point. I was just young, and I didn't feel I was really going anywhere."
The Iraq war forced Hinzman to reassess his values.
"I feel that if I had gone to Iraq I would be in sense putting myself into a criminal enterprise and becoming a criminal because it's a war -- or an act of aggression, I don't think it can be called a war -- based on false pretenses in terms of weapons of mass destruction, the links to al-Qaeda and bringing democracy to Iraq.
"Because if democracy was to happen in Iraq the Shiites would take power, and they would by no means be a friendly government towards the U.S. or its interests. So I don't want to risk my life for that, and I don't think the government should risk the lives of our country's young for that, and also to line the pockets of big corporations. The obvious example is Halliburton."
Hinzman, a native of Rapid City, S.D., said he was not a typical soldier. In addition to Catholicism, Hinzman also follows Buddhist teachings and enjoys the silent worship of Quakers. His fellow soldiers found his meditation regimen and his choice to not eat meat strange, he said.
Hinzman also felt uncomfortable with the army mindset that encouraged misogyny and violence. He recalled the indoctrination of the troops during basic training.
"When we were marching around chanting songs like, 'Train to kill. Kill we will,' or during bayonet training they'd ask, 'What makes the grass grow?' and we'd say, 'Blood, blood, bright red blood.' …
"It's all presented, at least on the surface, as, 'Oh, it's just in humor, and no one's around listening to it,' but I think that really does put that mindset in a soldier that they're killers."
The military mindset also fosters a rejection of feminist values, Hinzman said. "Everyday conversation is like a gangsta rap song, the way women are referred to by people you would never suspect of talking that way."
Hinzman said, "It's almost expected that you're going to refer to women and the enemy in negative terms -- objectifying the people you fight against so they no longer have humanity."
With Sept. 11 came the realization that he may have to fire his M-4 rifle at real people instead of targets. Hinzman had always told himself that if he was in combat, he would "aim high" and not try to kill anyone. But Hinzman said he knew such a plan was unrealistic.
"I liked the people I worked with, and I would just feel like an ass if I did that and betrayed them in that way and not gave it my all in the heat of battle," Hinzman said.
So last year, before his unit received orders to ship out to Afghanistan, Hinzman submitted a conscientious objector application to the Army, asking to be assigned to a noncombatant role.
Once in Kandahar, Hinzman found out there was a price to pay for his beliefs. Word circulated among the troops that he had filed the claim, and Hinzman's sergeant decided to make an example of him. For more than eight months, Hinzman was assigned to KP, washing dishes in a mess hall 12 to 16 hours a day, seven days a week.
"I worked absurdly long hours for a long time," Hinzman said. "It was a lonely experience."
Hinzman told those evaluating his conscientious objector request that he would defend his camp if it were under attack. His honesty killed his application. The Army might recognize the claim of a soldier who would never fight, but not one who just wanted to pick and chose his battles. Hinzman withdrew his application when it was clear it would be denied.
Last July, Hinzman was back at Fort Bragg, where he was assigned to be his one of his company's armorers, "in charge of millions of dollars worth of weapons," he said. Had he reenlisted, he was on track to make sergeant.
Still, the thought was always in the back of his mind that his unit would get the call to Iraq. His decision to leave the country, after three years of his four-year tour of duty, means that Hinzman will never collect the thousands of dollars in college tuition he would have received, and as a deserter he can never return legally to the United States unless he is ready to face a court martial and likely prison term.
In Canada, Hinzman hooked up with Toronto immigration lawyer Jeffry House, who is helping the couple apply for refugee status. House said that since Hinzman could be imprisoned for his stance, he has a legitimate "fear of persecution," one of the requirements to receive refugee status. "I don't believe that his conscientious objector application was dealt with in any sort of reasonable way."
Hinzman's chances of remaining in Canada are excellent, House said.
While U.S. citizens strongly support the Iraq war, a majority of Canadians believe the war is "contrary to international law," House said. "There's a lot of sympathy for him here."
Hinzman's fellow soldiers shipped out to Iraq in January. If he saw them today, Hinzman said, "I'd hold my head up high. I would have more to be ashamed about had I not acted on what I felt was right."
For her part, Nguyen, 31, says she's glad her husband won't be going to Iraq. Life as a military wife has been riddled with anxiety during the war on terrorism, she said. Wives would watch TV news reports and read The Fayetteville Observer every day to find out if anyone from Fort Bragg had died.
"They would list names, and me being a military wife that was always constantly in the back of my head, even though I tried not to dwell on it," she said.
The day Hinzman left, a Fort Bragg soldier died in Baghdad. The Jan. 3 Observer had the headline: "82nd copter downed; 1 soldier killed in attack."
Patrick O'Neill is a freelance writer living in Raleigh, N.C.
National Catholic Reporter, March 5, 2004