Issue Date: March 5, 2004
WORLD
Edited by Dennis Coday
'Biotech has promise, dangers'
VATICAN CITY -- Despite the great promises new research and technology give for treating illnesses and helping infertile couples, the field of biotechnology is strewn with practices that do not respect human life, Pope John Paul II told a Feb. 21 meeting of the Pontifical Academy for Life. "Essential values, not only for a faithful Christian but for human beings, are at stake," he said.
He urged more research into preventing and curing infertility so that couples could become parents naturally rather than resorting to procedures in which procreation is separated from the sexual union of a husband and wife.
The Pontifical Academy for Life marked the 10th anniversary of its founding Feb. 19. The pope praised the physicians, researchers, theologians and ethicists who have helped the Catholic church understand the new technology and the ethical challenges it raises.
Pope: Fight terrorism with law
VATICAN CITY -- Pope John Paul II said the international community needs new multilateral legal instruments to monitor, counteract and prevent acts of terrorism. The pope made his remarks Feb. 22 while welcoming Turkey's new ambassador to the Vatican, Osman Durak. He noted that Turkey has seen firsthand the devastating effects of terrorism in recent months.
The pope framed his comments about terrorism in a discussion of the need for international law as the primary means for securing world order. He said the United Nations remains the most important agency in applying international law around the world.
While there is need for reform that would enable the United Nations to function more effectively, he said, "this international body still represents the most suitable agency for confronting the grave challenges facing the human family of the 21st century." He added, "Among these challenges, the deadly scourge of terrorism represents an especially pernicious problem."
The pope also encouraged Turkey to take further steps to protect the rights of Christian minorities in the country and give legal recognition to the Catholic church.
---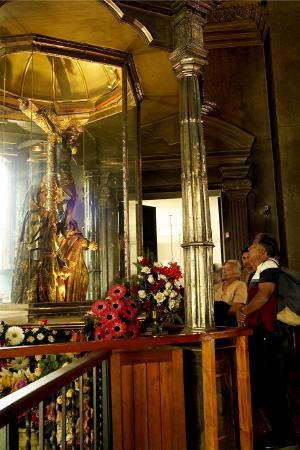 Pilgrims venerate Black Christ
Pilgrims stand and pray in front of the image of the Black Christ Feb. 10 at the Basilica of the Holy Christ in Esquipulas, Guatemala. Centuries of candle and incense smoke have changed the original coffee-brown wood image to its black shade of today. Pope John Paul II has proclaimed the site the "spiritual center of Central America."
-- CNS/Carlos Lopez-Barillas
---
Sending troops to Iraq opposed
PYEONGTAEK, South Korea -- Peace Wind, a Catholic-founded peace group, is traveling around South Korea in a flower-painted van presenting performances and encouraging discussion on war and peace. Fr. Bartholomew Moon Jung-hyon formed the group in November to encourage South Korean residents to oppose war and any deployment of Korean troops to Iraq.
On Feb. 13, South Korea's National Assembly approved the sending of 3,000 Korean military personnel to Iraq in April. The group, including 800 combat troops, will join 600 South Korean medics and engineers already in Iraq.
Six men and four women joined Moon, 63, in his campaign. The priest donated the Peace Wind van, which is equipped with amplifiers, speakers and musical instruments. Anne Oh Doo-hee of the group said, "Peace Wind is not just picketing against the absurdities of war or crying for peace. We are trying to engage our audiences and to generate a two-way exchange of opinions in an open forum."
No HIV testing of seminarians
MONTREAL -- Montreal's Roman Catholic archdiocese has backed down on its plans to require HIV tests for applicants to the priesthood (NCR, Jan. 30). In a Feb. 16 statement, the archdiocese said there was never a written directive demanding such tests as part of efforts to update its screening of potential candidates. "Our reflection continues with regards to the eventual revision of admissions criteria to Le Grand Seminaire de Montréal for candidates to priesthood," the statement said. "However, we can affirm even now that this revision will not impose an HIV test."
In January, Montreal Cardinal Jean-Claude Turcotte said HIV tests would be part of the health component of an exhaustive review of each candidate's background. The announcement triggered a firestorm of criticism.
---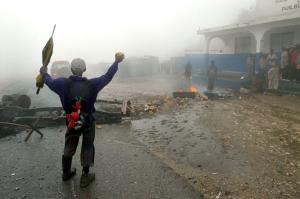 Haiti's 'time of special peril'
A Haitian man raises his hands in support of rebel advances in Haiti after an attack on a police station in Puilboreau Feb. 23. Bishops from the United States, Latin America and Canada expressed their solidarity with the bishops in Haiti as a rebel uprising threatened to completely destabilize the nation. "Be assured that the people of Haiti are in our prayers," the bishops said in a Feb. 23 statement released during their annual inter-American meeting, held this year in San Antonio. The bishops said they wished to express their solidarity with the Haitian people and church "at this time of special peril."
-- CNS/William B. Plowman
---
Priest backs same-sex marriage
TORONTO -- Fr. Timothy Ryan, 67, has filed an affidavit with the Supreme Court of Canada in support of same-sex marriages and in direct opposition to a recent document from the Vatican condemning homosexual unions. The definition of marriage should include same-sex couples, said Ryan, who has worked for 30 years with the gay and lesbian community. "As with various issues touching on matters of sex and sexuality, many Canadian Catholics do not share the views of the hierarchy, including myself," he said.
Canada's federal government has asked the Supreme Court to consider including same-sex couples in the definition of marriage. The court is to deal with the question by fall.
In an intervention with the court, the Canadian Conference of Catholic Bishops has argued that marriage is only between a man and a woman and a draft bill supporting same-sex unions breaches constitutional freedoms of conscience and religion. Ryan is a member of the Scarboro Foreign Missions Society, but society officials said his ministry to homosexuals was personal, not an assignment.
USA
Numbers of black Catholics grow
UNIVERSITY HEIGHTS, Ohio -- An influx of African Catholics is swelling the ranks of black Catholics in the United States, according to noted scholar Cyprian Davis. "I personally think that this is a good thing," said Davis, a Benedictine monk and Catholic historian. He said African Catholics, many of whom are well educated, will be able to teach young American blacks that "education is not just a white man's ploy" and is crucial to their advancement in society.
Davis, 73, who is black, said there are about 300 African-American priests in the United States and twice that number of African priests. He also cited a growing number of African nuns entering the United States. Davis, a professor of church history at St. Meinrad School of Theology in St. Meinrad, Ind., made the remarks Feb. 12 after a talk titled "On Being Black and Catholic in America" at John Carroll University.
Priests pay into victims' fund
RAPID CITY, S.D. -- A group of 30 Catholic priests in the Rapid City diocese has agreed to donate 5 percent of their monthly income to help pay for counseling for abusive priests and their victims. The group created the nonprofit Lazarus Fund, referring to the Gospel figure that Jesus raised from the dead, in June 2002.
The group, the brainchild of priests Brian Christensen and Steve Biegler, also fasts once a week and celebrates a weekly Mass to pray for healing. "It's a real demonstration of compassion that demonstrates what the church is about," said Sue Archibald, founder of Linkup, a national victims support group.
Officials are not saying how much the fund has collected -- priests make only about $1,100 a month. John Raforth, an attorney who sits on the fund's board of directors, said it has already made one payment for victims' counseling.
The diocese released a report last year that showed 11 priests have been accused of abuse since 1953.
Pro-choice speakers shut out
KANSAS CITY, Kan. -- Archbishop James P. Keleher of Kansas City has asked Catholic institutions not to extend invitations to speak to people in the pro-choice movement or pro-choice politicians. The request was published in the archdiocesan newspaper Feb. 13, the day after Kansas Gov. Kathleen Sebelius, a Catholic who supports keeping abortion legal, spoke at the University of St. Mary in Leavenworth.
"It is imperative … that the public understands our unequivocal stand on this issue," the statement said.
Keleher and Sebelius shared a podium at the state Capitol in Topeka Feb. 12 for a news conference launching a housing initiative by the Kansas bishops, but a spokeswoman for the governor said that the archbishop did not discuss the matter with the governor then.
"It would be unfortunate if the governor -- who is a practicing Catholic -- is not able to speak with talented, intelligent students on a campus that happens to be of the Catholic faith," the spokeswoman said.
When Sebelius took office early in 2003, Keleher had asked that a preinaugural interfaith service be moved from Assumption Parish in Topeka, which the governor attends, to another site, but it was not.
Housing reform called for
TOPEKA, Kan. -- Concern about the large number of Kansans who live in inadequate housing has led the Catholic bishops of Kansas to recommend significant state and federal actions to remedy the problem. The recommendations are contained in "Nowhere to Lay His Head: Housing in Kansas 2004," a major statement that the bishops released at a news conference Feb. 12 at the state Capitol in Topeka. In their 10-page statement, the bishops said the state's housing problems were the result of a number of factors, including aging housing stock, rising energy costs, fragmented planning and low wages.
Voters reject tax plan
PORTLAND, Ore. -- Oregon voters rejected Feb. 3 a tax initiative that the state's Catholic bishops had urged them to approve "for the common good" (NCR, Dec. 26). Voters were asked to accept or reject an $800 million income tax surcharge the state legislature approved last year to balance the budget and prevent cuts in state services. The measure failed 59 percent to 41 percent. Catholic leaders said the voters' rejection will probably hurt needy residents the most, especially those with mental illnesses.
Terry McDonald of the St. Vincent de Paul Society said, "There is a theory out there that the nonprofit community and churches can pick up the weight. … I have some news. The nonprofit community is quite overrun right now." The social service system is near collapse, which "is getting quite frightening to me," he said.
Priest fasts five weeks in prison
COLUMBUS, Ga. -- Fr. Joseph E. Mulligan, 60, a member of the Detroit Province of the Society of Jesus, began Feb. 24 the fifth week of an indefinite liquids-only fast in the Hamilton County Jail. Mulligan was sentence Jan 28 to 90 days in jail for trespassing at Fort Benning, an army post, Nov. 23. He was part of a protest demanding that the Western Hemisphere Institute for Security Cooperation, formerly the Army's School of the Americas, be closed. The protesters also demanded the withdrawal of U.S. troops from Iraq and "a fundamental change of American foreign policy from unilateral aggression to multilateral cooperation," according to Mulligan.
Approximately 10,000 people joined the legal demonstration outside the gates of Fort Benning Nov. 22 and 23. Mulligan was among 27 protesters who received sentences for trespassing ranging from probation to six months in prison plus a fine.
'Vagina Monologues' denounced
FORT WAYNE, Ind. -- The bishop of Fort Wayne-South Bend, John M. D'Arcy, said the University of Notre Dame should not have allowed the production of "The Vagina Monologues" to take place on campus because the play is "offensive to women" and "antithetical to Catholic teaching on the beautiful gift of human sexuality."
The Notre Dame production Feb. 14 was part of a daylong fair on campus organized under the theme "Stop the Violence" and sponsored by the university's program in gender studies. About 1,000 people attended the sold-out performance, mostly students. About 40 Notre Dame students led by Notre Dame Right to Life stood outside the theater in the snow and quietly prayed the rosary in protest.
COMPILED FROM NEWS SERVICES, CORRESPONDENTS AND STAFF
National Catholic Reporter, March 5, 2004