Issue Date: March 5, 2004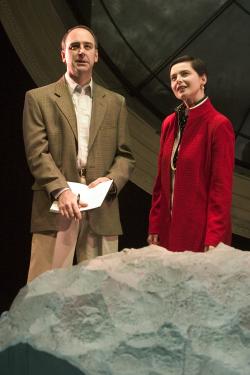 Michael Countryman and Isabella Rossellini in "Full Frontal Nudity"
-- Photos by James Leynse
McNally's look at art short on insight
'The Stendhal Syndrome' showcases more cliché than creativity
By RETTA BLANEY
As a fan of "Master Class," Terrence McNally's 1995 Tony Award-winning play about Maria Callas, I expected his latest work, "The Stendhal Syndrome," to offer some challenging insights into the power of art in our lives. Instead, what this Off-Broadway production provides is adolescent humor and trite ideas of art and transformation.
"The Stendhal Syndrome" is actually two one-act plays that inaugurate Primary Stages' new artistic home at 59 E. 59th Street. It plays through March 27 and is McNally's first new play since "Corpus Christi," which opened Off-Broadway in 1998 to much controversy. In that play a Jesus-like character has sex with his apostles (off stage). Religious groups protested, and McNally received death threats before the play opened, prompting the theater company to cancel the show. When New York's artistic community rose up to complain about censorship, the show was reinstated, but opened to poor reviews. The publicity was so hot, however, it sold out before opening.
This new work isn't likely to arouse controversy, but I can't imagine it's going to arouse much interest either. What weakened the plays the most was the phony dialogue, much of which can't be printed here. In the first play, "Full Frontal Nudity," three American tourists in Florence study Michelangelo's David with their tour guide, Bimbi, played by model and film actress Isabella Rossellini, who is making her New York stage debut.
The most obnoxious of the three tourists is Leo (Yul Vázquez) who mentally compares his anatomy with David's. His ego is such that he imagines Lana (Jennifer Mudge), another of the tourists, wants to go to bed with him, when all she wants is an Egg McMuffin. He also pegs the third tourist, Hector (Michael Countryman), as gay and plans to avoid going into the men's room with him. His reaction to the artwork is to comment that there's a guy at his gym with abs like that. (Did I mention stereotypical characters as one of my complaints?)
Lana, the quintessential ditz, asks: "How old was David when he posed for Michelangelo?" She says she has an urge to run her fingers all along the statue, to which Bimbi replies, "We all do." All except the homophobic Leo, who quickly adds, "Speak for yourself, ladies."
I don't think I have to tell you how this play ends. Bimbi prepares us with one of her pat comments: "When art speaks to something so deep in us we can't really understand it." Suffice it to say Lana loses her interest in an Egg McMuffin. "I have the rest of my life to eat," she says. "I may never pass this way again."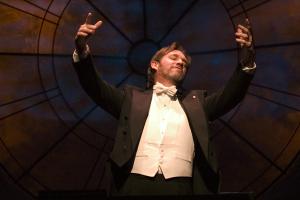 Richard Thomas in "Prelude & Liebstod"
The second play, "Prelude & Liebstod," was better, largely because of the performance of Richard Thomas, a veteran stage actor who made his Broadway debut at age 7 in "Sunrise at Campobello" in 1958 but is probably best known for his Emmy Award-winning role as John-Boy in "The Waltons." Playing a renowned conductor, Thomas portrays the man's tremendous ego, his sexual history and fantasies and depicts his ultimate unraveling as he conducts selections from Wagner's "Tristan and Isolde."
Once again the dialogue is juvenile and often unprintable, but the reflections on art go from clichéd, as in "this music is not from anywhere; it's from God," to strange, as in his definition of transformation -- "an orgasm coupled with a heart attack."
Maybe McNally should stick to what he's been doing successfully for the last decade -- writing the books for such musicals as "Kiss of the Spiderwoman" (Tony Award), "Rag-time" (Tony Award), "The Full Monty" and, most recently, "A Man of No Importance" (NCR, Nov. 15, 2002).
A Stendhal syndrome, by the way, is what happens when someone is so carried away by a work of art that he or she faints or shows some other extreme physical or emotional reaction, Bimbi tells her group. Unfortunately, it's unlikely anyone will experience it with these two plays.
Retta Blaney's latest book is Working on the Inside: The Spiritual Life Through the Eyes of Actors.
Suggested Web Site

Primary Stages
www.primarystages.com
National Catholic Reporter, March 5, 2004