Issue Date: March 12, 2004
WORLD
Edited by Dennis Coday
Alliance honored for peace work
TOKYO -- A Japanese foundation supporting religious-based solutions to conflict has announced it will give its 2004 peace prize to Uganda's Acholi Religious Leaders' Peace Initiative. The group will receive the Niwano Peace Prize and a cash award of about $183,000 during a May 11 ceremony in Tokyo.
The Acholi Religious Leaders' Peace Initiative was established in 1998 to work for peace in northern Uganda, where the guerrilla Lord's Resistance Army has been sowing terror for years. In addition to fighting government troops, the rebels have been accused of killing civilians and kidnapping thousands of children.
Catholic Archbishop John Baptist Odama of Gulu chairs the Acholi group, which also includes Anglican, Orthodox and Muslim leaders. The group's secretary is Comboni Fr. Carlos Rodriguez Soto. The Niwano Peace Foundation solicits nominations for its prize from 1,000 individuals and organizations in 125 nations. Ten religious leaders involved in peace movements and interreligious dialogue choose the winner from among the nominees.
Religions need 'visible presence'
VATICAN CITY -- Declaring that symbols of personal and collective faith cannot be "erased" from society, Pope John Paul II Feb. 27 upheld the right of religion to have a "visible presence" in European life. The pope spoke at an audience with a group of bishops from France where a government ban on the wearing of headscarves by Muslim girls attending state schools has caused heated controversy.
"The participation of Christians in public life, the visible presence of the Catholic church and of other religious confessions do not put the principle of secularity or the prerogatives of the state in question," he said.
John Paul warned against confusing secularity, the absence of religion, with secularism, the rejection of religion. "Personal and community convictions cannot be erased," he said. "Religion cannot be confined to the private sphere at the risk of denying all that is collective which it represents," he said.
'Hope for peace dwindles'
JERUSALEM -- The outgoing regional director of the Pontifical Mission for Palestine said chances for Israeli-Palestinian peace have dwindled since he arrived seven years ago. "When I came here there was much more hope for a possible peace," said Fr. Guido Gockel. "At present there are very few people who think there will be a solution in the near future. People [on both sides] are discouraged. They feel like they are on a roller coaster which goes on and on, and they can't stop it," he said.
"I don't think there is a will to bring this to a conclusion on all sides -- including the United States and Europe," he said.
Gockel is leaving the Holy Land to serve as assistant secretary-general of the Catholic Near East Welfare Association in New York. He also will serve as the associate national secretary of the association's U.S. office.
Responsible investing promoted
SEOUL -- Seoul archdiocese is promoting the concept of socially responsible investing. Fr. John Kim Hong-jin, director of social-pastoral work for the archdiocese, recently hosted a seminar to explain the concept to leaders in church social service ministries.
Kim said he organized the session "to promote a sound investment culture valuing humanity and the environment, and not just profit." This is in accord with Catholic social teaching, he noted. Now is the time, he said, for the church to start managing its assets in a way that better reflects its beliefs and values.
"Until now, church assets have been invested mainly in interest-bearing bank accounts. However, we have no way of knowing if the money held goes to weapons factories, a human cloning laboratory or other unethical commercial initiatives," he said.
Speakers at the seminar came from CJ Investment and Securities Co. and the Center for Corporate Social Responsibility, which jointly manage the SRI Money Market Fund. Archdiocesan social service agencies and 15 religious institutes are among Catholic organizations that have invested $3.8 million in the fund.
Death sentences commuted
LUSAKA, Zambia -- The Zambian bishops' conference praised President Levy Mwanawasa for his "courageous" decision to commute the death sentences of 44 soldiers convicted of treason after an aborted 1997 coup. "We salute you and your government; we urge you to take the extra mile and completely abolish the death sentence altogether," Archbishop Medardo Mazombwe of Lusaka and Fr. Ignatius Mwebe, general secretary of the Zambia Episcopal Conference, said in a Feb. 28 letter to Mwanawasa.
Churches aim to open banks
NAIROBI, Kenya -- The African church is looking for ways to become more financially independent from the rich West while still forging a strong ecumenical movement on the continent, according to leaders from the All Africa Conference of Churches and a number of national church councils. The conference called a four-day meeting in late January of the general secretaries of national Christian councils and regional fellowships to map out strategies, including the possible establishment of a Christian bank in Africa.
"This could be directed to provide affordable and accessible services and a range of quality services to the ecumenical movement, as well as to other sectors of Africa's economy," said Bright Mawudor, director of finances for the conference and author of the proposal.
"We want to mobilize all the ecumenical structures on the continent," said the Rev. Nyansako-ni-Nku, president of the conference, "so that we act together as one ecumenical force for the benefit of our people in the continent."
USA
Dupre accusers come forward
SPRINGFIELD, Mass. -- Two men who alleged that they were abused by retired Springfield Bishop Thomas L. Dupre have indirectly told their stories to the public through their attorney, and talked to a prosecutor in late February. By Feb. 26, a preliminary church investigation of the charges against the bishop was also under way.
According to church guidelines, allegations of abuse against a bishop is sent to the head of the ecclesiastical province, in this case, Boston Archbishop Sean P. O'Malley. However, the actual investigation is conducted by the Vatican.
Mark E. Dupont, spokesman for the Springfield diocese, said that at least one of the alleged victims had met with Boston archdiocesan victim advocate Barbara Thorpe by Feb. 27.
According to diocesan guidelines, information that the church investigators receive from victims will be given to Hampden County District Attorney William Bennett, who has launched an investigation into the accusations against the bishop.
---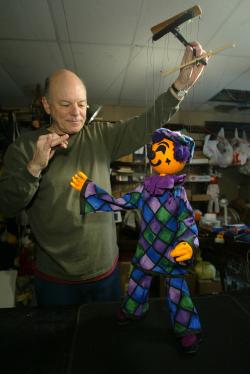 Puppet master
Br. Ed Sheehy works one of his marionettes in his workshop at St. Peter's Prep School in Jersey City, N.J., Feb. 26. The 70-year-old Jesuit, who considers puppetry his apostolate, has entertained audiences around the world with his animated creations.
-- CNS/Todd Pitt
---
Contraceptives not exemptable
LOS ANGELES -- In what is regarded as a national test case, the California Supreme Court March 1 ruled that Catholic Charities in California cannot be exempt from regulations ordering employee health care contracts to cover contraceptive drug prescriptions.
The regulations stemmed from 1999 California legislation created because some 10 percent of health policies in the state did not provide contraceptive drug coverage. That discriminated against women, the state Supreme Court ruling stated, because women's out-of-pocket health care costs were 68 percent higher than men's -- primarily because of prescription contraceptives.
Catholic Charities sought the exemption as a Catholic organization bound by church teaching. But the Supreme Court ruled that Catholic Charities failed to meet the four necessary criteria: that its work was primarily to inculcate religious value; that its employees, and the people it served, were primarily people who accepted its tenets; and that it was a religiously exempt organization under the terms of the IRS code. No decision has been made regarding an appeal.
Catholic hospital loses tax status
URBANA, Ill., -- An Illinois county tax board has lifted the property tax exemption of a Catholic hospital. In late February, the Illinois Department of Revenue affirmed a recommendation of the Champaign County Board of Review to revoke the property tax exemption of Provena Covenant Medical Center in Urbana. The decision could cost the hospital, which retains federal tax-exempt status, more than $1.1 million a year in local property taxes.
The county board of review argued in a nine-page brief that the 270-bed hospital allowed for-profit entities or individuals to operate some of its services and that its aggressive billing and debt-collection practices violated its obligation to provide charity care.
Michael F. Rodgers of the Catholic Health Association said the decision also could affect "a whole variety of targets that are now off the tax rolls" -- from Catholic schools and universities to community nonprofit organizations -- as economically stressed communities try to balance their budgets.
COMPILED FROM NEWS SERVICES, CORRESPONDENTS AND STAFF
National Catholic Reporter, March 12, 2004