Issue Date: March 12, 2004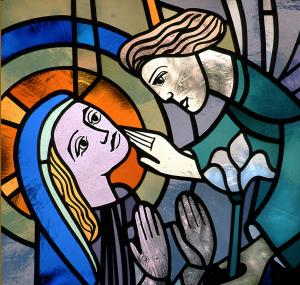 -- CNS/Reuters
The quiet journey of Lent
By JUDINE MAYERLE
Lent comes on quiet feet, slipping into Ordinary Time while we are still breathless from barefoot running with the shepherds to the brilliance of the star. Lent comes on quiet feet, leading us to paradox and parables, barren desert and living water.
Lent speaks first with the prophet Joel's Ash Wednesday words that remind us to return "with our whole heart" to the Lord, to "rend our hearts and not our garments." In the Gospel that day, Our Lord reminds us that when we fast or give alms or pray, only God should see. The penance to which we are called, not only during Lent but throughout our entire lives, is a conversion of heart, a complete transformation of ourselves. As Benedictine Sr. Joan Chittister has said, Lent is a call to weep for what we could have been and are not, the grace to grieve for what we should have done and did not, the opportunity to change what we ought to change but have not.
Lent is a litany of familiar names, companions on our journey. Crusty old Jeremiah. Frightened Jonah. Isaiah the poet. Courageous Esther. Joseph the dreamer. Blunt Ezekiel. Daniel the contrite. Moses the liberator. Fearless Micah. Susanna, woman of integrity. As we follow the scripture readings this Lent, we hear with Abraham God's covenant promise, are led into the desert with Jesus, witness his testing of Naaman, see him transfigured on Mount Tabor, reflect on his harsh words to the mother of the sons of Zebedee, journey home with the prodigal son, listen as he teaches us how to pray. And all the while we're getting closer to Jerusalem.
Three solemnities provide spiritual oases this Lent: St. Joseph (March 19), St. Benedict (March 21) and the Annunciation of the Lord (March 25). Their scripture readings remind us that God's promises come to fulfillment in our faithfulness to conversion. The words of the Archangel Gabriel to Our Lady, "The power of the Most High will overshadow you," are his promise to us as well. The conversion to which we are called, modeled by Joseph, Benedict and Mary, is within our grasp, "for nothing is impossible with God."
We walk through Lent with the Lord on quiet feet until we run ahead with palm branches and song, sit with him at supper in the upper room, protest his washing of our feet. We walk through Jerusalem on weary feet, to the garden to watch and pray with him, to the praetorium to weep for him, to the cross to die with him.
And to the tomb, to rise with him.
Benedictine Sr. Judine Mayerle writes from St. Scholastica Monastery in Duluth, Minn.
National Catholic Reporter, March 12, 2004