Issue Date: March 19, 2004
WORLD
Edited by Dennis Coday
Muslims help fasting Christians
LAHORE, Pakistan -- Muslim students hosted a traditional Islamic fast-breaking meal for Christian schoolmates observing Lent March 3. The iftari communal meal at St. Lawrence School in Lahore reciprocated an iftari Christian students hosted last year during the Islamic holy month of Ramadan, which ended in November. About 150 students ages 13 to 17 joined the iftari, a meal of rice and fruit, in the school hall.
Capuchin Fr. Francis Nadeem, executive secretary of the Catholic bishops' National Commission for Inter-Religious Dialogue and Ecumenism, told the students that it was the first time he had heard of Muslim students in Pakistan making such a gesture. Older students fasted that day before the iftari, which started with prayers by students of both religions.
Azam Khan, on behalf of his fellow Muslim students, said he hoped Lent would bring peace and harmony to Christians in Pakistan and all humanity. Faiza Tariq, representing Christian students, thanked his Muslim schoolmates. "All of us will work together to make our country a tolerant, moderate and liberal country," he said.
---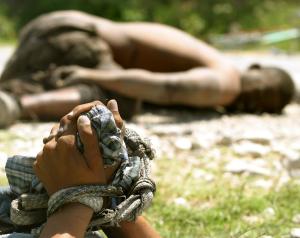 -- CNS/Reuters
Death in Haiti
The bodies of two men lay along a road outside of Port-au-Prince March 4. An estimated 100 people died in the rebel uprising that forced President Jean-Bertrand Aristide from office. French and U.S. troops were stepping up patrols as armed rebels prepared to leave the capital.
---
Pastor sought for 'Web church'
LONDON -- The Church of England is setting up a church on the Web and is advertising for a Web-pastor to run it. The initiative comes from the diocese of Oxford, using money given by the church commissioners to each of the Church of England's 44 dioceses to fund pioneering projects that would support the church.
The church on the Web already has its own Web site, www.i-church.org, which sets out its purpose as being to provide a focus of Christian community for those who wish to explore Christian discipleship but who are not able, or do not wish, to be participant members of a local congregation and to provide additional support to those who do not find all they need within their own worshiping community.
The Web pastor needs to be "a dynamic, confident Christian -- lay or ordained -- who is able to build this new community." The post is part-time and pays about $16,500 a year. The initial appointment is for three years, with a six-month probation.
China bishop detained
HONG KONG -- Bishop Wei Jingyi of Qiqihar, an "underground" bishop in northeastern China has been in detention since March 5, when he, his driver and two foreign church visitors were taken into custody, according to church sources. The bishop was arrested on his return from the Harbin airport after picking up the visitors, according to an underground priest in eastern China. The priest and bishop are not affiliated with government-approved "open" church bodies. All but Wei were released the next day.
It is likely the bishop's detention is related to the March 5-14 meeting of the National People's Congress, China's highest organ of state power, and the March 3-12 meeting of the Chinese People's Political Consultative Conference, a consultative body of the Communist Party of China. During such meetings, the government maintains strict order. Wei's whereabouts were unknown.
USA
No set figure for church closings
NEWARK, N.J. -- The Newark archdiocese, which has a 150-year history, is preparing a comprehensive reorganization, spurred by the archdiocese's financial struggles, long-term demographic changes and a decline in the number of priests. But Newark Archbishop John J. Myers is disputing a newspaper report that up to 50 of the archdiocese's 235 parishes could close.
Myers said the archdiocese "does not intend or expect" that many to close but the number of churches and schools that will shut down "is indeterminate." The Newark Star-Ledger newspaper reported last month that 40 to 50 parishes could close by 2009.
James Goodness, a spokesman for Myers, said the diocese has set benchmarks for church attendance, community involvement and numbers of baptisms or weddings performed, and parishes that do not meeting the benchmarks will have 12 to 18 months to show they can improve or explore merging resources with nearby churches. "We're not asking them to consider whether they should close," Goodness said. "We're asking them what they can do to work toward the benchmarks."
Similar reorganization plans are under way in the archdioceses of Boston and New York.
Charities paying for birth control
DENVER -- Catholic Charities in Denver acknowledged it has provided prescription birth control to its employees for two years in what one official called an "embarrassing" oversight. The discovery came the same week that the California Supreme Court ruled Catholic Charities of Sacramento (NCR, March 12) must provide prescription birth control to its employees as part of its drug benefit plan.
"I'm embarrassed," Denver Catholic Charities president Jim Mauck said. "Ultimately, I blew it. We'll just have to correct it and go on with it." The discovery came as the aid agency was reviewing its policy with United Health Care, which was set to expire at the end of April. Mauck said he was unsure how birth control was added to the plan.
A spokesperson for the Denver archdiocese said Archbishop Charles Chaput was "astonished" by the oversight and promised to monitor the charity's new benefit plan for its 425 employees. Because Colorado does not have a law mandating contraceptive coverage like California, the Denver charity cannot be forced to provide prescription birth control to its employees when it signs a new contract.
COMPILED FROM NEWS SERVICES, CORRESPONDENTS AND STAFF
National Catholic Reporter, March 19, 2004