Issue Date: March 19, 2004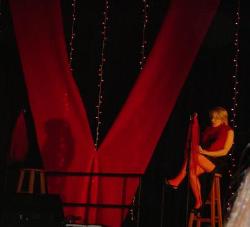 -- James Leito
Lindsey Horvath performs "The Vagina Warrior Statement" Feb. 14 at the University of Notre Dame.
Is it vital or vulgar?
'Vagina Monologues' provokes complaints from Catholic colleges
By LISA M. O'NEILL
Instead of ringing synonymous with roses, scented cards and boxes of chocolate, Feb. 14 and the days surrounding have come to hold a special meaning for a new generation of women and men.
This is due to V-Day -- an international movement begun in 1998 that is dedicated to stopping violence against women and girls. Part of the day's awareness activities often involves a production of Eve Ensler's play "The Vagina Monologues," but some thespians have found continuing opposition from Catholic organizations and administrators at Catholic universities.
Originally slated to be performed at more than 40 Catholic university campuses during the months of February and March 2004, the play has been denied approval or cancelled at over a dozen of them.
In December of last year, the Cardinal Newman Society, a Roman Catholic advocacy organization, sent letters to the presidents of all United States Catholic colleges and universities strongly advising them to look into and stop performances of the play on their campuses.
The Cardinal Newman Society, whose self-described mission is to renew Catholic identity in Catholic higher education in the United States, ran full-page ads on Feb. 17 in some editions of USA Today asking Catholics and non-Catholics alike to protest the performances at Catholic universities.
"Help save thousands of young minds and morals from psychosexual assault by The V***** Monologues," the ad reads. The ad states that the play promotes abortion and promiscuity and degrades women, and the organization asks for donations to help stop the production at schools.
"The Vagina Monologues" resulted from Ensler's series of interviews with over 200 single and married women of different sexual orientations and deals with issues of heterosexual and lesbian sex and sexuality as well as childbirth. The focus of the production is bi-fold: celebrating and honoring women's bodies and addressing issues surrounding violence against women including sexual assault and rape.
The Cardinal Newman Society cites as objectionable the language of the play and, in particular, a scene involving a sexual encounter between two female characters, a 24-year-old and 16-year-old minor.
Ensler responded in a Feb. 18 article in The Chronicle for Higher Education saying, "What they don't say is that the young woman [in the play] had been raped, and when another woman came along and treated her and her vagina with kindness, she was healed. The Catholic church and the Cardinal Newman Society don't want girls to have control over their bodies."
Mixed responses
Erica Ciccarone and Bethany Culp, both seniors at Loyola University New Orleans, began the planning process for an on-campus production of "The Vagina Monologues" in the fall of 2003, sending out a campus-wide e-mail announcement about the performance in November.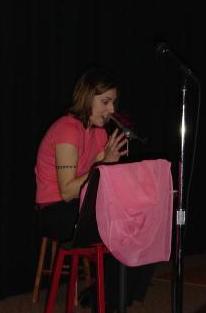 -- Michelle Statz
Katie Burgoon performs "The Flood" in "The Vagina Monologues" at Loyola University Chicago Feb. 24.
It was not until January when the students returned from the holidays that Ciccarone, the co-president of Loyola's student Women's Issues Organization, heard from the organization's adviser and Women's Resource Center Director Susanne Dietzel that Jesuit Fr. William J. Byron, interim university president, had concerns.
The students immediately set up a meeting. "It was clear from the very beginning that he thought it was inappropriate and didn't want Loyola University's name attached in any way," Culp said. "He said the language was vulgar and there for shock value. He told us this wasn't the most effective way to achieve our goal."
Culp said Byron encouraged the group to get more outside speakers to come and to focus on other issues like women dressing provocatively on campus and women smoking.
In an open forum held Feb. 18 with faculty, staff and students of the Loyola community, Byron said he would not allow the production to be done. Byron declined to be interviewed for this article. Director of Public Affairs Kristine David Lelong said the play was deemed "inappropriate for a Catholic campus."
Following the forum, there was a petition to perform the play signed by over 700 members of the Loyola community. Several students wrote to the student newspaper, The Maroon, to voice both opposition and support for Byron's decision.
While Ciccarone was disappointed in the cancellation of the production, the excitement and passion she felt from supportive peers and faculty members made her feel hopeful about the future. "We left kind of feeling like women's issues really won," she said. "Just getting so many people involved and really inspiring people to act and demand their voices be heard."
Some student organizers at Catholic universities have found consistent support for their V-Day efforts. Sophomore theatre and theology major Katie Tinucci helped plan the sixth annual performance of "The Vagina Monologues" at Loyola University Chicago where they raised nearly $2,000 at their Feb. 26 and 27 performances for Rape Victims Advocates, their chosen beneficiary.
The aim of V-Day is not only to raise awareness of violence against women but also to raise money for organizations that support victims of violence, with proceeds from productions of "The Vagina Monologues" traditionally going to local domestic abuse shelters or victim advocacy organizations. Loyola Chicago's production, cosponsored by four student organizations this year, has the full support of the administration, Tinucci said.
Loyola University Chicago re-leased a statement saying: "Loyola University Chicago is an educational institution that welcomes and nurtures the exploration of issues such as violence against women through healthy discourse stimulated by vehicles like V-Day and 'The Vagina Monologues.' The monologues, which are read, are intended to stir up conversation and thought, often revealing uncomfortable topics and simultaneously the opportunity to explore significant questions and understanding. The word 'university' implies an openness to explore these ideas -- not to shy away from them."
In South Bend, Ind., a University of Notre Dame production of "The Vagina Monologues" was performed Feb. 14 as part of a "Stop the Violence" daylong campus fair. Bishop John M. D'Arcy criticized the university for allowing the play to go forward and called it "offensive to women" and "antithetical to Catholic teaching on the beautiful gift of human sexuality."
The play drew protests from about 40 Notre Dame students, led by Notre Dame Right to Life. Protesters stood outside the theatre and prayed the rosary. The sold-out performance was seen by approximately 1,000 people, mainly students.
Fallout in New Orleans
University productions have not been the only ones impacted by controversy within the Catholic community about "The Vagina Monologues."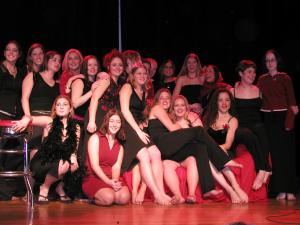 V-Day at the University of Rhode Island in 2003
Director Lisa Samoy was responsible for a New Orleans production of "The Vagina Monologues" to be performed March 7. Samoy wanted to donate the money raised from the event to Crescent House, a New Orleans women's shelter run by Catholic Charities.
"The people who answered the phone sounded excited about the production but said they would have to check with the administrator," she said. "The administrator then said they needed to check with Catholic Charities." Ultimately, Samoy was told the shelter could not have anything to do with the production.
Fr. William Maestri, director of communications for the New Orleans archdiocese, said although unfamiliar with the details of the play, the archdiocese felt the way the subject matter was dealt with was inappropriate.
"From our understanding about this particular play, this is not something we would want the archdiocese or any church-related organization related to the archdiocese to be associated with," he said. "Therefore to take money from that would be to give our assent and to condone that in a way that would mislead people to believe that this is something we support or condone and we don't."
He compared the situation to the archdiocese not being able to accept money gained from an illegal activity where "the problem is that it's built on a bad foundation, namely an ill-gotten gain."
While the archdiocese did not have an official statement on Catholics attending or participating in the play, Maestri said, "I think it's not something that on its face, the archdiocese would want to be associated with . . . nor would we want to encourage others to be associated with that."
Lisa M. O'Neill is a freelance writer based in New Orleans specializing in social justice issues. Her Web site "pieces of peace" (www.lisamoneill.com) focuses on people at work for peace and justice in their own communities and in the world.
National Catholic Reporter, March 19, 2004