Issue Date: April 2, 2004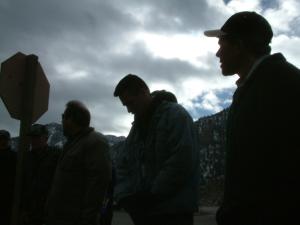 -- Photos by Barbara Stinson Lee
Co-Op miners in a 24-hour picket line
Immigrant miners protest unsafe conditions
By MELISSA JONES
Demanding safer working conditions, a small group of mostly Mexican coal miners faced off against a powerful family in Utah. Now, six months later, they are paying the price in lost wages and deepening poverty while state and federal regulatory agencies investigate the situation at a snail's pace.
About 75 miners claim they were locked out of CW Mining Co.'s mine in Huntington, Utah, Sept. 22, after they protested unsafe working conditions and the suspension of William Estrada, a United Mine Workers of America supporter who refused to sign what he said was an unfair disciplinary letter.
Most of the protesting miners were Mexican immigrants who earned between $5.25 and $7 per hour working underground, with no health or retirement benefits. A lack of English skills and a slump in the coal mining industry kept most from seeking better jobs. As the conflict drags on, workers rely on support from community organizations, the Mine Workers union, a small group called Mormons for Equality and Social Justice, and the local Catholic mission.
The mine -- known as the "Co-op Mine" -- is owned by the Kingston clan, which runs an estimated 150 businesses in six Western states.
The lack of regulatory supervision over the Co-op Mine baffles labor rights workers. Three of the last seven mine fatalities in Utah have been at the Co-op -- those miners were crushed to death in three separate accidents since 1996. The picketing miners insist that training is inadequate and machinery is unsafe or defective. The federal Mine Safety and Health Administration has known about the situation since 1993 when it found numerous violations at the mine, including accumulations of combustible material, an electric shuttle car that held the potential for sparking a fire, inadequate ventilation underground, and improperly maintained fire extinguishers and emergency equipment. The Utah Division of Oil, Gas and Mining also found aboveground violations, but legal action was not pursued by either agency.
The miners contacted the United Mine Workers for help. Bob Butero, the union's regional organizing director, said typical wages for these workers should have been close to $20 an hour with a wide range of benefits. Butero noted that the Kingston mine pays a fraction of what other coal mines provide in benefits and compensation, yet "they're selling their coal for the same price that all the mines in the area sell for. They take advantage of these workers and just thumb their noses at any kind of law."
Charles Reynolds, personnel manager for CW Mining Co., told NCR that the miners walked off their jobs and may return unconditionally. Regarding accusations that the company locked out protesting miners, Reynolds said, "No gates were locked." He said a sheriff's patrol car was parked at the gates the day after employees left in protest because threats had been made toward the company. Reynolds said 11 of the protesting miners returned after the September disagreement and seven more have recently requested their jobs back. It has been widely reported that Kingston family members are now working the mine, but Reynolds said he has no idea of who is or is not a family member.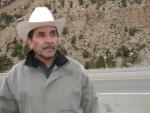 Gonzales Salazar, a miner with a 26-year history with the Co-Op Mine, said he is paid $7.20 an hour.
Reynolds also said the company offered to pay $60 of the $120 per month individual health insurance premiums. He noted that several protesting miners had declined the coverage. Reynolds said workers in the Co-op Mine have been represented by the International Association of United Workers, a labor union based in Bountiful, Utah, that "was voted in by employees in 1977."
Co-op miner Estrada asserts that there was only a "yellow-dog" union run by the Kingston family. Regarding health benefits, he said, "I never heard of it. No miners that I know have ever been part of any health insurance plan. It's the same with the company union, they claim they had a union but most workers were never told about it." The United Mine Workers has filed charges with the National Labor Relations Board contending that CW Mining dominated the existing union. CW Mining has filed a complaint stating that the United Mine Workers interfered with the mine's existing union. So far no ruling has been issued on the case.
Estrada said the miners want independent union representation, better working conditions and back pay. He described a setting that harks back to the labor abuses of the early 1900s, with improper ventilation causing dust inhalation, and a common practice of cutting too deep into the coal wall, thus creating an unsafe roof. Reynolds said the federal Mine Safety and Health Administration conducts regular inspections and that in recent years, "the company has an excellent safety record."
Regarding regulators Estrada said, "When the inspectors come, they go to the bathhouse and change, they go to the office and have a cup of coffee," giving the foremen underground time to take dangerous equipment offline.
"On paper it looks like any other mine, but miners who've worked there for years and years will tell you how many accidents have happened," Estrada said. He said injuries were rarely reported because "they deducted from your pay if you reported an accident."
Reynolds countered that miners were paid a 25- to 75-cent-per-hour bonus based on attendance and safety performance. He said accidents due to carelessness resulted in the loss of this bonus for the pay period involved.
Estrada said Co-op miners had to buy their own equipment, so the cost of necessities like hardhats, tools, belts, gloves and safety glasses dug into the meager wages. "At other mines, those are free," he said.
Reynolds said such claims are "absolutely false," and that all miners were given a $100 clothing allowance when they were hired for steel-toed shoes, hardhats and gloves. He said safety glasses and hearing protection are provided without charge to the miners.
The nearby San Rafael Mission has been struggling to aid the miners since November. The mission is a tiny island of Catholicism in the midst of small towns mostly populated by the descendants of Mormon pioneers. The economies of these high-desert communities rely on coal mines and power plants.
With a registry of only 40 families, San Rafael struggles to serve a growing influx of Catholic Mexican laborers. Parish administrator Susan Austin said there are about 30 families now seeking assistance with rent and utilities. She said each month she runs out of money before she gets to the end of the list and then has to "pick and choose" who gets aid. "We struggle, we really struggle," she said.
San Rafael continues to seek donations for the miners and Austin said assistance would continue, "as long as we have good, kind, gracious people out there willing to help." She estimates that the church has distributed about $19,000 in assistance.
Dee Rowland, diocesan director of government relations, arranged a Feb. 26 meeting between some of the miners and Utah's attorney general. Rowland requested that the Kingston family's business practices, including those at the Co-op Mine, be investigated.
"We asked how this can go on," she said. Now that family members reportedly work the mine, Rowland worries about "whether family members are being exploited."
Given what she has heard from miners, Austin concurs. "I understand the whole mine is just unsafe, and it doesn't matter whether the Kingston family or immigrants work there, the mine is unsafe."
Melissa Jones is a freelance writer living in Littleton, Colo.
Study: Mexicans more likely to be killed on job
Mexican workers in Western and Southern states are four times more likely to be killed on the job than the average U.S.-born worker, according to a study just released by The Associated Press.
Most of these deaths occurred in "new destination" states like Colorado, Florida, Georgia, North Carolina and Washington. California, a traditional destination, now has the lowest mortality rate. Victims as young as 15 years old have died preventable, horrible deaths. The AP reports that workers are being impaled, caught in machinery and buried alive.
Public officials speculate that desperate Mexican immigrants are more willing to accept hazardous jobs. But even when doing the same jobs as U.S.-born workers, Mexicans die at a higher rate. This may be because the Mexicans are hired for cheap labor and are expected to work hard and ask few questions. A lack of English often hinders adequate training and safety instruction. A dearth of Spanish-speaking safety inspectors means that thousands of workers go unquestioned regarding working conditions. And finally, Mexican immigrants who lack documentation are afraid to attract attention and are less likely to complain about dangerous conditions.
-- Melissa Jones
National Catholic Reporter, April 2, 2004