Issue Date: April 2, 2004
WORLD
Edited by Dennis Coday
Khmer religious order revived
KOMPONG CHAM, Cambodia -- Cambodians Ang Songvat and Bouang Buntharin professed temporary vows as members of the Lovers of the Holy Cross, an indigenous congregation that disappeared under the Khmer Rouge.
Msgr. Antonysamy Susairaj, apostolic prefect of Kompong Cham, eastern Cambodia, led the March 21 ceremony. It is seen as a beginning step in the revival of the religious congregation founded in 1772. At its peak in 1942, the order had 115 members, but under the Khmer Rouge (1975-79), all Khmer members were killed or died of hunger. Foreign members were expelled or escaped to neighboring countries.
Religious seek calm in Kosovo
GENEVA -- Religious leaders are calling for calm in Kosovo after clashes between ethnic Albanians and Serbs left more than 100 Serbian houses and 16 churches burned and at least 28 people dead. Violence erupted March 16 after three Albanian boys drowned in a river, allegedly chased by Serbs, who constitute a minority in the former province of Yugoslavia. It is the worst violence in Kosovo since NATO-led air strikes in 1999.
"We pray with those who are mourning ... and with those who have been forced to leave their homes or see them destroyed by hatred," said a joint statement by the Rev. Samuel Kobia of the World Council of Churches and the Rev. Keith Clements of the Conference of European Churches.
Several of the destroyed churches and monasteries date from the 14th century. "For every reasonable person it is evident that here we are dealing with pre-planned total ethnic cleansing and destruction of all cultural and spiritual traces of the presence of the Christian Serbian people" in Kosovo, said a statement by bishops of the Serbian Orthodox church.
Hate crimes shake Toronto
TORONTO -- This city's Jewish community is reeling following what one leader called a "weekend of hate." Worshipers at a north-end synagogue Saturday, March 20, found seven stained-glass windows shattered and swastikas daubed on an outer wall.
Two windows were found broken at a nearby Jewish school and seven swastikas and profanities were painted on United Jewish Appeal signs in the heart of the city's Jewish community.
Twenty-two headstones on Jewish graves were found toppled at the Bathurst Lawn Memorial Park cemetery, in addition to vandalism of plaques, a menorah and a granite bench. Damage is estimated at $20,000.
Political leaders have condemned the violence, and police have pledged to find and prosecute the offenders. Jewish leaders are urging calm and say they are confident police are treating the incidents seriously. A rally against hate crimes was held March 24.
USA
Mother seeks Army's apology
NEWARK, N.J. -- Since the U.S. Army has dropped its charges that Muslim chaplain Capt. James Yee mishandled secrets at a prison for terror suspects, his mother said military officials owe him and the family an apology. Fong Yee of Springfield, N.J., called the dismissal of charges against her 35-year-old son "a victory," but said the family remains "crushed" by the six-month ordeal.
Yee, who grew up in Springfield, was assigned to counsel detainees at the prison camp in Guantanamo Bay, Cuba, when he was arrested Sept. 10 as part of an investigation into suspected espionage. When he was charged a month later, the accusation was that he violated regulations for handling classified materials.
Those charges were dropped March 19. Military officials said they could not proceed with the case because presenting evidence in court would raise national security concerns. Yee, a Muslim convert, was initially described as a suspect in an espionage ring. No charges of spying were ever brought against him.
Students billed for surveillance
AMHERST, Mass. -- About 200 international students at the University of Massachusetts have refused to pay a new student fee, a protest that could result in dismissal from the school and loss of their student visas.
The $65-per-semester fee for foreign students was designed to compensate for cuts to the budget of the university's international programs office. It appeared for the first time on spring-semester bills due this month. Part of the fee will also help pay for a new federal student tracking program called the Student and Exchange Visitor Information Systems, or SEVIS, which Congress created to prevent terrorists from entering the country on student visas.
---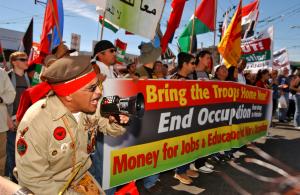 -- Greg Tarczynski
War anniversary
Ventura Longoria, an on-air personality for community radio station KPFA, rallies marchers at the antiwar demonstration in San Francisco March 20 marking the one-year anniversary of the invasion of Iraq. Organizers estimated that 50,000 people joined the protest action. Similar rallies were held in other major cities across North and South America, Europe and Asia. An estimated 100,000 people rallied in New York City. In Montpelier, Vt., hundreds of silent protesters placed a pair of shoes on the State House steps for each of the more than 560 soldiers killed in the war. In London, two protesters climbed the Big Ben clock tower near the Houses of Parliament. Hundreds of demonstrators took to the streets of Middle Eastern capitals to denounce the war, although in Iraq itself there were no public demonstrations for or against the war.
---
Land mine policy 'step backward'
SILVER SPRING, Md. -- The Bush administration's new land mine policy is "a huge step backward in foreign policy," said the Leadership Conference of Women Religious and the Conference of Major Superiors of Men March 12.
"By this action the president has placed our nation among those very nations he has identified for their terrorist activity," they said.
"We are saddened that our nation will not halt the production and use of land mines because we know that this does not reflect the values and aspirations of the people of our country," said the statement.
Bush's new land mine policy, spelled out Feb. 27, rejects the 1997 Ottawa antipersonnel land mine treaty adopted by 141 nations. The new policy calls for replacing by 2011 all "persistent" mines in the U.S. arsenal with mines equipped with self-destructing and self-deactivating devices, and eliminates mines that are nondetectable because of their nonmetal or low-metal construction.
The statement said, "The use of 'smart' land mines is not an acceptable alternative to the complete ban, destruction and pledge never to use these weapons."
Opening day fast for Sox fans
BOSTON -- When the Boston Red Sox open their season at Fenway Park on Good Friday (April 9), Catholic fans will have to settle for peanuts and Cracker Jack after the Boston archdiocese refused to change the no-meat-on-Fridays during Lent rule.
Church leaders said Catholic fans will have to bypass the hot dogs and Italian sausages during the season opener against the Toronto Blue Jays because the game falls on Good Friday.
"I would hope it was just an oversight when they were doing the schedule," Fr. Christopher Coyne, a church spokesman, told the Boston Herald. "I think it's very insensitive to the huge number of people who are Christians and fans.
In an overture to Christians, the game will start at 3:05 p.m. -- beyond the three-hour window that starts at noon when Christians believe Jesus hung on the cross -- and not the usual 1:05 p.m. start time.
COMPILED FROM NEWS SERVICES, CORRESPONDENTS AND STAFF
National Catholic Reporter, April 2, 2004