Issue Date: April 2, 2004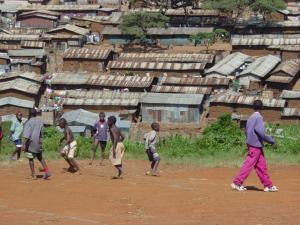 -- Robert Scalia
Boys play soccer in Kibera, a squatters camp that is home to about 800,000 people.
The cheerful voices in Kenya slums
By ROBERT SCALIA
I noticed him approaching slowly at first, probably drawn as much by my skin color as by his own curiosity.
He was wearing a torn striped T-shirt at least five sizes too big, but I could still make out the bulge of a stomach bloated from malnutrition. His nose was runny. His hair and legs were caked with dust. Barely 6, I thought, yet he negotiated the bumpy dirt road and garbage-strewn gutters with an experienced foot.
"How are you?" he asked, smiling and fondling a plastic revolver. Before I could answer, his brother walked up behind me, eager to show off his own toy -- a crushed blue aerosol can. "How are you?" he repeated, his voice rising at the end.
Another tiny voice chimed in from across the street, then another and another, until a chorus of eight kids locked into the frenzied greeting mantra. My brother and I had come to Kibera expecting to attract only negative attention, but the youngsters of Africa's largest and poorest slum had made us feel welcome.
From the surrounding hills, Kibera is an endless jigsaw puzzle of corrugated tin roofs stretching a mile in every direction. But inside is a labyrinth of narrow dirt roads and cramped mud buildings, home to nearly on- third of Nairobi's population.
It is estimated that half of the 800,000 residents living in this 600-acre squatters camp are under the age of 15, deprived of basic government services like clean water, health care, education, and sewage disposal.
Tourists in Kenya rarely make the trip, scared off by tales of muggings and theft already rampant throughout Nairobi. Our drivers, Wallace and Jeffrey, had stressed that before we left: Bring little money, no cameras and no other signs of wealth.
We made our way down the main road under a scorching sun. The endless cluster of tiny shops on either side displayed candies, fruits, vegetables, soft drinks and other essentials. Women were milling maize and frying fish while men labored over woodcarvings against a backdrop of faded Coca-Cola ads and free malaria advice.
Most residents trek two hours every day to work as hawkers, waiters and shopkeepers in bustling Nairobi. But rent there is too costly. Housing in the slums starts at about $3 per month. The town's water comes from pipes controlled by profiteering private dealers. Vigilante groups still patrol the streets at night to deter would-be thieves.
Kibera has known violence. In December 2001, the slum erupted in tribal fighting after then-president Daniel arap Moi urged landlords -- most of them opposition Nubians --- to lower their rents. At least 15 people died in ensuing clashes.
Today, the five largest tribes in Kenya find relative peace in Kibera.
Mothers watch and laugh from their shops as their children run around frantically. The men find time to sit back and enjoy televised soccer games in cramped movie huts. And you can hear Bob Marley singing "Everything is gonna be all right" through distorted speakers -- the irony apparently lost on everyone but us.
Even as we made our way down the steep slopes to the mud houses, children emerged from the one-room dwellings to greet us, smiling and offering humble handshakes. The smell of urine was strong from the nearby outhouses, rotting structures without bottoms that emptied into a nearby stream only 10 meters below.
We found children in that stream, barefoot, filling up yellow plastic jugs from a small crevice in the rocks. A young mother assured us it was for washing only, but Wallace said outbreaks of typhoid are common in Kibera.
AIDS, however, is the big concern. According to a 2001 report by UNICEF, there are at least 50,000 children in Kibera orphaned by the disease. The U.S. Centers for Disease Control estimates that over 20 percent of the population is HIV positive.
As we emerged from the suffocating streets to the surrounding hills, we found about 50 children having a pickup soccer game on a dirt field with gravel for sidelines.
They raced around a worn rubber ball while a young referee in a gray Adidas sweatshirt and pink corduroys called the game. Others, intently following the game, cheered from the sidelines. One bystander proudly dubbed it Manchester vs. Arsenal.
It was just another in a series of strange scenes. Seeing those kids playing, oblivious to the backdrop of corrugated roofs that will likely be home for a long time -- or at least until they are old enough to try their hand at the big city -- I suddenly felt like I didn't understand the first thing about poverty. I had come here expecting to be overcome with pity, yet I was starting to realize that it's hard to feel bad for people who don't feel sorry for themselves.
Down below, I could still make out the children pouring out of their houses and running up to the edge of the cliffs just to greet us. Just to say hello. They were waving excitedly. And I could hear them, their voices cutting through the air and rising in a now-familiar greeting call.
Robert Scalia is a freelance journalist based in Montreal. He recently visited Kenya, Uganda and South Africa on a fellowship sponsored by the Canadian Association of Journalists and the Canadian International Development Agency.
National Catholic Reporter, April 2, 2004